Beauty Tips
World Breastfeeding Week 2022: Breastfeeding is beneficial for the mother, learn important things related to breastfeeding from experts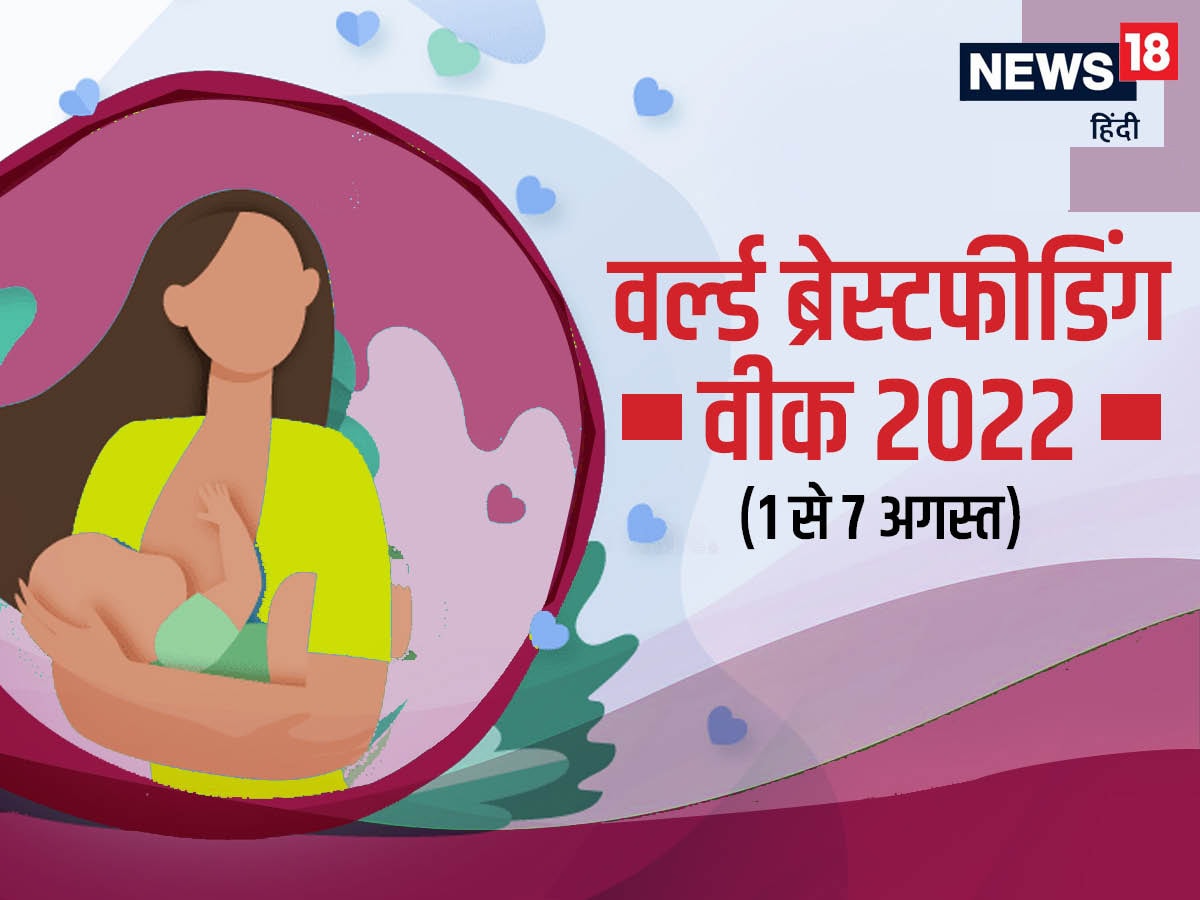 Highlights
World Breastfeeding Week is celebrated every year from 1 to 7 August. 3 out of every 5 babies are not breastfed in the first hour after birth.
World Breastfeeding Week 2022: Every year from 1 to 7 August 'World Breastfeeding Week' is celebrated. Breastfeeding right after the birth of the child is very important not only for the mother but also for the overall health of the baby. Mother's milk is the complete food for the child. This leads to better physical and mental development of the child. Many times the infant has to be fed formula milk due to the death of the mother during delivery, due to any illness or lack of breast milk. According to experts, from birth to at least 6 months, the baby should be breastfed only. There is no need to water during this time. We learned from the experts about the health benefits of breast-feeding, ayurvedic remedies and diet tips to increase breastmilk production in detail…
Also read: Breastfeeding Week 2022: Breastfeed your baby in these 5 positions, you will also feel comfortable
WHO statistics on breastfeeding
According to WHO, breastfeeding is one of the most effective ways to ensure the health and survival of the baby. If we talk about statistics, even today about 2 out of 3 babies are not breastfed for the recommended 6 months. This rate has not seen any improvement in the last two decades. What's more, globally, 3 out of every 5 babies are not breastfed in the first hour after birth. At the same time, only 41% of babies below 6 months of age are exclusively breastfed. If all babies 0-23 months are breastfed optimally, more than 8,20 000 babies can be saved annually.
Breastfeeding has many benefits for mother and baby
Dr. Manjiri Mehta, Consultant Gynecologist and Obstetrician, Hiranandani Hospital- Fortis Network Hospital (Vashi, Mumbai) says that breastfeeding is very important and beneficial for every mother and child. Breastfeeding helps in reducing the weight gain due to pregnancy. This is because the need for calories is very high in breastfeeding. This helps in reducing calories. In the long term, the chances of getting breast cancer, ovarian cancer, osteoporosis, etc., are reduced to a great extent. Along with this, the risk of having metabolic syndrome such as high blood pressure, arthritis, heart disease, type-2 diabetes, endometriosis is also reduced. Breastfeeding the baby provides all kinds of nutrients. Babies who drink breast milk are less likely to have ear infections, respiratory infections, diarrhea, asthma, allergic problems, obesity, etc. Breastmilk contains antibodies, which protect the newborn from many types of infections, viruses, bacteria. The IQ level of such children is also high. After the birth of the baby, the yellow colored liquid (early breast milk) coming out of the breasts of women must be given to the children, as it strengthens the immunity. If a woman does not make milk at all, then giving formula milk is the only option, but if milk is being made and then not breastfeeding the baby is not right for the child's health.
How is the mother's diet during breastfeeding?
After giving birth to a child, sometimes some women make very little amount of milk, due to which the baby's stomach is not fully filled. For this, you can increase the production and quality of milk through a healthy diet. Ritika Samaddar, Regional Head-South Zone, Nutrition and Dietetics, Max Hospital (Saket), says that when it comes to lactation, whatever calories, protein and other essential micronutrients are needed during this period, they are far from the time of pregnancy. Happens more. Often, women take a healthy diet during pregnancy, but do not pay much attention to their diet after delivery. If you are breast feeding, then take a healthy diet, because through this the overall development of the baby takes place. If milk production is not happening properly, then include more protein in the diet to increase milk production. Keep taking dairy products like milk, water in liquids, juice or any liquid throughout the day. All these increase milk production. Avoid eating too much chili-spicy, fried-roasted things, heavy food, outside food, because it can cause infection, gas etc. to the child. Sabudana, certain types of fish, can drink oregano water, they also increase milk production. Feed the baby only milk for 6 months, after that supplementation can be started. Fruits, cereals, rice, outside milk, some vegetables, potatoes, carrots, egg yolks, chicken, pulses can all be started in small quantities after 8 to 10 months.
Ayurvedic herbs effective in breast milk production
Medical Superintendent, Ayurvedic Panchakarma Hospital (Prashant Vihar, Delhi), Ayurveda specialist Dr. R. P. Parashar says that the children who do not get breast milk, the physical development of those children is not done properly. Such children often have stomach related diseases. Their immunity also remains weak. There are many such herbs in Ayurveda, which are used to produce milk in the mother's body in sufficient quantity. There are many reasons for low milk production in the body of lactating mothers, such as marriage and pregnancy at an older age, not breastfeeding regularly, suffering from problems like diabetes, high blood pressure, obesity, premature Having a child, consuming alcohol, smoking or drugs during pregnancy, etc. If milk is being produced less, then there are many medicinal products like jiveti, kamboji, shatavari, fenugreek, star anise, cinnamon, cumin, fennel, ginger etc., which are helpful in increasing the production of breast milk.
Shatavari has been used for centuries to increase milk. Cumin is considered an effective medicine to increase milk production. It is rich in iron, which helps in giving the lactating mother the necessary energy. Cinnamon, fennel also increase milk supply. Fennel increases the level of estrogen in the body. Estrogen is one such hormone, which also helps in increasing milk production. Fenugreek seeds contain an element called galactagogue, which is effective in increasing milk production. In addition, it also increases the level of estrogen in the body. At the same time, star anise not only has estrogenic properties, but it also helps in increasing milk supply by opening the blocked milk ducts.
Be the first to read breaking news in Hindi News18 Hindi | Today's latest news, live news updates, read the most reliable Hindi news website News18 Hindi |
Tags: Breastfeeding, Health, Lifestyle, World Breastfeeding Week
FIRST PUBLISHED : August 06, 2022, 14:04 IST
,