Bollywood
After the controversy of ignoring Salman Khan hugged Vicky Kaushal, the actor said- 'Many times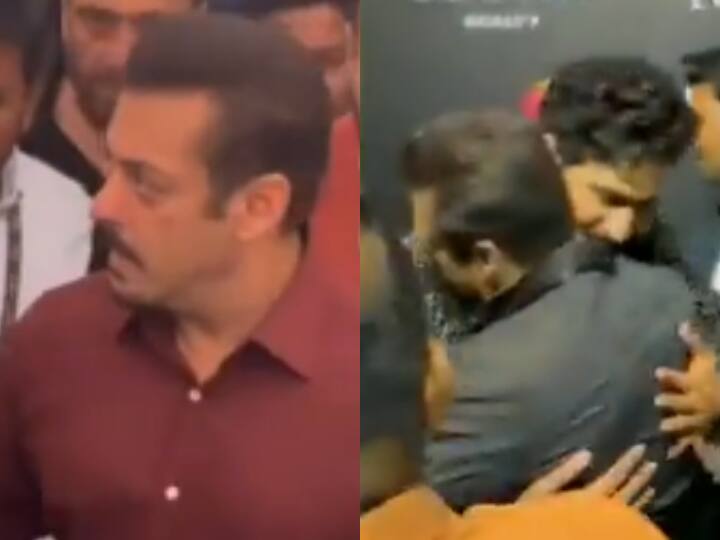 Salman Khan Vicky Kaushal Viral Video: On Friday, a video of Vicky Kaushal and Salman Khan dominated the social media throughout the day. In this video of stars going to attend IIFA 2023 press conference, Salman Khan is seen moving ahead ignoring Vicky Kaushal, while his bodyguards also push Vicky. After which this video got viral on social media. After the controversy of Salman Khan ignoring Katrina Kaif's husband i.e. Vicky Kaushal, now a video is going viral. In this video, Salman Khan is seen hugging Vicky. Amidst all this, Vicky Kaushal's statement on this matter has also come to the fore.
Vicky Kaushal reacted to the video
After being ignored by Salman Khan and Vicky Kaushal being pushed by his bodyguard, the matter caught fire among the fans on social media. Now talking to PTI, Vicky Kaushal has reacted to this video. He said, 'Sometimes things escalate a lot. There is nonsense talking about things here and things were not the same as seen in the video. There is no point in talking about these useless things.
Salman hugs Vicky after the video goes viral
When the video of this case went viral on social media, then its news reached even Salman Khan. Then what was left. Where Bhaijaan ignored Vicky on the green carpet of IIFA. While Dabangg Khan went to Vicky and hugged him.


what was the matter
In the viral video of Salman Khan, Vicky Kaushal was seen clicking selfies with the fans, meanwhile Salman's convoy reaches there. Salman is coming inside with many bodyguards. Meanwhile, Vicky is sidelined. Vicky tries to shake hands with Salman, but Salman Khan stops for a few seconds and ignores him and leaves. Vicky's expression is clearly visible. In such a situation, Vicky tried to shake hands for the second time as well, in the meantime, Salman leaves after giving him a look. It seems in the video that Salman could not recognize Vicky. When Salman passed by, his bodyguard pushed Vicky Kaushal to the side. After watching the video, the fans feel that Vicky was treated like a common man.
Vicky will host the IIFA award ceremony
Vicky Kaushal is going to host IIFA 2023 this time. At the same time, Abhishek Bachchan will also support him to make this event more special.
Also read: The Kerala Story BO Day 22: The speed of earning of 'The Kerala Story' is now decreasing, only this much collection was done on the 22nd day