Bollywood
Ambani's event was hijacked by Pathan, Shahrukh Khan danced to 'Jhoome Jo Pathan' and set it on fire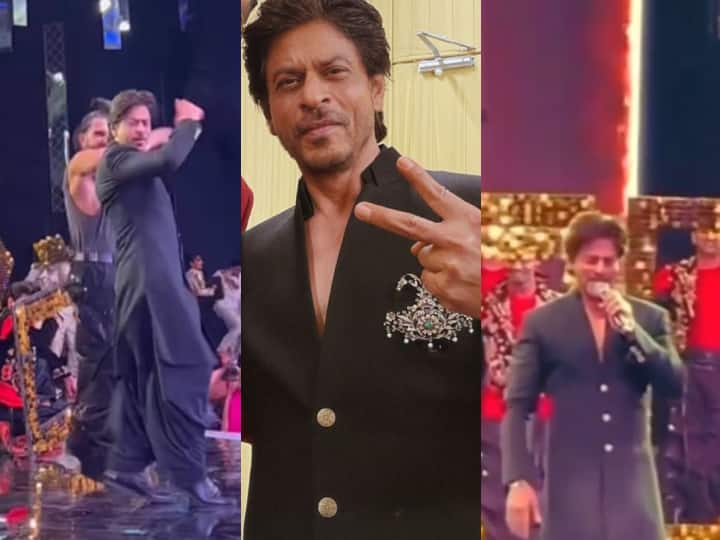 Shah Rukh Khan Dances On Pathan Song At NMACC: Many videos of Neeta Mukesh Ambani Cultural Center event are going viral on the internet. In which celebrities from Bollywood to Hollywood are seen in a fun-filled atmosphere. Being the special guest of this event, Shahrukh Khan also made the audience dance to his superhit songs with his sizzling performance on the stage. In the inside video of the event, you can see how Shah Rukh Khan along with Ranveer Singh and Varun Dhawan danced on the stage to the superhit song Jhoome Jo Pathan from their movie Pathan. . Seeing this energy level of Shahrukh Khan, the audience standing in front of him got excited and everyone started capturing him in their camera.
Shahrukh became a Pathan and organized a gathering.
Shahrukh Khan is seen doing the hook step of his superhit song in this video. Many more funny videos of this party are going viral on the internet, in which Shah Rukh Khan and Varun Dhawan are seen having a lot of fun with Ranveer Singh. Shahrukh Khan has given performance on stage not only on his own songs but also on AP Dhillon's songs. This event of Ambani family has been very spectacular. Every other Bollywood star has reached this event and has added glamor to the event with their presence.


Although Shah Rukh Khan was not captured coming from the main entrance, but in the pictures and videos of the inside party, you can see King Khan having fun. This heartwarming style of King Khan is very much liked by the audience. By the way, we have to admit that even after crossing the age of 57, Shahrukh Khan's energy level has not reduced at all. Of course, he is talking about shortness of breath in this video, but seeing him, it does not seem at all that he is a step behind the young stars who came in Bollywood.


read this also : Priyanka Chaudhary-Ankit Gupta met Sajid Khan, discussion on Bigg Boss 16's youngsters MC Stan-Abdu Rojik's brawl!