Bollywood
Dastaan-Go: If you want fame and identity like Shah-Rukh (Khan), then don't give up on 'hiccups'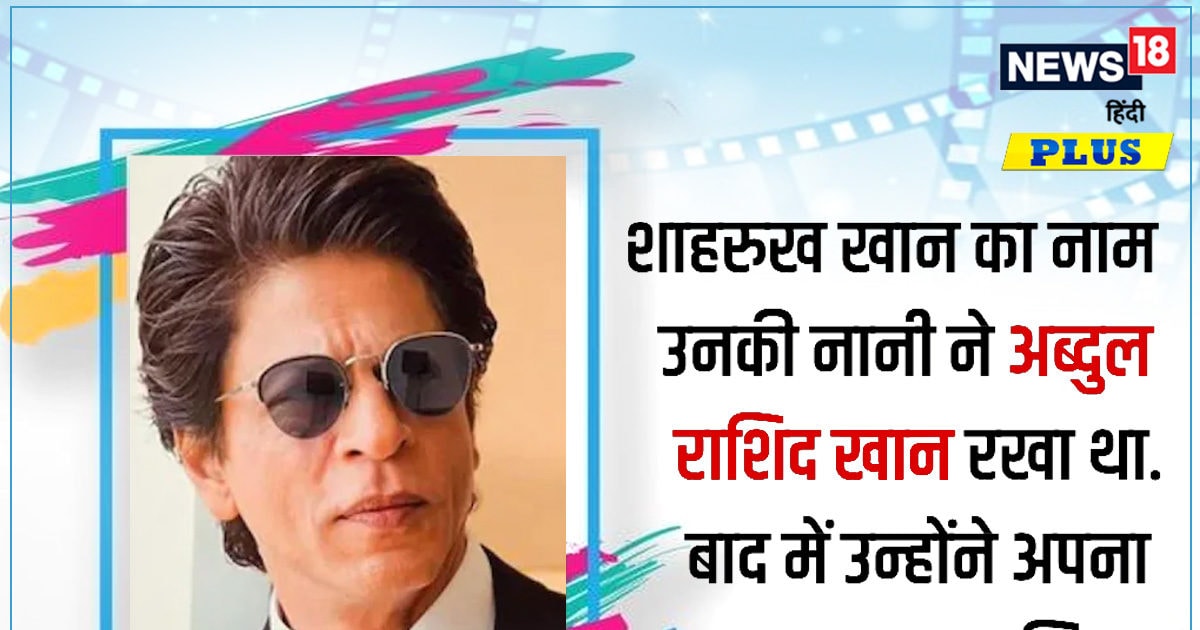 Story-Go: Is there any time to tell and listen to stories? Maybe it would have happened. Or would it not happen. But one thing definitely happens. Tales, stories are interesting to everyone. It would be better if they were present on time. If it is not, it is of the past, even then it is not bad. Because they always go not only by telling us something, but also by teaching. Brings back memories of our times. Even after sweetening the spices of the serious ones, they drink it softly. That's why 'Dastaan-Go' has started, the process of bringing interesting stories to your loved ones. Will try to continue this process. Monday to Friday, everyday…
,
Sir, Who wouldn't want to be like Shah Rukh Khan? Wealth, fame, name, identity, status and crowds of people running back and forth like crazy. All these big things would have happened in the dream of any other person. But who do you meet? Surely a few 'those with luck like Shah-Rukh'. But sir, have you ever thought that in ten years, how does a very unapproachable person turn into a 'shah-rukh's lucky person'? The answers to this question are present in the stories of the life of Shah-Rukh himself. And the Lubb-e-Lubab (essence) of these tales is like this, don't be defeated by 'hiccups'. Don't be afraid of bad luck. Get up instead of cursing them. Confront them. And like Shah Rukh, achieve all that he has done in his life. But yes, one more thing. Being prepared for no-success is the first condition of such success.
After this, now review the stories of Shah-Rukh's life. He himself has narrated these stories. Sometimes in the form of an interview. Sometimes to those who wrote a book on his life. And sometimes while giving lessons in a reputed university. Describing the philosophy of life to the children who study. Teaching them the courage to live life. Such is the occasion of the year 2018. A film had come at that time 'Hickey'. Rani Mukerji, who was the heroine of Shah-Rukh in many films, played the challenging character in this film, which Shah-Rukh has faced every time in real life. Challenge to keep your point in front of everyone in spite of problems like hesitation, stuttering. That too in a full-blown way. So, it was obvious that for the promotion of the film, Rani Mukerji got the idea to talk to Shah-Rukh. Rani asked him to tell the biggest 'hiccup moment' of his life?
Listen to Shah Rukh's reply on this, 'The biggest 'hiccup moment' of my life was when my parents died. I was 15 when my father passed away. And was 24 years old, when the mother passed away. Suddenly both left. Looked perfectly fine. But suddenly it was discovered that he had cancer and he died within two and a half months of being ill. I didn't understand then, what to do now. Then one day, while praying at the tomb of the parents, I thought that this void should be filled with something. I was in a lot of trouble, I needed to get him out. Luckily then I got a chance to act. So I found a way through which I could express my feelings. He could take out his pain, his happiness. So in this way, acting was not a profession for me. Rather, it became a medium.
Whenever such 'hiccup-moments' came in my life, I first accepted them. Told myself that man, now this has happened, which was to happen. But because of this 'hiccup', I cannot allow myself to give up. I have always felt and I also believe that when God gives this life, He gives it through 'hiccups' as well as through overcoming them. I also saw the means in front of me and I could cross them. But sir, all this happened single-handedly due to Shah-Rukh, even he himself does not believe that. Rather, on this issue, he repeats a dialogue of his own film, 'If you want something from the heart, then the whole universe tries to make you join it'. Similarly, once the opportunity arises, Shah-Rukh unfolds this dialogue layer by layer during a conversation with the big famous name of the advertising world, Piyush Pandey.
'I remember when I came to Mumbai to work in television, I didn't have a place to live. I came to Mumbai for the first time, I did not know the address, where to go. So reached the airport. Kundan, Bakul, Aziz, Saeed and their families helped me during that period. Gave me my house First kept in the office, in Bandra. Then even when I got married, I didn't have a house. Then Aziz Mirza gave me his house. I want to tell these things because these people are not my filmmakers, they are my life-makers. I would not be here, if it was not in my life. And I am not saying this to praise them. I am saying this for my own interest. Because I want to be with all of them. I want to express my feelings for all of them in some way. Because there are many people, who do not know that who has made Shah Rukh Khan what he is today.
'Then later Aziz also faced the problem of the house, so he had to take his family back. I didn't have a house to live in then. There was no money to pay rent. Then my friend Rajiv paid the rent of my house. Because of such people, I constantly believed in myself that I can become a movie star in Mumbai. There is a big famous line. Perhaps my friend Anupama has also written it in her book that – I will own Mumbai one day. I will rule Mumbai. That courage to say or think was because I was with all of them. I didn't know anything. When I was about to get married, I remember a friend of mine interrupted me. Said- You are about to get married, married hero does not work. But now she was married, what do you do now? So, the same people then accompany me to my happiness, also accompany me in my journey and take me forward.
'I remember, Abbas-bhai, Mastan-bhai faced the difficulties and made 'Baazigar' (1993). The first big successful film of my life, which made me a star. But they never let me even realize my problems. During the entire film-making. Similarly, there are many people who made me who I am today. That's why I say, I have no right in my success… Similarly, the initial phase of Delhi too. My father had passed away. We were thrown out of the house. In those days, I started doing a little acting in theatre. Just then, when the need for a house arose, we had an acquaintance, who was helping the mother in finding the house. At the same time, a mother felt the house right, then she told her – I do not have a son now, when he comes, we will tell him about this by showing him this house.
'Then he said to the mother – where is your son. So he told- has gone to acting. So he said – well, my father-in-law is making a serial. Tell him to come here and do acting. His father-in-law was Colonel Kapoor. He was making the serial 'Fauji'. He auditioned me and gave me a role. My job in that character was that I would make some mistake every time. Because of this, the actors playing the role of colonel in the serial will punish me that go, count on the tree that is planted in front, how many crows there are. So I run away and come back and tell me that there are four crows. Then he says – OK young man, now be careful. I had only that much work in the entire serial. I felt very strange that man, how will I come and tell my family that I am playing the role of counting crows. But I know that many of my things happened because of luck'.
For example, the same 'Fauji' serial, in which I was initially counting crows. In it, the son of Colonel Kapoor, he was playing the lead role of Abhimanyu Rai. He was handling the same camera. Suddenly he felt that I would not do both and he decided that only the camera would handle. The cinematography of the serial will be done only. Then Colonel Kapoor could not find any other actor, so he called me and said that now you will do this lead role, in this way I became Abhimanyu Rai overnight…'. So sir, these were some glimpses of Shah Rukh's life. They have been called from time to time in the world's big management-institutions to see, understand, learn about them and learn something from them. being called. Because many feel that in the life of Shah-Rukh, many ends of life-management are scattered, which can be held and moved forward in life. If I ever get a chance, I will definitely talk about those ends in 'Dastaan' too. Feather…
That's all for today. God Hafiz.
Be the first to read breaking news in Hindi News18 Hindi| Today's latest news, live news updates, read the most reliable Hindi news website News18 Hindi|
Tags: Actor Shahrukh Khan, Hindi news, News18 Hindi Originals, Shahrukh Khan
FIRST PUBLISHED : November 02, 2022, 08:07 IST