Bollywood
Exclusive: Dia Mirza said on appearing in fewer films, 'I don't have friends in the industry, there is not much mix…'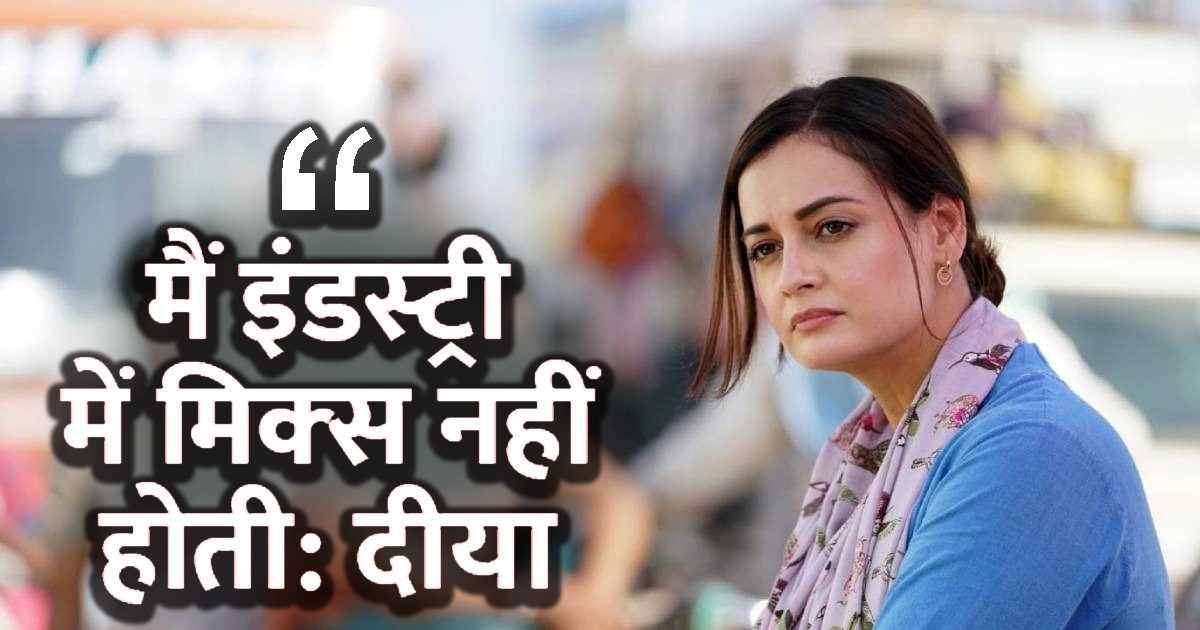 New Delhi. Dia Mirza has covered a journey of more than 20 years in Hindi cinema. But for the last few years, she has appeared in very few films. Diya has recently appeared in director Anubhav Sinha's crowd. In such a situation, the actress has told that there are many reasons for being seen so little in films. Dia Mirza, 41, says that while she herself is very selective, on the other hand she does not have friends in the film industry. She said that she doesn't do everything that needs to be done to be seen, which is why her name doesn't even come to mind when casting is done. In an exclusive interview given to Deepika Sharma of News18 Hindi Digital, Diya spoke openly on this puzzle of her career.
There were many projects in which I did not even think
In the interview we asked Diya that you are not seen in films as much as you should be. Are you doing this yourself or are you not getting such script offers. What is the reason behind this? In answer to this question he said, 'This is because of many things. For one, I am very selective about my work. Secondly, there are only a few people who are telling the story of which I want to be a part of. Along with this, many such projects have been made, of which I happily wanted to be a part, but unfortunately I was not thought anywhere in the casting of those projects.
I do not mix in the industry…
Diya adds, 'I don't know why this happens to me. From the beginning of my career, this thing is like a puzzle for me. Actually I am a very private person and do not mix much in the industry. I have not made many friends in the industry. Yes, I have some friends but I don't have groups. I never do anything to be seen or to be heard, which many people do. Perhaps it is because of all these things that people are not able to think of me for any role in many projects. But I always believe that work brings you work. If people like your work then you will get work. Like after 'Thappad' and 'Bheed' many filmmakers approached me and praised me. So I am hoping that I will get more work and offers.
Dia Mirza with Anubhav Sinha, director of the film 'Bheed'.
i want to be an employed actor
Adding further to her point, Diya says, 'Actually the reality is that everyone wants to work and the opportunities are the same. No one wants her to sit at home, I want to be such an actress who gets work. I do not have to sit at home and wait for opportunities, although this is a part of our work. Every actor will give you the same answer because now there are many actors and the work is same in the industry. Now let's see what happens. I have been here for more than 20 years, by learning so much, by working hard, I have reached here and will go further. But I try my best to always be ready from my side for the upcoming offers and whenever I get a chance to work, I can give my best in my character.
Dia Mirza's 'Rehna Hai Tere Dil Mein' was a musical blockbuster film.
Dia Mirza has recently appeared in director Anubhav Sinha's film 'Bheed'. The way Diya has played her character in this film, she is being praised a lot. Before the crowd, the actress has also appeared in 'Thappad' with Anubhav Sinha. Diya, who was a part of the musical blockbuster hit film like 'Rehna Hai Tere Dil Mein' in 1999, has been seen in many films till the year 2011, but since then Diya has appeared in very few films.
read this also: Exclusive: Dia Mirza suddenly started crying while doing the scene, the director was also surprised to see, said- 'I was embarrassed'
The actress, who appeared in 'Love Breakups Zindagi' in 2011, did not appear in any Hindi film till 2016. In 2018, she appeared in a small role of Ranbir Kapoor's wife in 'Sanju' and after that became a part of 'Thappad' and now 'Bheed'. Meanwhile, she appeared in some web series and in 2016 became the host of 'Ganga – The Soul of India' on TV.
First read breaking news in Hindi News18 Hindi| Read today's latest news, live news updates, most reliable Hindi news website News18 Hindi.
Tags: Bollywood actress, Dia Mirza, Entertainment Special
FIRST PUBLISHED : April 01, 2023, 16:55 IST