Bollywood
Is 'Pathan' teaser a copy of Salman, Hrithik and Ranbir's films?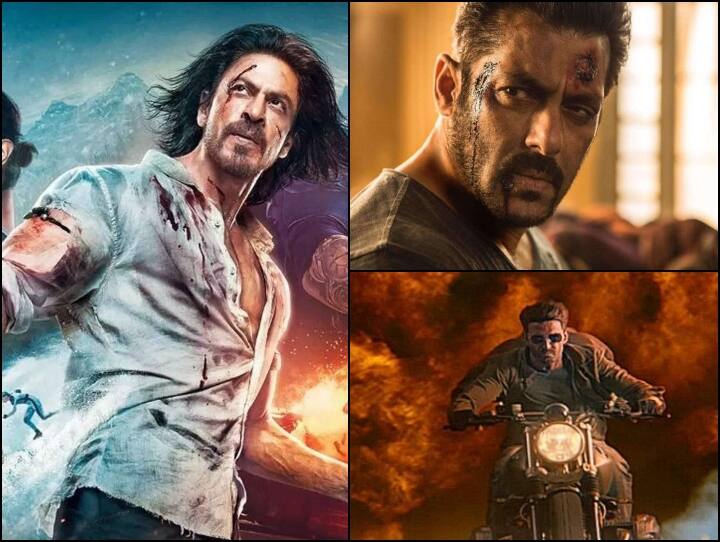 Shah Rukh Khan Film Pathaan Teaser: When Shah Rukh Khan's film 'Pathaan' was announced, his fans were eagerly waiting for the teaser of this film. Shahrukh ended this wait of people by releasing the teaser of 'Pathan' on the morning of November 2, on the occasion of his 57th birthday.
Along with Shahrukh, Deepika Padukone and John Abraham were also seen in the teaser of 'Pathan'. All three were seen doing explosive action, especially Shahrukh, Shahrukh's action avatar was very much liked by his fans. While on the one hand the teaser of 'Pathan' is being liked by the people, on the other hand some users started comparing 'Pathan' with the films of stars like Salman Khan, Hrithik Roshan, Ranbir Kapoor and Prabhas. It is to be said that this teaser has been copied from the films of these stars.
Claims of copy from Ranbir's film
In a scene of Pathan's teaser, Shahrukh says, "Tie your chair belt, the weather is about to deteriorate." A Twitter user described this scene as a copy from Ranbir Kapoor's film 'Sanju' in the year 2018. At the same time, it was also claimed from the same user that the scene of Shahrukh's bike in 'Pathan' teaser is a copy from Salman's film 'Race 3'.
Now these two scenes on your right side are copied from two different movies-

a) From Race 3 – 2018 Release
– where Salman is seen on the bike
SRK COPIED IT IN PATHAAN 2023 RLS!

b) From Sanju – released in the same year 2018 – pic.twitter.com/yH5uAdwzRn

— Veer #KisiKaBhaiKisiKiJaan (@SalmanZveer) November 2, 2022
This scene is also claimed to be copied from Salman's film.
In the teaser, there is a dialogue of Shahrukh in which he says, "Zinda Hai." At the same time, a user claimed that this dialogue has been copied from Salman Khan's film 'Tiger Zinda Hai' released in the year 2017.
Tiger Zinda Hai – released in 2017

a) The tunnel scene – nothing to say about it, you can clearly see the copy in Pathaan

b) Not to mention the ZINDA HAI comes straight out of TIGER ZINDA HAI While Srk copied it in pathaan -2023 . pic.twitter.com/GiDcJtZKQw

— Veer #KisiKaBhaiKisiKiJaan (@SalmanZveer) November 2, 2022
At the end of the teaser, Shahrukh was shown flying, claims are being made about this scene as well and it is being compared to South Superstar Prabhas's film 'Saaho'.
Whooooo
Which Is Better#prabhas #pathaan #SRK57#PathaanTeaser #Saaho
Retweet Like pic.twitter.com/lankFr5muc

— (@VVVprabhaScult) November 2, 2022
Not only Salman, Ranbir and Prabhas, there are claims of copying scenes from Hrithik Roshan's film 'War' on the teaser of 'Pathan'.
Here's a thread of copied scenes shown in #pathaan Teaser!

1. War- released in 2019

a) THE BIKE SCENE – SRK ON BIKE

b) THE GHUNGROO DANCE SCENE- AND SRK DEEPIKA DANCE NUMBER

(1/3) pic.twitter.com/0HADSsx6zq

— Veer #KisiKaBhaiKisiKiJaan (@SalmanZveer) November 2, 2022
However, Shah Rukh Khan's 'Pathaan' is going to be released on January 25, 2023, only after that it will be known what is a copy and what is not. And it also has to be seen that how amazing this film shows at the box office along with the audience.
Also read-
Shah Rukh Khan welcomed the love of the fans by spreading his arms, thanked him by sharing the special video