Bollywood
Is this bikini photo of Shahrukh Khan's darling Suhana? Know the truth of this viral picture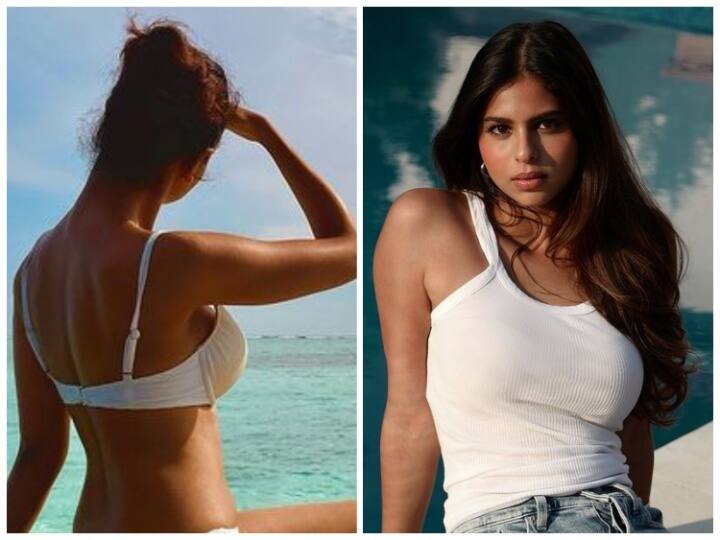 Shah Rukh Khan Daughter Suhana Khan: Superstar Shah Rukh Khan's darling Suhana Khan remains in the headlines for one reason or the other. His photos and videos keep going viral on social media. A few days ago a bikini photo surfaced on the internet, after seeing which users claimed that the girl seen in bikini is none other than Suhana Khan. Let us tell you the truth of this photo.
Bikini photo of this actress went viral
It can be seen in the viral photo that an actress is sitting on the beach wearing a bikini, but her face is not visible. Seeing this picture, netizens started speculating that the girl seen in bikini is Suhana Khan, while she is not Suhana but Shanvi Srivastava.


Who is Shanvi Srivastava?
Shanvi Srivasva is an actress in South films, who has worked in Tamil, Telugu and Malayalam films. A few days ago, he shared this picture on his Instagram account, which went viral in no time. Fans have fiercely liked and shared this picture of Shanvi Srivastava.
Suhana Khan will be seen in this film
Significantly, Shah Rukh Khan's daughter Suhana Khan will be seen in the film very soon. She is going to step into the acting world with 'The Surprise'. Zoya Akhtar is making this film. This movie will stream on Netflix. 'The Archies' is the Hindi adaptation of the American book series. Boney Kapoor's daughter and Jhanvi Kapoor's younger sister Khushi Kapoor is going to start her career with this film. At the same time, Amitabh Bachchan's grandson Agastya Nanda is also a part of this movie.
Also read- Had to face competition while working with Shehnaaz Gill? Sonam Bajwa gave this answer