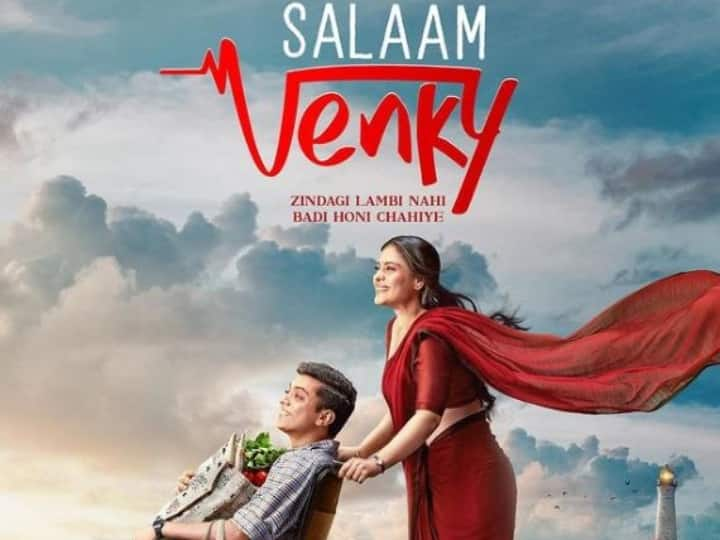 Salaam Venkey Trailer Out: One of the most awaited projects of the year, the trailer of Kajol starrer 'Salaam Venkey' has been launched. The trailer of 'Salaam Venky' was launched on Children's Day at a special event in Mumbai. This film is being told based on the true story. In which a mother fights every challenge that comes before her son and helps him to live life to the fullest.
The trailer of the film is very impressive
Directed by Revathi, the trailer of 'Salaam Venky' is quite impressive. Kajol is in the role of a mother in the trailer. His character's name in the film is Sujata. At the same time, actor Vishal Jethwa has been shown as Venkatesh aka Venky. Who has become Kajol's son in the film. Mother-son share a special bond in the film.
The trailer starts with a laughing joke between mother and son. Both are seen speaking a dialogue from Rajesh Khanna's film 'Zindagi Long Nahi Badhi Hogi Baboo Moshai'. Venky is lying on the hospital bed. In this trailer full of touching moments, Venky is shown smiling and facing the challenge of life. On the other hand, as a mother, Kajol maintains the spirit of her son and is seen supporting him in every difficulty. The trailer also shows that Venky's health condition is deteriorating, yet he aims to fulfill all his dreams.
News Reels
It is based on the true story of a mother.Salam Venky'
Talking about the film, Veteran actress and filmmaker Revathi says, "Salaam Venky is a project that is very close to my heart. I have always believed that mothers are the real heroes and through Salaam Venky, it gives me immense pleasure to be able to tell the incredible true story of one such mother and her unconditional love for my son."


The idea of ​​the film touched my heart
And the film's lead actress Kajol says, "I feel very lucky to play the role of Sujatha in Salaam Venky and Revathi has directed it. From the day I heard about the idea of ​​the film, it touched my heart." I was deeply touched and knew I definitely wanted to be a part of this amazing story."
When will the film releaseSalaam Venky'
Apart from Kajol and Vishal Jethwa, the film also stars Rahul Bose, Rajeev Khandelwal, Prakash Raj and Aahana Kumra in pivotal roles. Presented by Connecticut Media and produced by Suraj Singh, Shraddha Aggarwal and Varsha Kukreja under the banners of BLIVE Productions and RTAKE Studios, Salaam Venky is directed by Revathi and will hit the theaters on December 9, 2022.
read this also: Bigg Boss 16: Despite doing law, Nimrit Kaur could not tell what is 'open and shut case', users said – very shameful, fake lawyer