Bollywood
Kangana came in support after Priyanka Chopra's revelation of leaving Bollywood, accused Karan Johar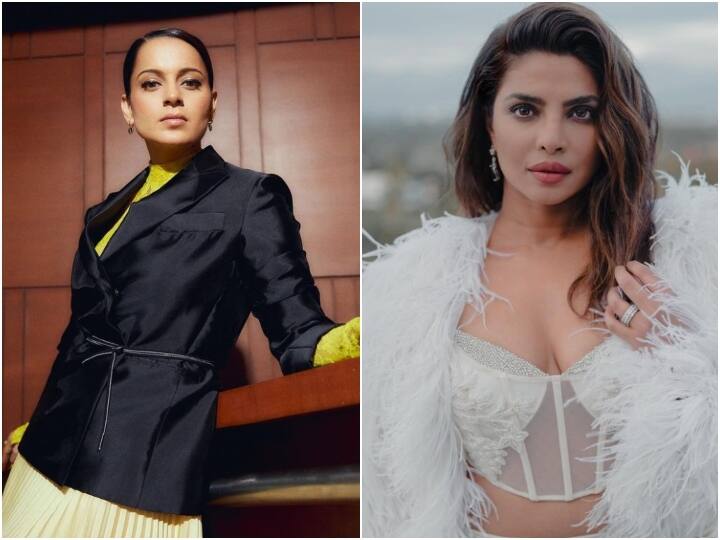 Kangana Ranaut on Priyanka Chopra: Global icon Priyanka Chopra (Priyanka Chopra) has revealed during a latest interview why she left Bollywood at the peak of her career and started working in Hollywood. At the same time, Kangana Ranaut has also reacted to this revelation of the actress. Kangana accused Karan Johar and said that he had banned Priyanka. Please tell that Priyanka and Kangana worked together in the 2008 film 'Fashion'.
Karan Johar banned Priyanka
Regarding Priyanka Chopra's new statement of leaving Bollywood, Kangana wrote on Twitter on Tuesday morning, "This is what Priyanka Chopra has to say about Bollywood, people ganged up against her, threatened her and ousted her. A self made woman from the film industry was forced to leave India. Everyone knows that Karan Johar banned him.
Punching bag made for Priyanka
Kangana wrote in another tweet, "The media wrote a lot about her fallout with Karan Johar because of her friendship with SRK and movie mafia Cruella, who was always on the lookout for vulnerable outsiders. She played a perfect role in PC." Saw the punching bag and then he was harassed and fed up he had to leave India.
Karan Johar should be held accountable
Kangana further wrote, "This obnoxious, jealous, mean and toxic person should be held accountable for destroying the culture and environment of the film industry which was never an enemy to outsiders during the days of AB and SRK. His gangs and mafia The PR should be raided and outsiders should be held accountable for harassing them."
Priyanka made a big disclosure about leaving Bollywood
Let us tell you that while talking to Dax Shepherd's podcast 'Armchair Expert', Priyanka made a big disclosure about leaving Bollywood. The actress said that she was not getting good roles. She was struggling between the politics of the industry and she wanted to get out of here. During this, his friend Anjula Acharya offered him to try his luck in music in the West. She said, "I was being pushed into a corner in the industry (Bollywood). People were not casting me. I was upset. I am not good at playing that game so I was tired of politics and I Said I needed this break."
Priyanka will soon be seen in these projects
After this, the actress gave some music videos with Pitbull and many other singers but finally she acted in Hollywood with the hit TV show Quantico. She also won two consecutive People's Choice Awards for her role in the show. Today Priyanka has made a special identity in Hollywood. Soon she will be seen in Russo Brothers' show 'Citadel' and Hollywood film 'Love Again'.
read this also:-Bheed Box Office Collection: Rajkummar Rao's 'Bheed' is a complete failure at the box office, the fourth day's earnings are the lowest