Bollywood
Many Tweets one after the other… What did Swara Bhaskar say on the cancellation of Rahul Gandhi's Lok Sabha membership?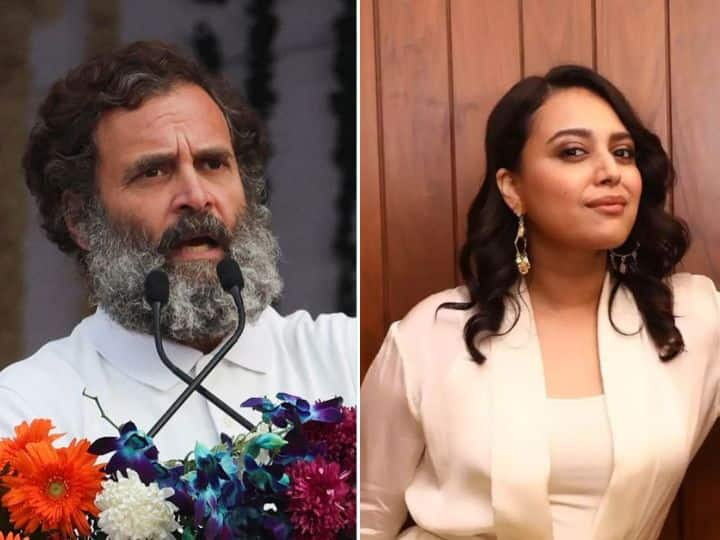 Swara Bhasker On Rahul Gandhi Disqualified: The name of veteran Congress leader Rahul Gandhi is constantly making headlines at this time. On Friday, on the orders of the Lok Sabha Secretariat, the membership of Rahul Gandhi has been canceled from the Parliament. Bollywood's famous actress Swara Bhasker has given her reaction regarding this matter. Meanwhile, Rahul Gandhi has also given a reaction on this issue, on which Swara Bhaskar has tweeted the latest.
Swara Bhaskar came out in support of Rahul
On the cancellation of his membership from the Parliament, Rahul Gandhi has made several tweets on his official Twitter handle. In this tweet, Rahul has written that- 'I am fighting for the voice of India. I am ready to pay any cost. This tweet of Congress leader Rahul Gandhi has been retweeted by Hindi cinema's famous actress Swara Bhaskar on her official Twitter handle. Apart from this, Swara has written in a tweet that- 'Hello world, the mother of democracy is killing her own child.' In another tweet, Swara has called the cancellation of Rahul's membership from the Parliament a misuse of the law. Through these tweets, it can be clearly said that Swara Bhaskar has come out in full support of Rahul Gandhi. People are also giving their reactions regarding these tweets of Swara.
I am fighting for the voice of India.

I am ready to pay any cost.

— Rahul Gandhi (@RahulGandhi) March 24, 2023
Hello World! Mother of Democracy is killing her own child. #G20 #NewIndia

— Swara Bhasker (@ReallySwara) March 24, 2023
That's how scared they are of so-called 'Pappu'! Blatant misuse of law to ensure that @RahulGandhi 's growing popularity, credibility & stature are curbed and clear strong-arm tactics for 2024 Lok Sabha that RG now cannot contest.. My guess is RG will come out of this taller ✊🏽 https://t.co/GEsLrgQuOC

— Swara Bhasker (@ReallySwara) March 24, 2023
People gave such reactions
Keeping in mind the support of Swara Bhasker for Congress leader Rahul Gandhi, people have started giving their reactions. Due to which a Twitter user has commented that- 'Hello, she is speaking as if she knows you personally. G20 is about to come. Another Twitter user has written that- 'So basically working according to the constitution is against democracy.'
Also read- 'Don't ask Parineeti, ask me political questions', Raghal Chadha breaks silence on dating news