Bollywood
Mouni Roy trolled over 'Brahmastra' trailer, fans told cheap copy of 'Wanda'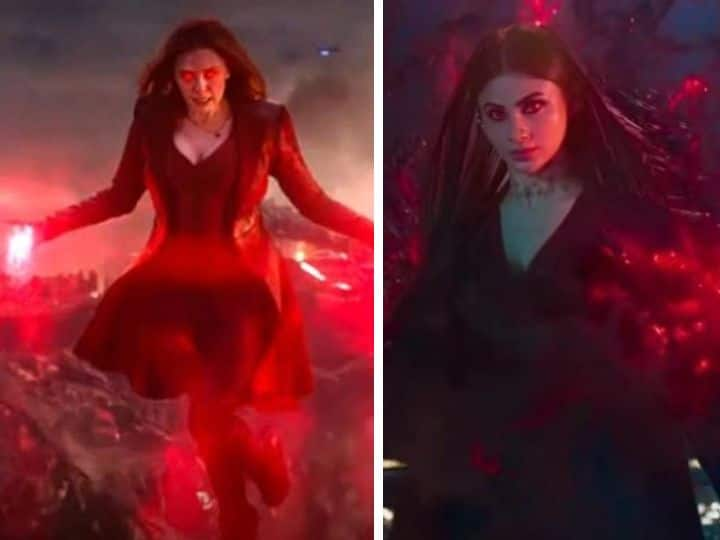 Brahmastra Trailer: The banging trailer of Ranbir Kapoor and Alia Bhatt's most awaited film 'Brahmastra' has been released. In this trailer, there is a lot of discussion about Bollywood actress Mouni Roy. Many questions are being raised on Mouni Roy's look in the Brahmastra trailer and on social media she is being described as a cheap copy of Marvel series' powerful character 'Wanda Maximoff'. Because of which he is being trolled badly. It is known that Mouni Roy is playing the role of a villain in the film Brahmastra.
Told Mouni Roy a cheap copy of 'Wanda'
The trailer of Ayan Mukerji's famous film 'Brahmastra' was released on Wednesday, only after that this trailer started making headlines everywhere. Many fans are praising this trailer of Brahmastra a lot, while many other fans are trolling Mouni Roy's character badly in this trailer. Actually, Mouni's look in the trailer of Brahmastra looks exactly like 'Scarlet Witch aka Wanda Maximoff' from the famous Hollywood series Marvel. What was it then, Mouni came under the troller's target. Under which a Twitter user has written that sometimes do something different for yourself, cheap copy here.
Sometimes do yourself something different, copy here too cheap #ScarletWitch#MouniRoy #wanda #BrahmastraTrailer #aviparihar1 #MultiverseOfMadness pic.twitter.com/XJ2A3zJ8XK

— Shakti Singh Parihar (@aviparihar1) June 14, 2022
Presenting Mouni Roy as Scarlet Witch/Wanda in Brahmāstra SAME 2 SAME #brahmastra #MouniRoy #ScarletWitch #BrahmastraTrailer #bramhastra #MouniRoy pic.twitter.com/LMQXYpeF0f

— Sunny (@its_me_sunny_00) June 15, 2022
Mouni is getting trolled badly
Apart from this, another user has tweeted and wrote that see here Mouni Roy (Mouni Roy) Scarlet Witch (Wanda) absolutely beans in Brahmastra (Brahmastra Trailer). Other users went to great lengths when they called Mouni Roy the cheapest version of Wanda, writing that Bollywood only copied Wanda. Mouni Roy looks very useless in a look like Wanda. Mouni Roy is being trolled through all such tweets. Let us tell you that the film Brahmastra will hit the theaters on 9 September.
… Mouni Roy is Just a Cheaper Version Of Wanda …lol… Bollywood Just Copied Wanda.(Scarlett Witch)..😂😂😂 ,Bahut Bekaar lag Rahi Hai Mouni Roy Wanda Jaise Look Me…😂😂 . pic.twitter.com/JlhPwm3WNy

— Superman..🦸 (@the_super__man) May 31, 2022
Entertainment News Live: 'Brahmastra' trailer released, Siddhant Kapoor shares first photo after getting bail
Brahmastra Trailer: Ranbir Kapoor-Alia Bhatt's romance works magic, action will make you stand out
,