Bollywood
One fan, one autograph..and in a moment the career of the beautiful actress got ruined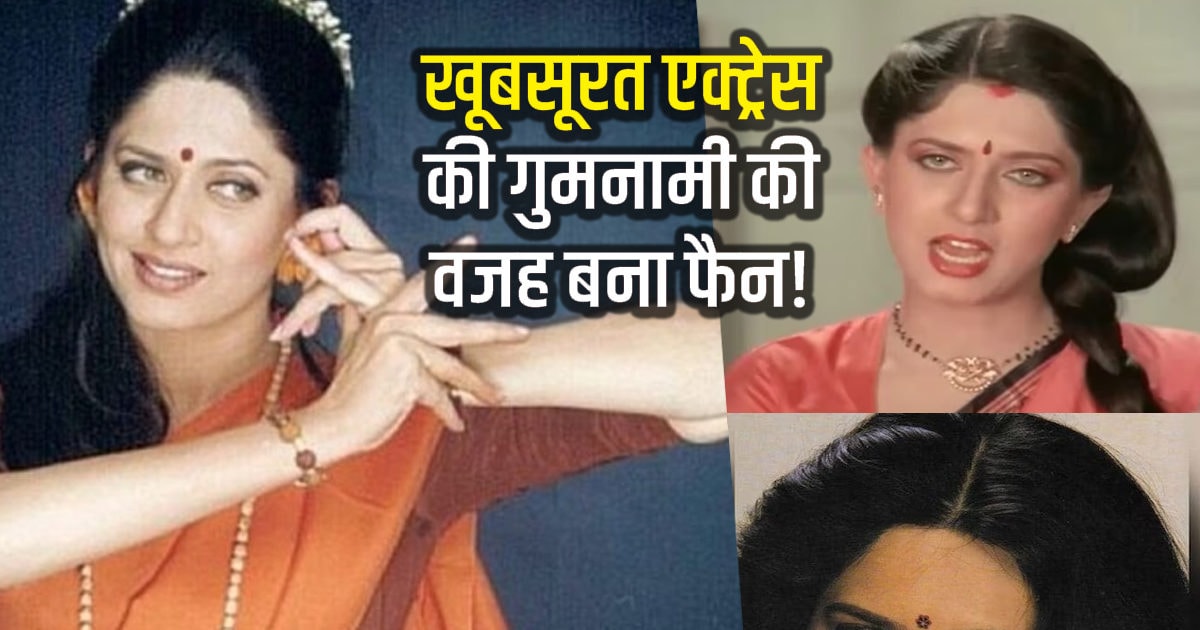 New Delhi. Any actor in the film industry remains famous for a particular reason. Some comedy, some make an identity as a villain, while some remain in the headlines because of their beauty. But there was such an actress in the industry, who was known for her long hair. Seeing her long hair, people's senses used to fly away. Although, today her hair is not that long, but she has appeared in TV ads, TV shows, Bollywood films and South films, this artist is now away from the film world. Do you recognize the name? If not yet then we will tell you.
The beautiful actress of the 90s, whose every style was liked by the people. Worked a lot in Odia, Marathi and Hindi films, as well as being a part of serials, this actress is none other than Archana Joglekar. Who has now distanced himself not only from the film industry but also from India.
learned kathak from mother
Archana Joglekar, who belongs to a Marathi family, is a Kathak dancer and choreographer. He was trained in Kathak by his mother Asha Joglekar. His mother started the dance school Archana Nrityaayal in 1963 in Mumbai. She was also very smart in studies. She used to participate in plays during college days, but never took acting career seriously.
When Archana was one of the 500 participants
Once an advertisement of Shivaji Auditorium was published in a Mumbai newspaper, in which the search for new talent was published. When he wanted to participate in these, he talked to the family. After getting permission from the family, he filled the form. She was also one of the 500 participants. When she reached the finals, she saw that a girl was practicing the same monologue which she was going to do. He asked the girl to change it, but she refused. Then Archana stayed awake the whole night and made a new monologue and also practiced it. The next day he performed so brilliantly that he won the first prize by defeating everyone.
This is how the entry in the industry happened
With this, his luck took a turn and that happened, which he had no idea at all. The panel judging the show gave him a place in a show, which he signed without thinking twice. In two years, this drama created such a buzz that Archana became famous in every household. With her acting in papers and magazines, discussions of beauty started, then directors and producers noticed her and she became a part of films.
Worked in films like 'Billu Badshah'-'Sansar'
Archana Joglekar started her career with an Odia film called 'Suna Chadhe'. Now getting work in films had started. Be it Marathi films or Hindi, Archana started appearing in all. She has appeared in films like 'Mardanagi', 'Billu Badshah', 'Sansar', 'Baat Hai Pyaar Ki', 'Terrorist Terror' and 'Aag Se Khelenge'. He also worked in serials like Challenge, Karmabhoomi, Kissa Shanti Ka and Phoolwanti.
Fan ruined career
A surprising news had also come regarding Archana. When Archana Joglekar was shooting for an Odia film in Odisha in 1997, a man tried to coerce her, due to which the actress managed to escape from the chase. After this, Archana had also lodged a complaint with the police, which was arrested by the police. In 2010, this man was sentenced to 18 months imprisonment.
Giving classical dance training in New Jersey
But, all of a sudden she disappeared from the silver screen. When Archana was at the peak of her career, she got married and shifted to America. In 1999, Archana also opened a dance school in New Jersey, where she started giving classical dance training to children. When Archana was asked the reason for getting married so soon, she had said that, I found the right person with whom I wanted to start my family. He supported my dance unconditionally and dance is like oxygen for me. Now Archana is far away from Bollywood, but even today she misses cinema. Apart from this, he has not left the dance till now.
Divorced from husband
During an interview, she told that she is divorced from her husband and now she is busy with her son. He said that life teaches us many lessons and we experience wonderful things in our journey. He said that one thing was good that due to being away from films, I got a chance to write and I have put together some scripts. Right now I have a romantic script, a high voltage family drama, a story based on real life incidents and of course a dance film as well.
,
Tags: Entertainment Special
FIRST PUBLISHED : June 08, 2023