Bollywood
R Madhavan and Sharman Joshi seen with Aamir Khan after years, fans made this demand after watching the video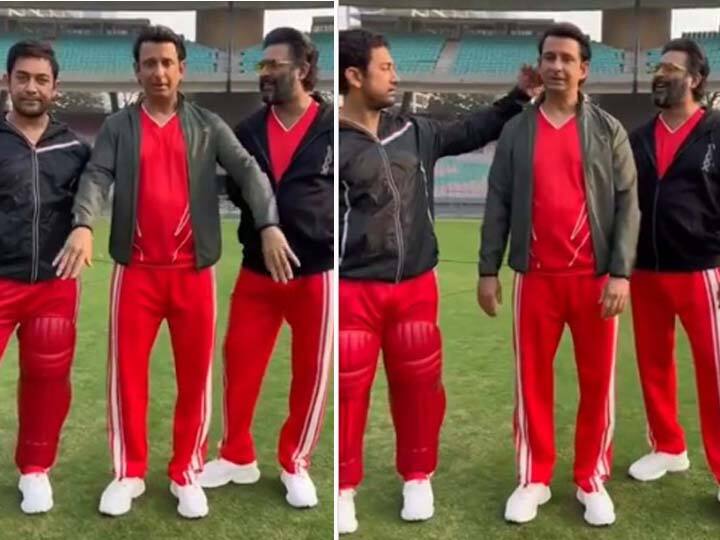 3 Idiots Reunion Video: Bollywood actor Sharman Joshi is in limelight these days for his new Gujarati film Congratulations. Now he has promoted his film with Aamir Khan and R Madhavan, whose video is making headlines on social media. Fans are excited to see Raju, Rancho and Farhan of '3 Idiots' together after years and are making special demands.
Aamir and R Madhavan promoted the film
Sharman Joshi has shared a video on Instagram handle, in which he is talking about his film Congratulations. Only then R Madhavan reaches there. Sharman tells them that his film is about to release and he is making a video for it. After this R Madhavan asks the name, then Sharman says, Congratulations. R Madhavan says thanks on this, but for whom. On this, Sharman says that this is the name of his film.


Sharman Joshi's film released today
After this, Aamir Khan's entry takes place in the video. Like R Madhavan, he too gets confused. In the video, all the three stars are seen in the uniform of the cricketers. Sharing this video, Sharman Joshi wrote in the caption, 'Three Idiots are promoting Congratulations which is releasing today'.
Fans demand '3 Idiots' sequel
Seeing Aamir Khan, R Madhavan and Sharman Joshi together after years, fans are demanding the sequel of '3 Idiots'. A fan wrote in the comment section, 'This is epic'. Another commented, 'Sir, there should be another part of it (Three Idiots)'. At the same time, another user wrote, 'We want a sequel to 3 Idiots'. In this way, users are demanding the second part of the film Three Indians.
Let us tell that Aamir Khan, R Madhavan and Sharman Joshi's film Three Idiots was released in the year 2009, which was directed by Rajkumar Hirani. This movie proved to be a super hit at the box office.
Also read- Ask SRK Session: Fan asked Shahrukh Khan for his bank account password, know what the actor replied