Bollywood
Shah Rukh Khan's first reaction on the controversy after 'Pathan' became a super hit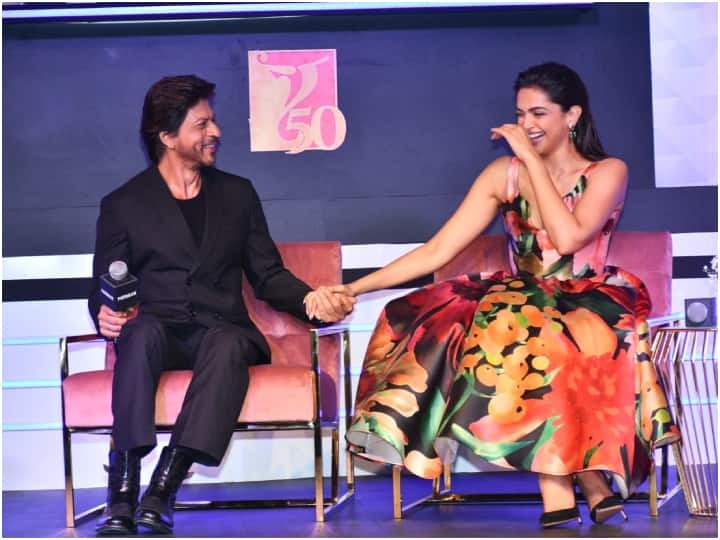 After the stupendous success of Pathan, Shah Rukh Khan met the media for the first time. Here King Khan said a lot about the controversy regarding the film without naming it. Shahrukh said that his aim was not to hurt anyone's sentiments. He also told that his biggest concern was to let the film release properly.
Shahrukh said at the PC held in Mumbai today, "I talked to people in power and ensured that the film was released peacefully everywhere. That was my concern. Movies are not a big deal, it is just entertainment… Everything should happen smoothly… It happened too. Its a pleasure.'
Let us tell you that there was a lot of ruckus in the country regarding the name of the film and the song 'Besharam Rang'. But the entire starcast never said anything on this. Even today Shahrukh Khan did not take anyone's name but said his words.
Shahrukh also said that he makes cinema for every religion. He said, "While leaving, I would like to say that whoever makes a film, irrespective of the language in which it is made, the aim of all is to make people happy with our characters. Our aim is never to hurt anyone's sentiments. We are Amar (Deepika) Akbar (Shah Rukh) Anthony (John), we make films for people of every class, community, religion, to spread love and happiness, this is what 'Pathan' means.
Amid controversies, the starcast of this film did not do any promotion, never spoke to the media. On this, Shahrukh said, "It is not that he did not meet the media for any purpose. The film was shot in Kovid… everyone was busy… everyone gave so much love, thanks to everyone!
Shahrukh also said, "I wish that I can share happiness with people and this time I am very happy if I get a chance to share happiness." I will forever be thankful to Aditya and Siddharth Anand who gave me the opportunity to work.
Wasn't expecting such a big hit
Shahrukh Khan said, "Thank you from me, John, Deepika, Aditya, everyone. We are still not convinced that this film will be such a big hit.
'When I am sad, I come to the balcony'
A question was asked about greeting Shahrukh Khan from the balcony. He said, "The elders of the house told that when you are sad, you go to those people, who give you love, I have millions of people." When I am sad, I come to the balcony and when I am sad, I come to the balcony. I have balcony tickets forever.
'My films should be released with love'
Shah Rukh Khan said, "It is an experience that should be looked into now. Perhaps we will be more grateful to the almighty. Many times we had to call people to release the film smoothly and they did." I want my films to release with love. I am sure some of my friends must have got very excited while watching the film and broke a chair or two. But the intention is that they should just feel happy watching the film. An experience to be had, more than an empty packet of popcorn."
read this also
Pathan Box Office: 'Pathan' has earned 500 crores worldwide in five days, everything is in front of SRK's magic