Bollywood
Shahrukh Khan said thank you to Salman Khan, said this big thing on Bhaijaan's cameo in 'Pathan'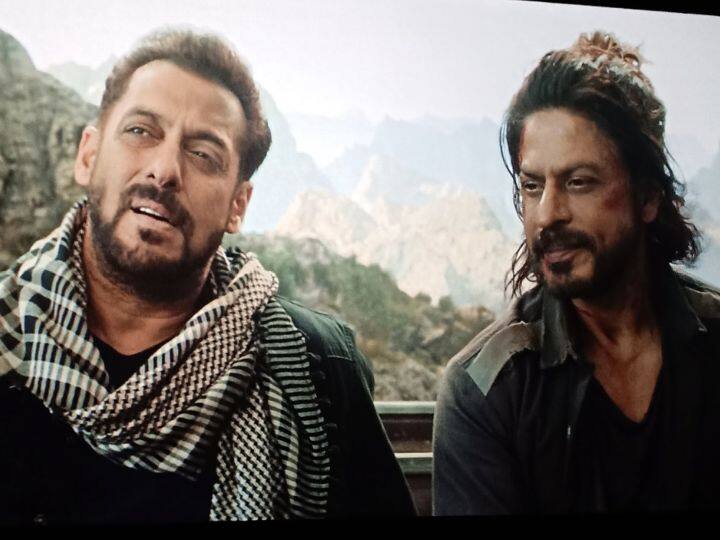 Shah Rukh Khan On Salman Khan Cameo In Pathan: Talking about the two big superstars of Bollywood, the names of Shah Rukh Khan and Salman Khan will definitely be included in it. Salman and Shahrukh are the pair of Hindi cinema that the audience likes to watch again and again on the big screen. In the film 'Pathan', fans have got to see the charm of both these actors, due to which there is a discussion going on everywhere about Salman Khan's cameo in 'Pathan'. Meanwhile, now Shah Rukh Khan has spoken a lot about Salman Khan's cameo in 'Pathan' and thanked Bhaijaan.
'Tiger' showed fire in 'Pathan'
Salman Khan's cameo in the film 'Pathan' is being praised a lot. Everyone is telling Salman's cameo in 'Pathan' as the best part, while some people believe that Salman Khan's cameo has breathed life into Shahrukh Khan's Pathan. It is also natural because fans have gone crazy in the cinema halls on the entry of Salman Khan as Tiger in the film 'Pathan'. In such a situation, on the occasion of the 500 crore collection event of 'Pathan' in Mumbai, Shahrukh Khan has said a big thing about Salman Khan. In this video on Twitter, you can see that Shahrukh is thanking Salman for his cameo in 'Pathan'.
In the video, Shah Rukh Khan is saying that- 'One person is not here, whom we all love very much. Brother is not here, but thank you Salman for making this film wonderful, I like another dialogue in 'Pathan' that 'Pain killer hai chewing gum nahi'. This is really wonderful.
Latest-"sharukh khan thanks to our bhaijaan #SalmanKhan for his cameo on pathan.
Srk said- Thank you #salman for making this film so wonderful. pic.twitter.com/Dp4siQjHD5

— BeingGaganMeena (@GaganMe35663323) January 30, 2023
Salman breathed life into 'Pathan'
Salman Khan does not have a small cameo in Shah Rukh Khan's film 'Pathan'. Rather, for 20 minutes, you will see the pair of Salman Khan and Shah Rukh Khan rocking the big screen. On watching 'Pathan', you will also come to know that in Salman Khan's upcoming most awaited film 'Tiger 3', 'Pathan' i.e. Shahrukh Khan's cameo will be seen.
Also read- Priyanka Chopra showed her daughter's face for the first time, seeing her father Nick Jonas on stage