Bollywood
Story of Wrinkle Sharma – 'Pyaara-sa thug'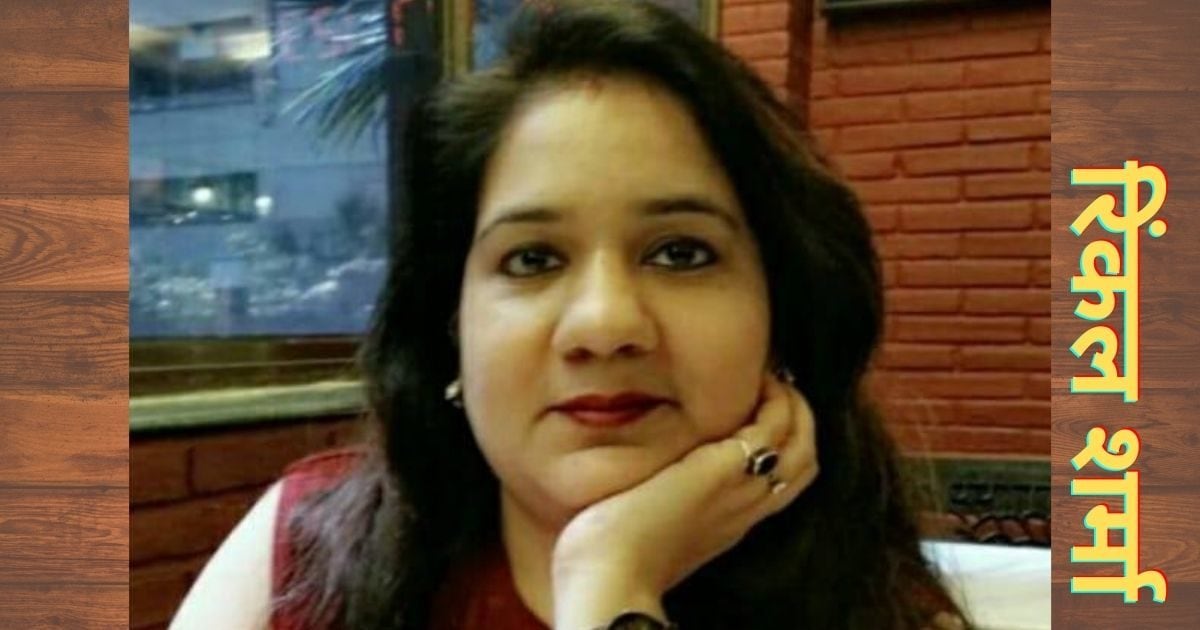 Hindi Kahani: The summer afternoon is also full of sluggishness. After dealing with all the work, it was only a little eye that there was a knock on the door. At first thought I should ignore it, but then I thought that I do not know who will be there at this time? Unceremoniously got up and opened the door. A young boy was standing in front of him. He was tall, fair in complexion, with big dark eyes, wearing a clean sky-coloured shirt and black pants and holding a folder in his hand. But the drops of sweat were clearly visible on the forehead. Seeing me, he greeted me with a very courtly manner, then I also formally shook my neck.
"With whom you want to meet?" – I asked.
He said – 'Yes, my name is Abhinav. I have come from municipal office. I want to meet Mr. Sharma.
'But he is not at home yet. You can come and meet in the evening or tomorrow morning. – I said.
Hearing me, he thought for a moment and then, wiping the sweat from his forehead, he said, 'Oh! Look, this is a very important job. can i come in? Will I come in and tell you everything?'
I got a little nervous at the thought of inviting an unknown person inside the house, but I do not know why when the eye fell on his face, the "yes" usually came out of his mouth.
'Okay all right, come in.'
He came in and sat on the sofa.
'Hey ma'am, will you have a glass of water?'
Oops! How am I too forgetful? Didn't even ask the guest who came home for water, just brought it ' – saying I went to get water. When I came to the drawing room with a glass of water in my hand, I saw that he was looking very carefully at a painting hanging on the wall in the room. As soon as I heard the sound of my footsteps, I got a little scared.
When I extended the glass of water towards him, he asked-
'Ma'am you made this painting?'
I shook my head "yes". h
'You are so beautiful just like you. Ma'am, you should put up an exhibition of your painting. Truth Very beautiful paintings.
'Thank you! It's just such a hobby, that's why I make something or the other. But you tell what was the work from Rajiv'
'Ma'am, actually Sharmaji had asked me for a boy's job for a long time. You probably have some guy here who needs a job. 'Ma'am, there is a vacant post in our office. But today is the last day for its registration. If the form is not filled by 4 o'clock today, the job will be out of hand.
After listening to him, I understood that he may or may not be talking about a job for Sunil. Actually, Rajiv's cousin Sunil was living with us for a month, and is also looking for a job. But still I just said – 'Job! But Rajiv didn't tell me anything like that.
' Didn't tell (shocked) but he was constantly telling me for the last one month. I am Mr. I am calling Sharma but he did not pick up my phone. Maybe he must be busy', didn't he tell you anything?'
Don't know why, his words ripped me deep inside. The truth is that where did Rajiv have time to say or hear anything from me, which he would pick up on the phone. Now it is only yesterday, what did I do on a phone call at office time, that came home and created a storm. They started saying, 'The meeting was very important and you knocked on the phone at the same time. You sit at home all day, go out and find out how difficult it is to earn money.
'Hmm! Meeting… In which meeting you will be busy, I know very well. I know everything for eight years, but I don't know why I am silent? Every day your clothes smell of someone else, but still I am silent? You go every other day with that woman on the pretext of office tour, I know everything, but still I remain unknown. Just on the hope that one day you will come back to me again. Rajiv, it was you who said that after marriage, one will take care of the house and the other will work outside. That's why I quit my handsome job and today you are blaming me for earning.' As soon as I said this, tears started flowing from my eyes.
'Lo ji, now the drama has started, but you ladies just keep on crying.' – Rajiv went out saying.
"Ma'am…..ma'am….where are you lost?" His voice fell on my ears, which disturbed my sleep-
"Hmm no, nowhere, yes! So what were you saying?"
'Yes, today is the last day…'
'Good! So what has to be done for this?'- I asked.
'Yes, that boy will have to carry a copy of all his documents and Rs 5000 with me. There you have to fill the registration form and submit it. Then later the interview letter will come, then the interview has to be given.
'But how is this possible now? Rajiv has gone to the office, and that boy, Sunil has also gone for an interview somewhere else' – I said.
'So ma'am, if you want, you can also go with me. You will submit the form, rest of the formalities will be completed later.
I got confused. Would it be okay to trust a stranger so much? That's when it came to my mind why not call Rajiv? But don't know why the hands stopped? Anyway, which Rajiv would have picked up the phone even if he did? There was a lot of confusion, but as soon as Sunil thought about it, he thought that it should not happen that a good opportunity should be missed. Sunil has brought so much hope to this city. In the midst of this confusion, my eyes were fixed on the young man, who was sometimes looking at the clock and sometimes at the painting hanging on the wall.
-Oops! On the face of so much innocence, how can he lie? Don't know why there is something inside that which is attracting me towards me.
'Mam! what did you think? Alright, I'll go. Such opportunities will still come. Talking about him walking moved my heart. Mann decided to go with him.
'stop! I go with you The bus came in just two minutes.
A smile spread on his face after listening to me – 'Very good, you will go along with you and complete all the formalities yourself, which will give you confidence.'
'Please don't embarrass me by saying a matter of trust' – I went inside saying. In the clothes kept in the cupboard, my hand suddenly stopped at the pink sari that Rajiv had gifted me on my first anniversary. I hurriedly changed my clothes, kept the money and necessary papers in my purse and looked at myself in the mirror before coming out. Don't know why today, after a long time, love was coming on itself. I came out getting ready.
Let's go
'Come on.'
After exiting we went straight to the bus-stop. As soon as the bus arrived, he held my hand and helped me board the bus. No seat was vacant as the bus was crowded. I stood on one side of the bus, he was also standing with me. I had a purse in one hand and with the other I was holding the handle of the bus. There was a strong wind coming from the window of the bus, due to which a strand of my hair was coming on my face, which was bothering me again and again. He probably sensed my problem. He put my braid behind my ears with his hand. With that touch of his hands, my whole body got uplifted. I started to feel the strange fragrance coming from his body. He was looking out the window but I, with thief eyes, was looking at his face again and again. Due to the gusts of wind, his hair was also flying in the wind, which he used to carefully groom with his hand. Don't know what was in it, but there was something that was giving a strange comfort to the soul. I don't know why it was so nice with him. I was wishing that this journey would continue like this.
Then the bus stopped and he said – 'Ma'am, let's stop at our stop.'
After getting off the bus, we went straight to the municipal office.
'Ma'am, you stay here! I will bring the form.' He left saying.
After about 5 minutes, he came back with a paper in his hand and while praising me he said – 'Take ma'am, you fill this form. But ma'am, there is very little time left, if you say, by the time you fill this form, I will deposit the registration fee?'
'Yes, yes, why not. Take this money' – I took out Rs 5,000 in a hurry and pushed it towards him.
Taking the money in his hand, he looked at me carefully, then after thinking about something, left. I got busy filling the form. After filling the form I started waiting for him. After a long time, my eyes started looking for him everywhere. But, he did not appear anywhere. When I looked at the clock, it was about to hit five. In government offices, people start looking at the clock from five o'clock. I got up and went inside the front office. A sahib was sitting happily in his chair. I went to him and asked – 'Yes, where will you find the innovative work that you do here?'
Those sahib looked at me from top to bottom as if I had asked a very strange question, while handling the peak of the paan buried in his mouth, he said – 'Who Abhinav, madam? There is no man by this name here.
'nobody is here? How could this happen? He has just come with me. The job of a clerk is out here, for the same application, he gave me this form and he himself came here to deposit the registration fee.
Anxiety and nervousness were clearly visible on my face, which perhaps even those sahib had read very easily.
'Look, ma'am, I have been working here for 25 years. No person named Abhinav works here. And when it comes to jobs, no vacancy has come here for the last two years.
'But' – no more words came out of my mouth.
'Look ma'am, don't feel bad, but it seems that someone has cheated you and gone away. Many people like you come here, who fall prey to this kind of fraud. We do not understand how educated people like you get into the talk of these thugs?'
That sahib kept on speaking but I gradually stopped hearing his words. I walked back home lifeless, weary with steps. It is not known when the entire path has passed. All the way my mind kept wondering whether he was really a thug? Did he really cheat on me? That innocent face, those sparkling eyes and that sweet smile, was it all a hoax? If he was a thug how could he know so much about my house? No-no how can he be a thug? Entangled in all these confusions, I did not even know when I came near the house. Then a hoarse voice came from behind in the ears – 'Radhika… Radhika' When I looked back, Mrs Gupta was giving voice.
'Radhika, today a young boy came, said that some Vermaji lives here, he needs a job. I said that Vermaji no one lives here but yes, there is a Rajiv Sharma living nearby, leaving two houses, but he has a good job, what is the need of a good job? But yes, a boy has come to them, maybe he is looking for a job. Then I told him that he should go and meet you. And he went towards your house. what did you meet? What happened to the job?'
Mrs Gupta was fluttering with her questions, but I understood everything now. I went ahead smiling. And she started thinking in her mind that after all what did she cheat? Pennies? Or maybe something more than that? These questions keep arising in the mind, but still do not know why even today the eyes in the crowd look for that thug? If only! Meet him once again, that thug, that cute little thug.
,
Be the first to read breaking news in Hindi News18 Hindi| Today's latest news, live news updates, read the most reliable Hindi news website News18 Hindi|
Tags: Hindi Literature, Hindi Writer, Literature
FIRST PUBLISHED : November 01, 2022, 18:25 IST