Bollywood
The book 'Nagme Kisse Baatein Yaadein' tells the untold stories of Anand Bakshi's life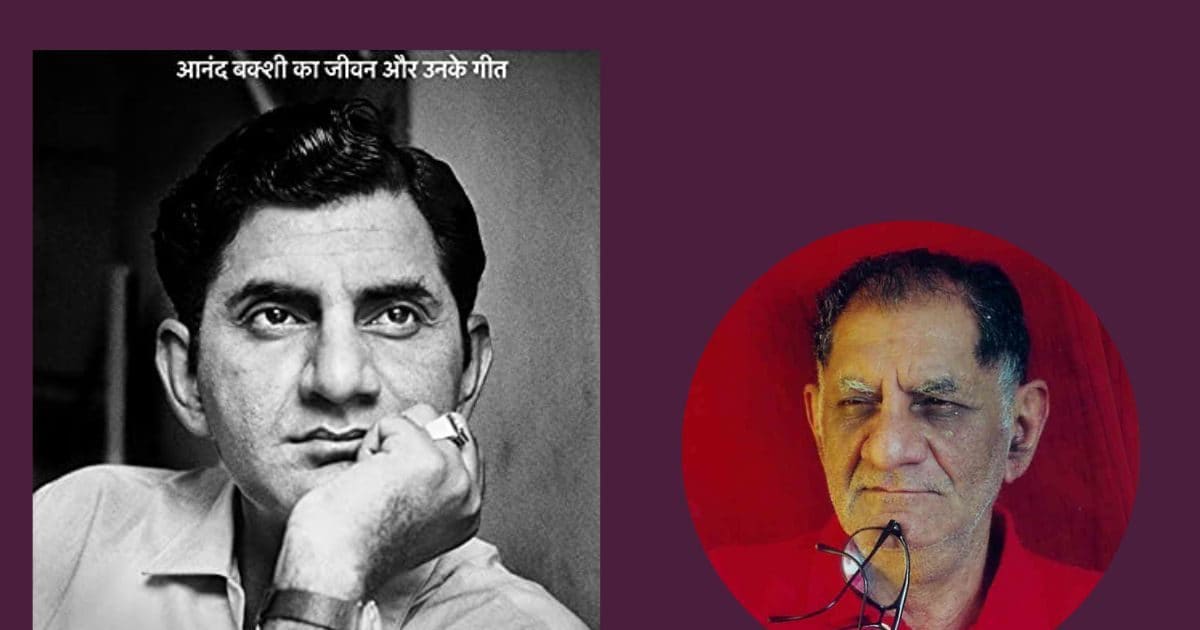 It is said that feelings cannot be expressed in words, but when feelings take the form of words, then each word starts speaking. This proverb literally comes to life in the book 'Nagme Kisse Baatein Yaadein', based on the biography of Bollywood's famous lyricist Anand Bakshi. Rakesh Anand Bakshi, son of Anand Bakshi, the charioteer of words who composed more than 6,500 classic songs, has decorated this book with his unforgettable memoirs. Only the first version has come in the market and it is getting a lot of love from the people.
Rakesh Anand Bakshi, in a special interview with this journalist Shriram Shaw, sheds light on the behind-the-scenes events and memories of this book-composition and said – "The inspiration to write the biography of father Anand Bakshi was first of all his fans, close friends, and my The first book was published by Shantanu Roy Chowdhury in 2012. I told Shantanu that I have been working on it since 2002 and I have written 150 pages. But I will be able to send it only when I write a book or make a film under my name. Because daddy always used to tell me – after I leave the world, do not do anything in my name until you create something new in your name. And, it took me 50 years to create something of my own. My book as a writer came out, "Director Diaries – The Road to their First Film". This book was published in 2015. It was only after this that I started looking for a publisher for Anand Bakshi's biography and finally its English version appeared in front of you from Penguin Random House.
As it is clear from the name of this book "Nagame Kisse Baatein Yaadein" that it contains references to the creation of many songs, untold stories and memories. In this, the abstract thoughts of Anand Bakshi's contemporary film-writers, lyricists like Salim Khan, Javed Akhtar and some of his relatives have also got due place. Many meaningful and interesting information is found in this book 'Nagame Kisse Baatein Yaadein' written by Rakesh Anand Bakshi. Originally written in English, the Hindi translation of this book by Yunus Khan (Announcer in All India Radio Mumbai) has been published by Advik Prakashan.
Bhishma Sahni's story narrating the pain of Indo-Pak partition- 'Amritsar has come'
Rakesh Anand Bakshi has also mentioned in this book that when his father saw a film and felt that he had not done a good job as a lyricist, that film was 'Andha Kanoon'. The hero of this film sings – 'Learn to laugh while crying, cry while laughing, Ram's keys are as good as his toys'. The hero is not a Hindu and takes the name of a Hindu deity. Daddy had told him- 'I had made a mistake that before writing the song, I had not asked the director the name of the hero's character and his religion. When the director was narrating the story to me, he was narrating it in the name of Amitabh Bachchan. If I had known that Amitabh Bachchan was playing a Muslim character in the film, I would have written the song according to the manners and religion of that character.
By the way, a secularism has been going on in Indian culture for centuries, it is embedded in our subconscious mind. Bakshi Saheb said that if the director had told him that the hero of the film is secular, then he would have definitely written this phrase in the song, because then it would have been the demand of the character. If it is not so then it is their failure.
In an emotional appeal to Sudhi readers and fans of Anand Bakshi, Rakesh Anand Bakshi said, "I look forward to the feedback and suggestions from you readers, fans of Bakshi Sahab and journalists, all those who have worked on Bakshi Sahab or who know his songs. There will also be waiting for those incidents related to the song, about which you are aware and which could not be included in this first edition of this book. We will make the book even better based on your suggestions and will be able to incorporate your valuable suggestions in the next edition. This is our first attempt to cover Anand Bakshi's personality and work in one book.
Rakesh Anand Bakshi says, "One of the biggest lessons I learned while writing this book was to understand the importance of my family more. If you are the only person in the world who believes in yourself and your dreams, believes in your destination, believes in your ambition, then you should still keep growing, even if you are alone."
Anand Bakshi was the most popular lyricist of Hindi cinema in the seventies and eighties. From Rajesh Khanna to Amitabh Bachchan, the songs written by him would have been humming on the screen. Apart from these, the songs of almost all the hit films of that time were being written by him. He was also writing the lyrics of all Manmohan Desai's films. But before leaving the army job, he fought a long struggle in Bombay (now Mumbai).
Anand Bakshi was born on July 21, 1930 in Rawalpindi (now in Pakistan). His mother died when he was six years old. All the people in his family were in the police or in the army or were landlords.
Shiv Kumar Batalvi: Poet of love and Sultan of Birah, who sees Kaaba in pain and affinity in pain
In 1944 he joined the Royal Indian Navy as Boy 1 at the port of Karachi and remained there till 5 April 1946. Meanwhile, at the time of India-Pakistan partition, his family reached Delhi on October 2, 1947. Anand Bakshi started writing poems for the first time while serving in the army between November 15, 1947 and 1950. His full name in the signature below the poems would have been Anand Prakash Bakshi. Leaving the army job in 1956, he reached Mumbai with the firm intention of becoming a lyricist. This was his second attempt to try his luck in Bombay. At that time he had a treasure of about 60 poems. He had come alone. His wife was in Delhi only. The first film he got was a film directed by Bhagwan Dada titled 'Bhala Aadmi'. Bhagwan Dada proved to be a really good man for him. It was his only film because of which he could survive in Bombay and continue his struggle ahead.
The first film was 'Bhala Aadmi', which Bakshi Saheb used to call his biggest film. It has been written about him in this book that once during the days of struggle he was waiting for actor Bhagwan Dada in his office at Ranjit Studio. In those days Bhagwan Dada was a very big star and he was directing a film for the first time called – 'Bhala Aadmi'. Brij Mohan was its producer. Bakshi ji had befriended the office peon and in this way he came to know that Bhagwan Dada was upset because the lyricist did not come to the sitting with the song and Bhagwan Dada wanted the song at any cost. Bakshi Saheb immediately took advantage of the opportunity and entered directly into Bhagwan Dada's room.
Bhagwan Dada asked – 'What do you want?' Anand Bakshi said that he is a lyricist and is looking for work. Bhagwan Dada said – 'Okay, let's see whether you can write a song or not.'
He told the story of the film to Bakshi Sahab and gave him fifteen days to write the songs. Bakshi ji wrote four songs within fifteen days. Bhagwan Dada liked all the four songs and signed Anand Bakshi as the second lyricist of the film. He got 150 rupees for those four songs. The first song was – 'Dharti ke lal, na kar itna malal, dharti tere liye, tu dharti liye'.
This song was recorded on November 9, 1956. The composer was Nisar Bazmee who moved to Pakistan after a few years. Within two months of coming to Bombay for the second time, Anand Bakshi finally made his debut as a lyricist. It took two years to make this film. It released in 1958 and failed at the box office. Lyricist Anand Bakshi also did not go unnoticed.
In the words of Bakshi Saheb – 'When I saw my name on the screen, I cried with happiness. Today if I am considered a successful lyricist, it is because of Bhagwan Dada. A star, actor and producer who gave me work, showed a path to my dreams, prayers and hopes. My career did not benefit from this film, but still it is the biggest film for me and will always be, because it gave birth to me in this world as a lyricist.
In the poster printed in the newspaper, Anand Bakshi had underlined his name with red ink. How happy were they! His name was spelled 'Bakshi' on this poster, whereas it should have been 'Bakshi.' This spelling mistake stuck with him, but he did not pay attention to it because his priorities were different.
,
Tags: Bollywood news, Books, Entertainment, Hindi Literature, hindi writer, Literature
FIRST PUBLISHED : June 06, 2023, 20:21 IST