Bollywood
Third marriage at the age of 78, Rekha was not given the status of daughter, even the actress did not see Gemini's face after death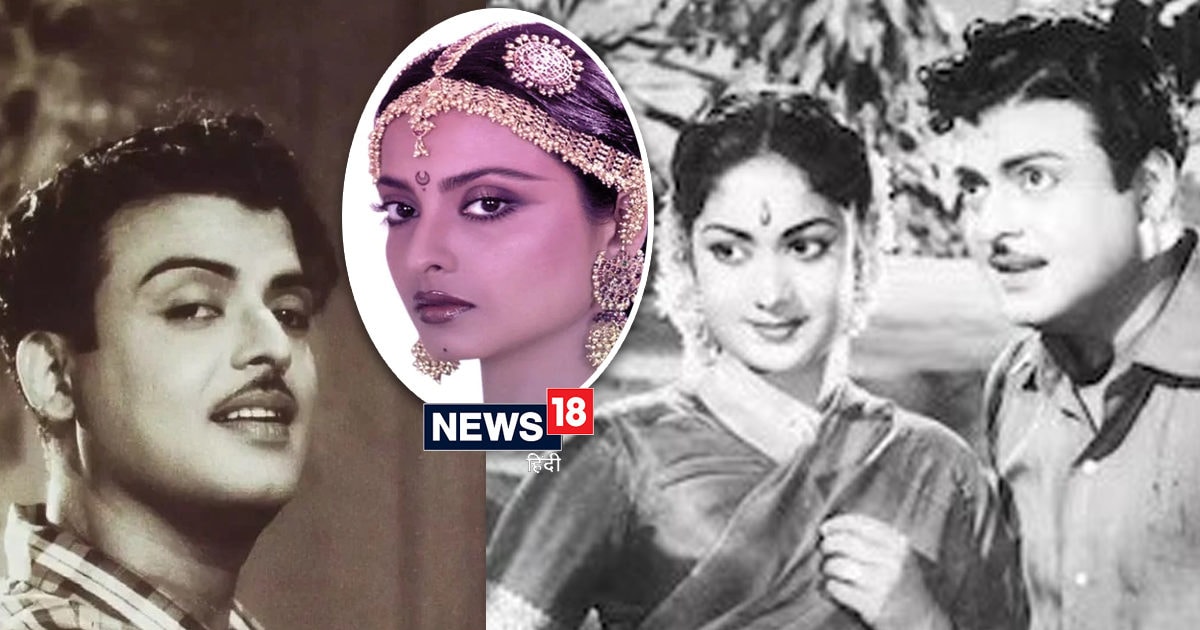 Mumbai: Between 1950 and 1980, only one actor ruled the Tamil industry, and that was Gemini Ganesan. He was called 'Kadhal Mannan' i.e. King of Romance of the Tamil industry. Gemini was considered the most handsome and good looking actor of his time. His looks were discussed so much that he was never even offered ugly looking roles. Gemini had done 3 marriages. From whom he had 8 children. Rekha was also Gemini's daughter, but the actor never gave her the status of his daughter and it is said that this thing always kept bothering Rekha.
Gemini never wanted to become an actor but a doctor and he got married for the same greed. Gemini was assured by his father-in-law of getting admission in the medical college, Gemini, who had been dreaming of becoming a doctor since childhood, got married for the first time due to this greed. Although, he could never become a doctor, but luckily he definitely reached cinema.
First side hero in films, then Gemini became a villain and then became a hero. He married secondly to Savitri, who was considered the richest actress of her time. After this he married for the third time at the age of 78, that too with a girl 36 years younger than himself. The more famous Gemini was, the more his life was surrounded by controversies. Especially Gemini's relationship with Rekha and her mother was always in discussion.
Savitri was the top actress of the industry in her time, but gradually her career got ruined and Gemini is also considered to be the reason for this. Gemini was born in 1920 in a Tamil Brahmin family. His grandmother and mother were Devadasis and his father was the principal of the Maharaja's College in Tamil Nadu. When Gemini was 6 years old his father and grandfather passed away and the family was abandoned.
father and grandfather passed away
After the death of his father and grandfather, Gemini's aunt Muthulakshmi supported him and his family. But, due to Gemini's mother and grandmother being Devadasis, they often had to listen to taunts. Gemini's mother and grandmother were not even allowed to appear in front of the guests coming to their aunt's house. Because, Muthulakshmi had a lot of hatred for the Devadasi system. He used to feel ashamed of his kinship with Gemini's family. Fed up with these taunts, Gemini's mother and grandmother left Bua's house and returned to the village, but left Gemini with her aunt so that she could study and write.
Gemini Ganesan stays at aunt's house
Gemini's aunt sent him to Ramakrishna Ashram for studies, but he could not tolerate the distance from his mother and left everything and came to his mother. He completed his schooling while living in his village and did B.Sc. For this he came to Madras Christian College, Chennai. Friends went to Tiruchirapalli to meet TR Alamelu in connection with Gemini's studies, where he met Alamelu's father. He proposed Gemini to marry his daughter and said that he would get a seat in the medical college. But, unfortunately, his father-in-law passed away after a few months of marriage.
When Gemini fell in love with Pushpavalli
After entering the film world, Gemini worked with Pushpavali in films like Miss Malini and Chandradhari and the closeness of both started increasing. But, Gemini was already married, so he did not marry Pushpavali. On the other hand Pushpavali had separated from her first husband Rangachari. But, he also did not get divorced. In such a situation, the marriage of both is not considered valid according to Hindu practice because divorce was not recognized in India till 1956.
Rekha did not reach father's funeral
While in a relationship with Gemini, Pushpavali gave birth to daughter Rekha on 10 October 1954. This news started spreading like a wild fire everywhere. In the newspapers, Rekha was being described as the illegitimate daughter of Gemini and Pushpavali. Even after this, Gemini never came forward nor gave Rekha the status of a daughter. In 1955, Pushpavali gave birth to Gemini's second daughter, Radha, but only then did she come to know about his second marriage to Savitri. This hurt Pushpavali a lot. It is said that the daughters of first wife Alamelu and Pushpavalli used to study in the same school, but Gemini always ignored Rekha and Radha. Gemini died on 22 March 2005 due to multiple organ failure. It is said that Gemini never gave Rekha the status of his daughter, that is why even after receiving the news of her father's death, Rekha did not attend his funeral.
First read breaking news in Hindi News18 Hindi| Read today's latest news, live news updates, most reliable Hindi news website News18 Hindi.
Tags: bollywood, Entertainment, Rekha, south cinema
FIRST PUBLISHED : March 26, 2023, 06:30 IST