Bollywood
Varun Dhawan kisses Gigi Hadid by lifting her in his lap .. Actor breaks silence after being trolled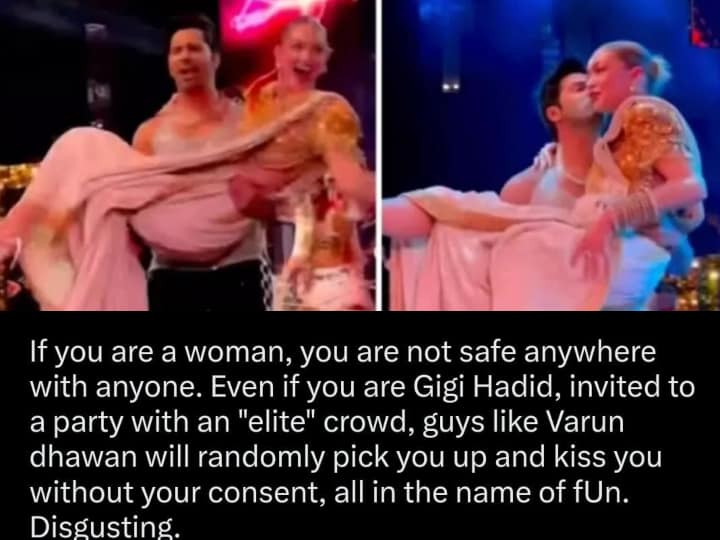 Varun Dhawan Kissing Gigi Hadid: On the second day of the Nita Mukesh Ambani cultural event, there was a fair of stars in Mumbai, where many big faces from Bollywood to Hollywood and South industry were seen. Many famous stars had given performance on the stage while some people were seen dancing in the party. Many videos of this event are becoming very viral on the corridors of the Internet, in which all the stars are seen having fun, one such video is of Varun Dhawan's stage performance where he danced on the stage with international model Gigi Hadid. Kissed Gigi Hadid) on the cheeks.
Varun Dhawan got stuck after kissing Jiji Hadid
In this video going viral, you can see how Varun Dhawan calls Jiji Hadid while dancing on the stage, in such a situation, he starts dancing while lifting her in his arms. On this video of Varun Dhawan, a lot of ruckus was seen on social media. In such a situation, breaking the silence, Varun Dhawan lashed out at the user who was trolling the actor without knowing the whole truth. Although that user has deleted his tweet, but his screenshots are still going viral on social media.


The user trolling Varun Dhawan wrote while commenting that – If you are a woman then you are not safe anywhere with anyone. Even if you are Gigi Hadid, inviting people to your party, picking them up on your lap and kissing them without their permission and calling them fun is very wrong. Digesting.
After reading the tweet of that user, Varun Dhawan broke the silence and said that – I think you are awake now and have decided to wake up today. So, bursting the bubble of your dreams, I want to tell that Hadid's coming on stage was already planned. So you go and raise an issue about something else. Good morning…
I guess today you woke up and decided to be awake. So lemme burst ur bubble and tell u it was planned for her to be on stage so find a new Twitter cause to vent about rather then going out and doing something about things. Good morning 🙏 https://t.co/9O7Hg43y0S

— Varun Dhawan (@Varun_dvn) April 2, 2023
Read this also: Priyanka Chaudhary-Ankit Gupta met Sajid Khan, discussion on Bigg Boss 16's youngsters MC Stan-Abdu Rojik's brawl!