Bollywood
Was scared during the shooting of 'Pathan', was not even confident,' Shah Rukh Khan himself revealed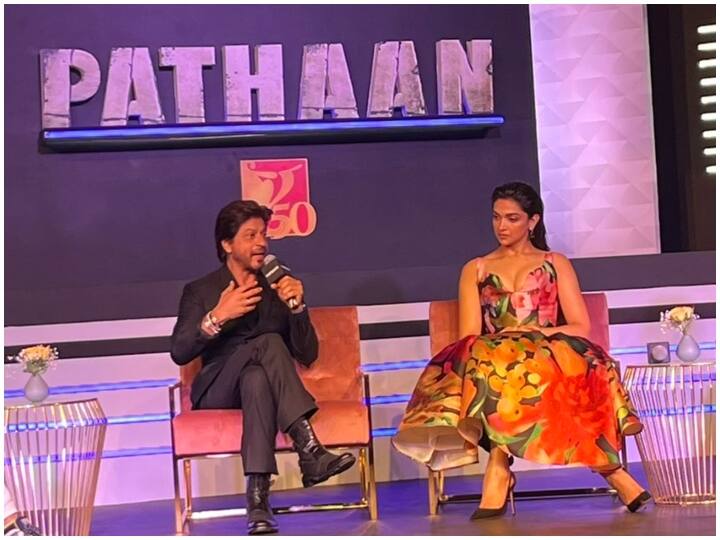 Shah Rukh Khan On Pathan Press Conference: Bollywood King Shahrukh Khan's latest release film 'Pathan' is making new records at the box office. The film has received tremendous response from the audience. The special thing is that with this film, Shahrukh Khan has returned to the big screen after a break of four years, which the fans are celebrating fiercely. At the same time, during the success event of 'Pathan', John Abraham had said that Shahrukh Khan is not an actor but he is an emotion. This statement of John seems to be true to a great extent because in the last few days, not only in the cinema hall, but also outside King Khan's house Mannat, the enthusiasm of the fans is being seen.
,Pathan' Shahrukh Khan was not confident during the shooting of
At the same time, during the success event of 'Pathan', Shahrukh Khan made a disclosure about himself. He said that when he started shooting for 'Pathan', he was not feeling very confident. He shared, "When we started working on it, my confidence was low because I was coming on the sets after a long time. Even I used to get scared, I used to feel insecure, I used to talk to myself multiple times a day. I lose confidence. That's why I believe in keeping going because the weaker you are, the stronger you are. And having my beautiful friends around me like Deepika Padukone, John, Siddharth Anand helped me."
SRK are a bit arrogant
Shah Rukh Khan also revealed that he is a bit arrogant. He jokingly said, "It is not that I am not arrogant. On a serious note, he further said," We should wake up in the morning thinking that I am the best. You have to wake up with the belief that I am the best then only you can do something that's why I keep saying. And people think it's arrogance."


How Shahrukh Khan deals with failure
When SRK was asked how he deals with failure, Shah Rukh Khan said, "Everyone has a different way of dealing with failure. I have a special bathroom in my house. Everyone knows when I am there." So I'm crying. But it's all about Monday. If the film flops on Sunday, you wake up." Was thinking on Monday that you should work harder now. If the film works, you still wake up on Monday and think that now I have to prove myself again for my next film."
SRK considers himself responsible for the film not doing well
Shahrukh Khan also said that he feels very guilty if his film does not work. He said, "I feel responsible that I let people down. We all put in our best efforts. There are thousands of people associated with a film and their lives are attached to them. When we let down the audience, we feel guilty." So, work hard again, be working class. If you can't go to the sets like a working class person, you shouldn't be in films." Please tell that 'Pathan' has now earned more than 400 crores worldwide.
read this also:-Aamir Khan and Kartik Aaryan set the tone for a friend's wedding, the actor was seen dancing to 'Tune Maari Entry'