Bollywood
'Yeh Hai Bhole Ke Shaitan' Ajay shares new posters of 'Bhola', shows glimpse of starcast's look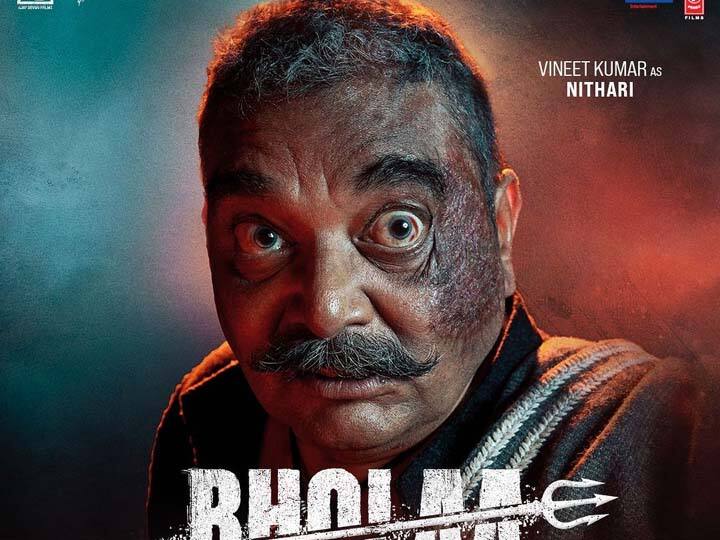 Ajay Devgn Bhola New Posters: Bollywood actor Ajay Devgan is busy these days with his new film Bhola. He has shared his and Tabu's look from this movie. Now Ajay has shown a glimpse of the look of the rest of the starcast, seeing which the excitement about the film increases. Stars like Gajraj Rao, Deepak Dobriyal and Vineet Kumar will also be seen in Bhola film.
Ajay Devgan showed a glimpse of Bhole's three devils
Ajay Devgan has shared three new posters of Bhola film. In the first, Deepak Dobriyal is seen. He wrote in the caption, 'Tell the name of that ghostly person in sheep's skin, we will cut his neck. Don't underestimate the power of the dark side. Deepik Dobriyal will be seen in a negative role in the film Bhola.


Vineet Kumar seen in dangerous look
Apart from this, Ajay Devgan has shared another poster, in which a glimpse of Vineet's look is shown. His face is seen burnt in the poster. He wrote in the caption, 'We are devotees of blood. Make this police station a crematorium. At the same time, in the third poster, Ajay Devgan has shown the look of Gajraj, in whose caption he wrote, 'If you become a millionaire without playing Kaun Banega Crorepati, what will you do with this much money?' Interestingly, in the caption of the new poster, Ajay Devgan has described all the three characters as Bhole's devils.




Ajay Devgan is directing the film
Please tell that Ajay Devgan's 'Bhola' is a Hindi remake of the hit Tamil film Kaithi. Ajay Devgan will be seen as the lead actor in this film. Along with this, he has directed this movie and he is also its producer. It is discussed that stars like Abhishek Bachchan and Amala Paul will also be seen in Bhola film. Ajay Devgan's first film which will be released in the year 2023.
Also read- Aruna Irani On Her Marriage: Aruna Irani's heart came on married men both times, said- 'Love is not easy'