Education
Rabindranath Tagore University honored with 'Education Leadership Award 2022'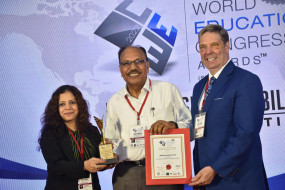 Digital Desk, Bhopal. Recently, Rabindranath Tagore University was honored with "Education Leadership Award 2022" at the 11th World Education Congress Awards held in Mumbai city. This honor has been conferred on the University for its continuous innovation in vision, strategy and innovation in higher education. University Vice Chancellor Dr. Brahm Prakash Pethia received this award from Dr. Received at the hands of Brian Gray, Principal CEO Nexus, Springdales Dubai. On this occasion Dr. RL Bhatia, Founder CSR Day and World Sustainability Congress and Simran Balani, Pedagogical Director & Communication Head, CCE, Finland were present at the event. During this, a panel discussion on the topic Physical Education – The Way Forward was also organized. In which the Vice Chancellor of the University, Dr. Bram Prakash Pethia ji presented his valuable thoughts.
On this achievement, the Chancellor of the University, Shri Santosh Choubey said that the aim of the University is to promote quality academic culture. RNTU is the first skill based university in the country. The university is the only university in Madhya Pradesh where NITI Aayog's Atal Incubation Center has been successfully run. Presently more than 50 startups are functioning successfully. Vice Chancellor Dr. Brahm Prakash Pethia ji said that the university is constantly striving to achieve excellence. There are 20 Centers of Excellence functioning in the University. Along with this, courses of innovative and high end technology are also being conducted in collaboration with various institutes.
The University's Pro-Chancellor Mr. Siddharth Chaturvedi and Registrar Dr. Vijay Singh also expressed happiness and said that in accordance with the National Policy on Education, we are creating such an environment in the university where entrepreneurship and Indian culture develop among the students. The university is also playing its active role in the Samarth Bharat Abhiyan. Rabindranath Tagore University is making its place among the best universities of the country.
,