India News
3 seats in Gujarat where BJP candidates lost due to NOTA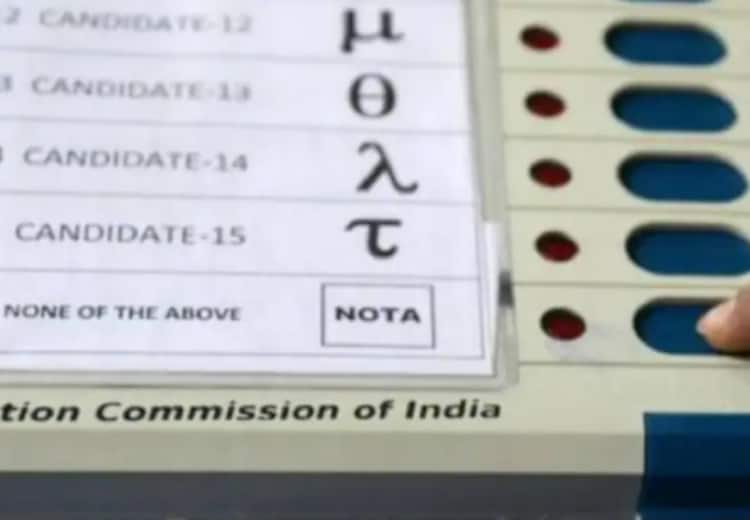 Breaking all records in Gujarat assembly elections, BJP has won 156 seats. Along with the victory of BJP, Somnath, Chansma and Khairbrahma seats are also being discussed a lot in the political circles of Gujarat. In these three seats, the BJP candidates have lost the elections due to NOTA.
Former cabinet minister Dilip Thakor also came under the grip of NOTA. Thakor was the Minister of Labor Department in the Rupani government. He lost the Chansma seat of Patan to Dinesh Bhai of Congress by about 1400 votes. Here 3293 voters used NOTA.
1530 votes for NOTA in Somnath, the margin of defeat is less than 1000
To win the Somnath seat, the BJP had given all its might this time. From candidate selection to election campaign, BJP did many experiments. The BJP had fielded the flamboyant Man Singh Parmar against Kanabhai Chudasama of the Congress.
A rally from Shah to Yogi was organized here, but NOTA dashed the BJP's hopes. Congress's Kanabhai got 73819 votes while BJP's Man Singh Parmar got 72897. The margin of victory in Somnath seat was less than 1000 votes. 1530 voters used NOTA here.
News Reels
who got how many votes
B J P- 72897
Congress- 73819
AAP- 32828
NOTA- 1530
NOTA got 7331 votes in Khairbrahma, BJP lost by 1664
NOTA has got maximum 7331 votes in Khairbrahma seat of Sabarkantha district. Here Congress's Tusar Chowdhary defeated BJP's Ashwin Kotwal by 1664 votes. Chowdhary got 67349 votes and Kotwal got 65685 votes.
Khairbrahma seat is one of the 7 seats of BJP, where its sitting MLA has lost the election. This time BJP had retained the ticket of 60 sitting MLAs in Gujarat elections, in which 53 MLAs managed to reach the house again.
who got how many votes
B J P- 65685
Congress- 67349
AAP- 55590
NOTA- 7331
In the reshuffle, the post of minister went to legislature because of NOTA
In the cabinet reshuffle in Gujarat in 2021, Dilip Thakor's ministerial chair was snatched away. However, the high command reposed faith in Thakor in ticket distribution and gave him a ticket from Chansma in Patan. But because of NOTA, he had to face defeat in the election.
Congress's Dinesh Bhai got 86404 votes while Thakor got 85002 votes on this seat. Whereas 3293 voters voted in favor of NOTA.
who got how many votes
B J P- 86406
Congress- 85002
AAP- 7586
NOTA- 3293
More than 5 lakh votes in favor of NOTA across Gujarat
According to the Election Commission, 501202 lakh people voted in favor of NOTA in 182 seats of Gujarat Assembly. Means 1.57% of the total voting percentage. According to the commission, it is slightly less than in 2017. In 2017, 551594 people pressed the NOTA button.
NOTA was used for the first time in 2013 elections.
The full form of NOTA is none of the above. After the order of the Supreme Court, NOTA was used in the assembly elections of 5 states including Rajasthan-MP in the year 2013. In all these states, 1.85% people used NOTA. In 2015, the Commission released the symbol of NOTA.
NOTA is also being used in 13 countries
Apart from India, NOTA is being used in 13 other countries as well. These include the names of America, Colombia, Ukraine, Russia, Bangladesh, Brazil, Finland, Spain, France, Chile, Sweden, Belgium, Greece. There are some countries where NOTA has got the right to reject. This means that if NOTA gets more votes than the margin of victory, the election is cancelled.