India News
75 years ago Air India made its first foreign flight today, Bombay to London in 48 hours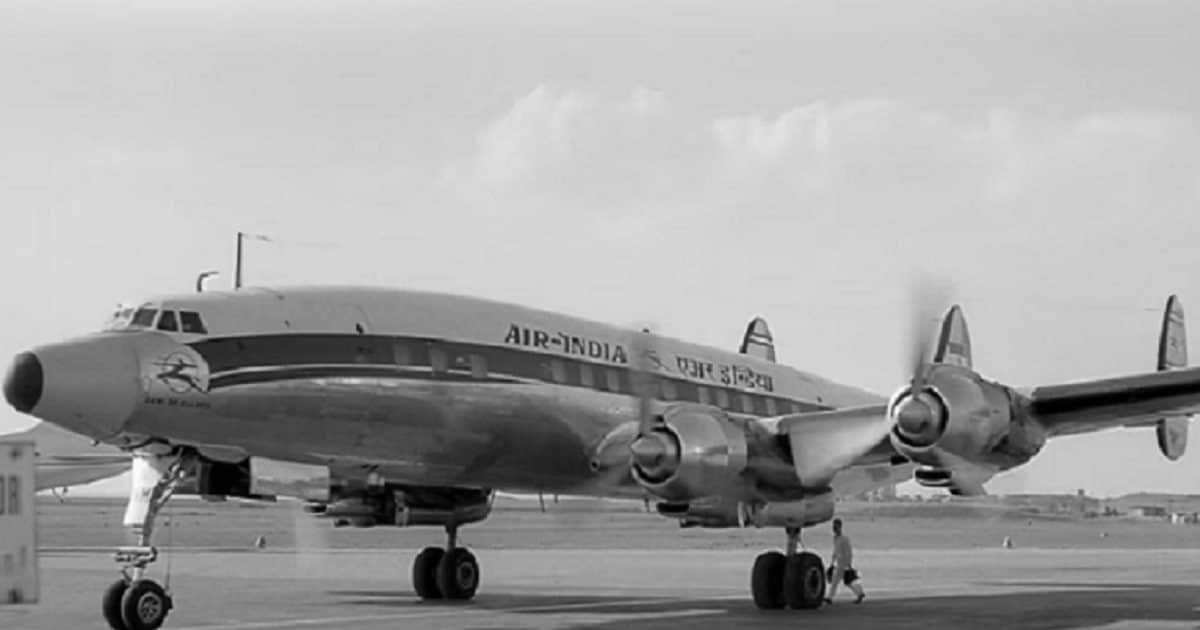 highlights
The plane took off from the Santa Cruz terminal, which used to be very small then, it was very crowded that day
The aircraft was a golden constellation aircraft, made by the Lockheed company of America.
Today i.e. on June 08, 1948, Air India had filled the first international flight to London. There were 35 passengers in the plane, mostly Nawabs and Maharajas. Of course, now the flight to London with one stop reaches in hardly 12 hours, but then it took two days. It reached London via Cairo and Geneva.
This day was a special day for Indian civil aviation history. Air India was known as Tata Airlines before independence. After independence, the government had taken 49 percent of its shares.
parsi news dot net Had published a long article about the first flight of Air India a few years back on the 70 years of this airline. We are giving it here.
Drive to Jam Sahib Airport of Nawanagar
Jam Sahib of Nawanagar, the Rajpramukh of Saurashtra looked at his watch. When the light was falling on the golden dial of his watch, it was shining. Finally that time has come. Jam Sahib rang the bell and asked to bring down his luggage. He was going on a trip to Europe, he hoped that this trip would be pleasant this time. The servants were loading his heavy leather to his limousine which was parked outside. After this the car headed towards the airport.
There was a crowd of journalists and photographers at the airport
All the journalists and photographers were gathered at the airport, who were taking pictures and questioning those going to London from Air India's first international flight. It was dark at night. The plane was about to take off in this darkness. With this a history was about to be written. It was Tuesday. The plane which was going to London carrying passengers.
what was the name of the plane
The name of the aircraft was Malabar Princess, it was a 40-seat Lockheed L-749 Constellation aircraft. Its captain was KR Gujdar. Those who were engaged in preparing for the journey of 5000 miles. The plane had to stop in Cairo and then in Geneva on the way.
Indian Postal Department's stamp on India's first international flight
There were 35 passengers on this plane, in which 29 were going to London while 06 were to land in Geneva. Before this trip, both the passengers and the airlines going on this plane had planned it for months. Preparations were done. Air India had enough experience in domestic flights but for the first international flight, it had to make extra efforts. Therefore, he had chosen his crew members very carefully for this journey. When the staff was appointed for this flight, Air India opened its office in Cairo, London and Geneva.
Advertisement with Maharaja's logo came out
Then on 03 June 1948, an advertisement of two columns and 15 cm was published in the Times of India for this journey. In which the passengers were welcomed along with the people of the Maharaja. In this advertisement, the Maharaja was telling his passengers, welcome to travel with me to London via Cairo and Geneva. Every Tuesday you are welcome on the beautiful Constellation Viman for Rs.1720.
it was a golden aircraft
Captain Gujdar inspected the aircraft before the start of the flight. It was summer night. The moon was missing from the sky. However, the stars were twinkling. These were ideal conditions for a historic flight. The aircraft was a golden colored constellation aircraft, which was made by Lockheed Company of America.
Navigator and radio officer were also included in the crew members of the aircraft. On this occasion, All India Radio took a special interview of Captain Gujdar.
Advertisement published in Times of India on the occasion of Air India's first international flight on 08 June 1948
arrange catering
There was a catering arrangement in the plane. It was decided very carefully. It had main food and delicious dessert as well as breakfast. Everyone was thrilled, from the flight crew to passengers and spectators. After all, why not, a history that was about to be made.
Air hostess in blue coat and sky blue skirt
Only then the air hostess and the lone flight purser boarded the plane above the stairs. The air hostess's dress was blue coat and sky blue skirt.
Captain Gujdar of Air India's first international flight from Mumbai to London giving an interview to All India Radio's Hamid Sayani before it
With short sleeve blouse. She looked very smart and effective. His duty was to make every person traveling feel that he is a special guest for him in this journey. For this the airhostess had to go through training. Air India kept this dress of air hostess till 1960. After this she came in traditional saree.
Tata was also present there.
The small terminal building of Santa Cruz Airport was crowded. There were many among them who had come there only to witness this historic occasion. In this, Mr. JRD Tata was also there along with the Air India team, who was then the chairman of Air India.
who were the passengers
Maharaja Duleep Singh who was going to London to watch the Test match between England and Australia. Similarly, there were many veteran officers, Englishmen, businessmen in the plane, as well as two such psychologists, who were going to participate in the Olympics to be held in Bemble London.
…and the plane took off
Every passenger in the plane had special luggage, apart from this he was also carrying 164 bags of mail. The plane was ready for takeoff at exactly 11.15 pm. Captain took permission from the control room. And then he announced in the plane, Air India Malabar Princess, now ready for takeoff. With this, the engine roared rapidly and started running the aircraft on the runway. Within a few seconds the aircraft came in the air.
it was a great achievement
In 1948, airlines of only a few countries were running international operations. From that point of view, it was a big achievement of India. Then there were no such planes, by which you could travel long distances without stopping. The constellation could travel 4800 kilometers without stopping. Now the new aircraft can travel 13340 km together.
Landing in London on the morning of June 10
The Malabar Princess reached London early in the morning on 10 June. In this journey, the aircraft remained in the air for 24 hours. Now the planes complete this journey in 10 hours. Captain Jeter flew this plane from Geneva. The plane made a smooth landing on London. The then Indian High Commissioner Krishna Menon himself was present to receive the aircraft passengers in London.
Tata himself was traveling in this plane. When Menon and Tata met there, there was a big smile on both their faces. A big party took place in London again in this happiness. Tata gave a speech as the chairman of Air India International. History had been made.
,
Tags: air india, Air India Flights, Bombay, London, MUMBAI, Tata
FIRST PUBLISHED : June 08, 2023