India News
Aligarh: Muslim teacher refused to sing national anthem on Republic Day, did not even offer flowers to Mother Saraswati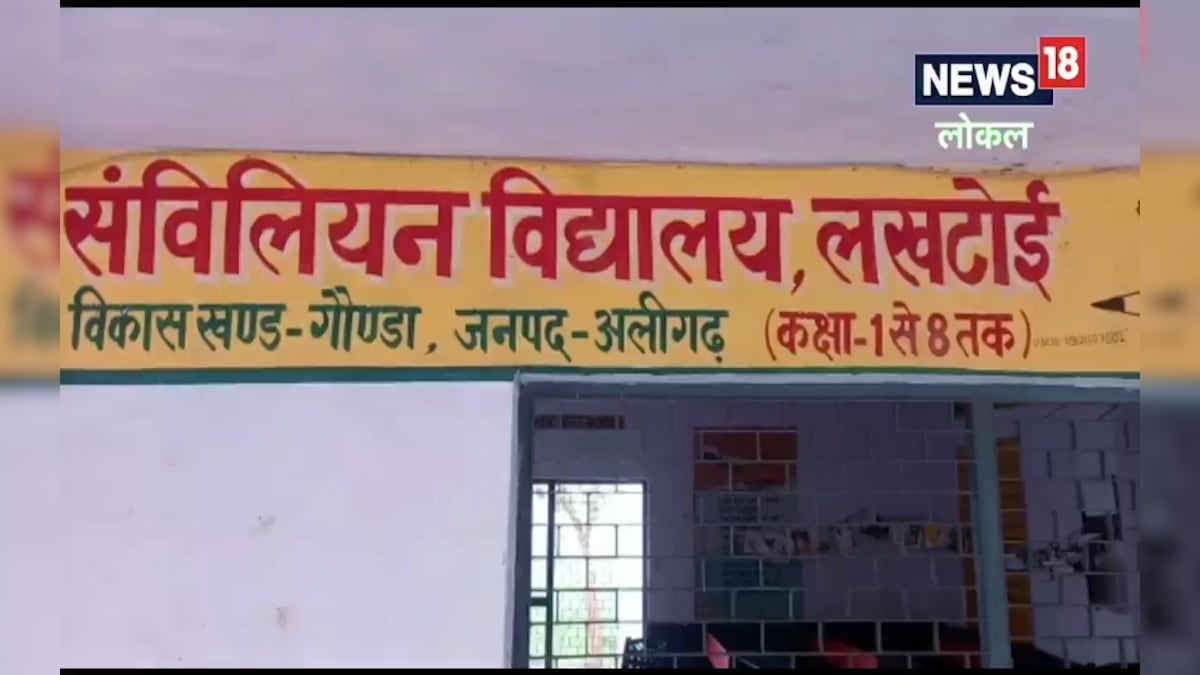 Wasim Ahmed
Aligarh. On the occasion of Republic Day, a Muslim teacher of a primary school in Aligarh, Uttar Pradesh refused to offer flowers in front of the picture of Bharat Mata and Maa Saraswati. On doing this, when other teachers and villagers said that he should offer flowers, first he made an excuse of stomachache and illness, then said that it is not in my religion. He does not bow his head in front of anyone, he only bows his head in front of the one above. At the same time, someone made a video of this incident and put it on social media, which went viral on seeing it. However, later on, when the pressure increased, this Muslim teacher offered flowers to Mother India and Mother Saraswati.
This whole matter is related to Lakhtoi village of Tehsil Iglas police station area of ​​Aligarh district. A 2.33-minute video of Hasamuddin, a primary school teacher here, is going viral on social media. In the video, teacher Hasamuddin is sitting on the chair. Only then two-three people reach him and say that this is a wrong thing. We also go to the programs of Muslims. We also bow down there. On this Hasmuddin says that you people are right, but I do not bow my head before anyone except Allah. After a lot of pressure, Hasmuddin goes to offer flowers to Mother India and Mother Saraswati.



Fear of monkeys increasing in Aligarh, people stopped going to the terrace




Thieves have fun in the fight between Noida Authority and contractors, common people are suffering in parking tender dispute




Bank was looting for 40 years, no one got hold of it, know the shocking story of hiding the identity of this thief




Agra News: Naresh is Paras for the life of pavement, took 400 children out of beggary and sent them to school




Green 'Islamic flag' was hoisted instead of tricolor in Madrasa of UP, case registered




Good News: You can also participate in Ramlala's Aarti, just have to follow this rule




The bullet did not lose courage, killed a terrorist standing 10 meters away, Major Shubhang got the Kirti Chakra




Prayagraj Famous Food: These shops of Prayagraj are full of delicious and delicious dishes, where the taste remains intact for 100 years




Republic Day 2023: National flag insulted in Barabanki, flag hoisted upside down in LIC office, Video Viral




BHU Foundation Day: Tableau came out on Foundation Day, students again danced on vulgar Bhojpuri songs




Moradabad News: Diarrhea problems increasing due to rotavirus in children, know how to take care from experts
After the video went viral, Inspector Vijay Singh team of Iglas Kotwali reached there and started investigating the matter. At the same time, the Basic Education Officer of the district has also said about the investigation in this regard.
The principal of the primary school told the whole thing
Primary school principal Rajendra Kumar told that the flag hoisting took place on the occasion of Republic Day. After that, lighting of the lamp and wreaths were being done on the picture of Bharat Mata by all the elite people. But during this Hasamuddin was sitting on one side of the room. When some people told him that you should also come and offer flowers, he did not do so at that time. He said that my stomach is hurting. However, then later he offered flowers like other people.
He said that whatever teacher Hasamuddin might have said at that time, but such things send a negative message to the children. All I have to say is that later he rectified his mistake. We consider it better.
Teacher Hasmuddin clarified on the controversy
After the video went viral, teacher Hasamuddin told that I was present there when the flag was hoisted. My health is bad for the last three days. Blood is coming from the nose. I have high fever since two days. I had also taken a CL in this regard. I was unable to come that day. Even today I have come by car because I am not feeling well. I was sitting there after taking medicine. Due to this, my stomach was getting pain. During this, when a master came to call me, I said that I am coming now, my stomach is hurting.
Giving clarification on this dispute, Hasmudi said that everyone's head has bowed before the country, mine will also bow. On the question of not offering flowers in front of the idol of Mother Saraswati in the name of religion, Hasmuddin said that when some people surround more then the man comes under pressure. At that time I had a lot of pain in my stomach. You must also be watching in the video. I was keeping my hand on my stomach. It happens that when some people surround you, you have to say something like this. Sometimes the circumstances become such that it has to be said. After that, I have also offered flowers. I have no problem in offering flowers to the picture of Maa Saraswati. I am ready to do it again.
First read breaking news in Hindi News18 Hindi| Read today's latest news, live news updates, most reliable Hindi news website News18 Hindi.
Tags: Aligarh News, Muslims, republic day, Up news in hindi
FIRST PUBLISHED : January 26, 2023, 20:53 IST