India News
All-party meeting: Opposition raised the issue of Adani Group, Caste Enumeration, Women's Bill, Government sought cooperation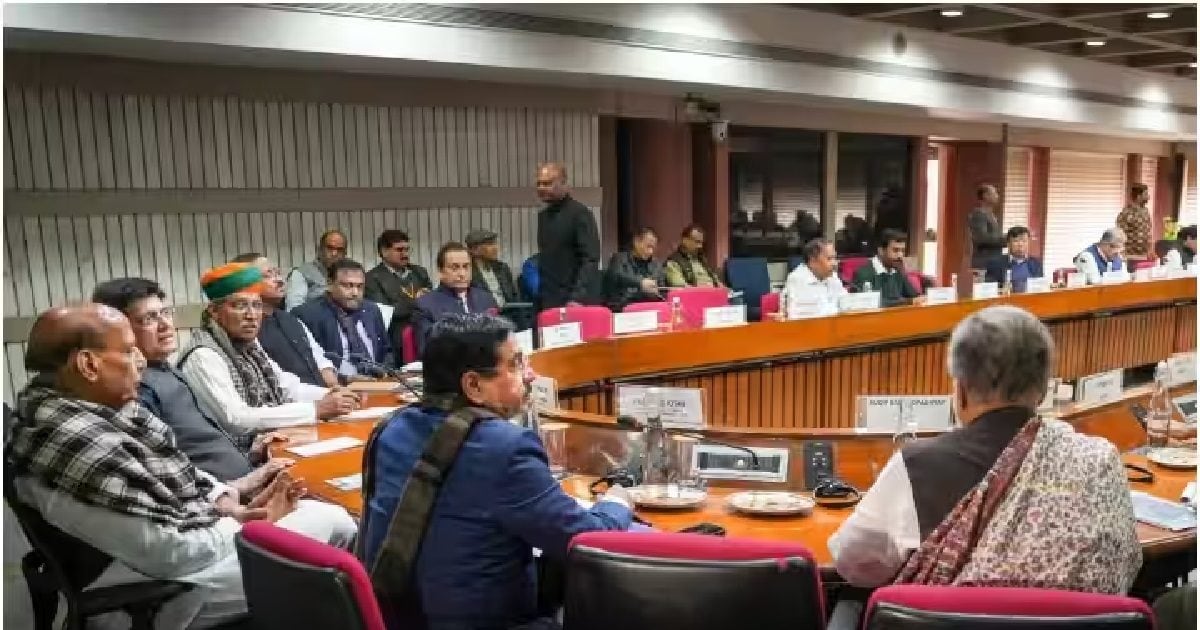 New Delhi. In an all-party meeting convened by the government on Monday ahead of the budget session of Parliament, opposition parties raised the issue of Adani Group, caste-based enumeration and passage of the Women's Reservation Bill. At the same time, the government said that it is ready to discuss every issue under the rules in the parliament and the government wants cooperation in running the house smoothly. Parliamentary Affairs Minister Prahlad Joshi said after the all-party meeting, 'The government is ready to discuss every issue under the rules in Parliament, we want the cooperation of the opposition.'
All party meeting convened under the chairmanship of Rajnath Singh
He said that the Parliament session is starting tomorrow (Tuesday), so an all-party meeting was called under the chairmanship of Defense Minister Rajnath Singh. Joshi told that 37 leaders of 27 political parties took part in this meeting. Defense Minister Rajnath Singh, Commerce Minister Piyush Goyal, Parliamentary Affairs Minister Prahlad Joshi and Minister of State for Parliamentary Affairs Arjun Ram Meghwal were present in the meeting.
It included Sharad Pawar of Nationalist Congress Party (NCP), Farooq Abdullah of National Conference, Sanjay Singh of Aam Aadmi Party (AAP), TR Balu of DMK, Sudip Bandopadhyay of Trinamool Congress, Thambidurai of AIADMK, Priyanka Chaturvedi from Shiv Sena etc. . It is understood that in the meeting Sanjay Singh of Aam Aadmi Party, Manoj Jha of Rashtriya Janata Dal, DMK, Left parties etc raised the issue related to Adani group and demanded to discuss it during the Parliament session.
Adani Group replied in 413 pages
Significantly, the American forensic financial company Hindenburg Research had accused the Adani Group of fraud, after which the shares of the group companies have fallen drastically in the last few days. Adani Group has issued a 413-page 'clarification' on Sunday in response to Hindenburg Research's allegations. Along with this, in the all-party meeting, the Yuvajan Shramik Rythu Congress Party (YSR Congress) demanded caste-based economic census at the national level.
YSR Congress got support from JDU, RJD
The party said that information about the economic condition of the backward classes is necessary so that it can be ascertained which class is lagging behind in the social and development index. YSR Congress' Vijayasai Reddy told reporters that backward classes account for 50 per cent of the country's population and a nationwide caste-based economic census would help ascertain the economic status of these classes. It is understood that during the meeting, Andhra Pradesh's ruling party YSR Congress got the support of JDU, RJD on this subject.
Demand for caste census in all-party meeting
JDU and Rashtriya Janata Dal (RJD) also demanded caste-based census. The JDU and RJD grand alliance government in Bihar has started caste-based enumeration at the state level. Reddy said that his party has also demanded to ensure that the Women's Reservation Bill is passed in Parliament. Telangana Rashtra Party (TRS), Trinamool Congress, Biju Janata Dal also supported the demand related to Women's Reservation Bill in the meeting.
The budget session of the Parliament will start from January 31
BJD's Sasmit Patra said that Women's Reservation Bill will be a priority in this session, we have been demanding the passage of this bill and will build a consensus on this issue with like-minded parties. The government had called an all-party meeting of House leaders of political parties on Monday (January 30) to arrive at a consensus on various issues ahead of the budget session. The budget session of the Parliament will start from January 31. On this day President Draupadi Murmu will address the joint session of Lok Sabha and Rajya Sabha. The government will present the Economic Survey on January 31 itself.
Nirmala Sitharaman will present the budget on February 1
Finance Minister Nirmala Sitharaman will present the Union Budget for the financial year 2023-24 on February 1, 2023. The first phase of the budget session will run till 13 February and the second phase will start from 13 March till 6 April. There will be 27 meetings during the budget session.
First read breaking news in Hindi News18 Hindi| Read today's latest news, live news updates, most reliable Hindi news website News18 Hindi.
Tags: budget session, Parliament
FIRST PUBLISHED : January 30, 2023, 20:27 IST