India News
Are there kids at home, worried about the effect of AI on them? So pay special attention to these things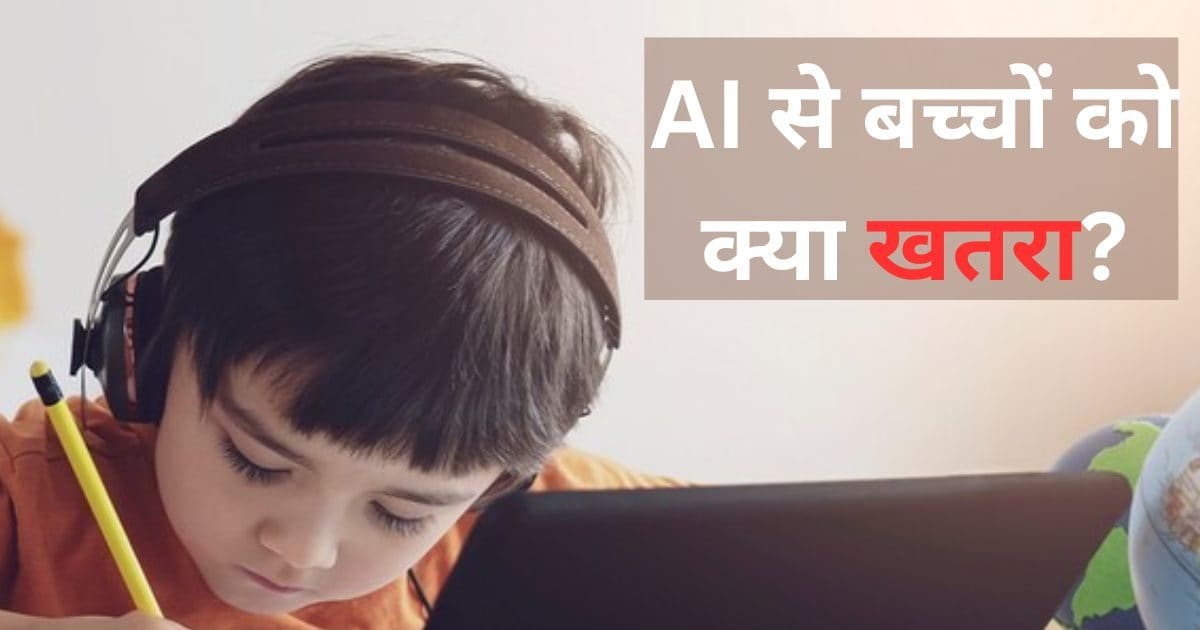 highlights
The children growing up right now belong to that generation which has not seen the world before smartphones.
AI systems need to be tailored to the needs of children.
It is most important that AI systems protect the data and rights of children.
New Delhi. Artificial Intelligence ie AI has created panic in the world of tech. Some or the other news related to Chat GPT and GPT 4, we get to read almost every day. Then whether it is news of AI snatching people's jobs, or it is a matter of making people's work easier. AI remains in trend. But when it comes to AI or any new technology, children are often ignored. Whereas it is the children whose growing age is being affected more by these techniques.
We often talk about the nostalgia of the 90s, the era when even television did not reach every household. When children were punished for not leaving the house. But the children of those 90s kids today do not like to leave their mobiles and go out. They interact with AI equipped technologies daily, talk to Alexa-Siri. Due to the pandemic, their education has also become dependent on AI to a great extent. In such a situation, it is important to understand how AI can affect children, their growth and how children can be saved from its bad effects.
read this also: Something happened with Twitter that Elon Musk's parrots flew away, a new problem arose
In November 2021, UNICEF issued a policy guidance regarding the use of AI for children. According to this, the children who are growing up now are the first generation who have not seen the time before smartphones and their education, their health are all regulated by AI enabled applications. For this reason, this generation will also be most affected by the threats related to AI.
symbolic photo.
The World Economic Forum published an article in January 2022. In this, it was emphasized that while creating AI systems, tech innovators should take special care of the betterment and rights of children. It was told in this article that many learning apps prepared for children are being prepared with AI. These apps can translate one content into many different languages ​​at a time. These apps work keeping in mind the need of each student, such as according to their learning ability for visually impaired children, according to their hearing impaired children. So that children can learn better. According to Global Market Insight, by 2027, the market of AI enabled education can be up to $ 22 billion i.e. around Rs 1.8 lakh crore.
Along with this AI enabled toys are available in the market. Most of these toys are connected to the internet and respond to the actions of children in real time with the help of cloud computing, AI and sensor-based technology.
read this also: Microsoft users got a big update! The company has given the necessary tools for Windows 10 and 11, what will be the benefit?
What danger can AI pose to children?
The biggest concern regarding AI is data privacy and security. When it comes to children, then this concern increases even more. Child pornography is an industry worth 8 billion dollars i.e. about 65 thousand crore rupees. In such a situation, the danger of misuse of children's pictures cannot be ignored. Along with this, there is also a big concern whether the use of AI is stopping the development of children or adding something to their imagination in their learning process. Therefore, when bringing an AI enabled system for children, then check thoroughly what policies that system adopts for the privacy of children's data.
It is important to keep children in mind while developing AI systems.
What is the guideline regarding the use of AI for children?
According to UNICEF's recommendation, governments, policy makers and businesses should take care of 9 needs related to children while making AI enabled tools. Those nine needs are-
An AI system that supports children's development and wellbeing.
An inclusive system should be prepared.
There should not be a system that promotes discrimination between children
Protect children's data and privacy
– Ensure the safety of children.
It should be clear that what effect AI is having on children.
– Governments and businesses should be aware of AI and children's rights
Preparing children for developments in AI
Creating an environment where everyone can contribute to develop child-centered AI.
According to India AI's website, parents will have to take responsibility as far as safety, privacy and monitoring are concerned. They have to see how much access to children's data and privacy, when and to whom. Along with this, it is necessary that the app developers clearly tell the parents for what they are collecting the data, and for what it will be used.
First read breaking news in Hindi News18 Hindi| Read today's latest news, live news updates, most reliable Hindi news website News18 Hindi.
Tags: 5G Technology, artificial intelligence, Information and Technology, technology
FIRST PUBLISHED : March 28, 2023, 07:00 IST