India News
'Azam Khan is behind SP's defeat in Rampur…', know what the election analyst said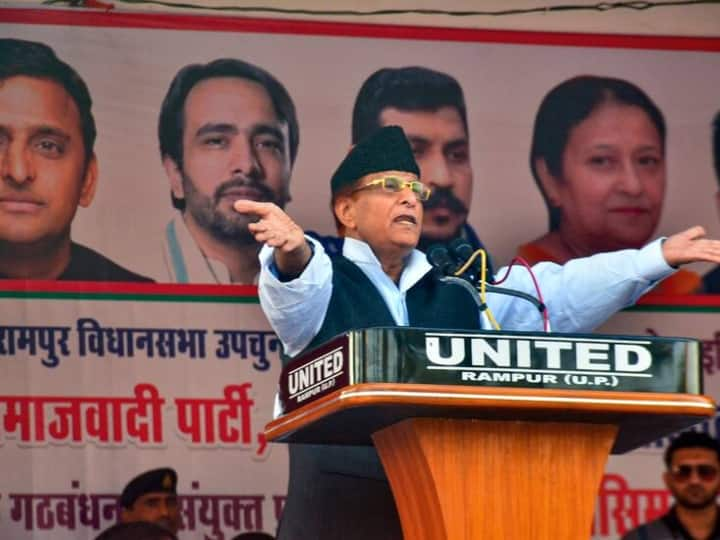 The results of the by-election held on Rampur assembly seat of Uttar Pradesh have come in favor of BJP. For the first time in this bastion of SP leader Azam Khan, BJP has been able to feed lotus. BJP candidate Akash Saxena has won from this seat by 33,702 votes. Akash Saxena has defeated Asim Raza of SP. Asim Raza has got 47,262 votes while Akash Saxena has got 80,964 votes.
Rampur Vidhansabha, which is called Azam Khan's citadel, here it has been a situation that irrespective of the election, Azam Khan wins. Samajwadi Party has been occupying this seat for years. But for the first time, BJP has won this seat historically. BJP's candidate Akash Saxena won with a good margin even after getting a very low percentage of voting. He has given a crushing defeat to the SP candidate.
BJP won Rampur Fort with this appeal of Azam?
Despite being a Muslim dominated area, BJP's victory in Rampur is shocking. But election analyst Amitabh Bhushan says that there is nothing to be surprised about this victory of BJP because somewhere Azam Khan is responsible behind this victory of BJP.
He told that Azam Khan himself had appealed to his voters on this seat that 'they should not vote'. Azam Khan had said during the election campaign that people should not come out of their houses to vote..
Azam Khan also made many allegations before voting on this seat, he said that the administration is contesting elections on this seat and not any political party, there will be no fair election here, that's why you should not vote. Rather, spend this day like a holiday and go somewhere for a trip.
Due to which the traditional voter of Azam Khan got discouraged and did not vote, due to which such a low percentage of voting took place in Rampur for the first time. During the Rampur assembly by-election on December 5, only 33.94 per cent polling was recorded, whereas in the last several elections there has been a high turnout.
SP's Muslim voters did not reach polling booths
Experts say that BJP benefited from the low voting percentage in Rampur because the traditional voter of SP did not come out of the house to vote, in such a situation the Hindu voter in Rampur assembly voted for BJP. Hindu voters whose population is less than Muslim population in Rampur. The Muslim population is 55 to 60 percent. While Hindu voters in Rampur are around 45 percent Hindu voters. Hindu voters have been voting for BJP in Rampur earlier too, but because of the large number of Muslim voters, BJP was never able to win here.
BJP candidate Akash Saxena who was waiting for victory here for a long time. But he could never compete with Azam Khan. Because Azam Khan had the support of all Muslim voters.
Clash between two Muslim families eases BJP's way
Along with this, another important reason for SP's defeat in Rampur was the enmity between two Muslim families here. In which the oldest and important Nawab family in the politics of Rampur opposed Azam Khan. The Nawab family mainly opposed Azam Khan. This family has been vocal against SP since the beginning. The effect of which was seen on the voting because where Azam Khan had already appealed to his voter not to vote, due to which the Muslim voter did not reach the polling booths to vote, while the second important reason was the Nawab family who supported the Muslim voter. That too did not turn up to vote for SP.
SP had fielded Asim Raza, who is considered to be Shahgird of Azam Khan, against BJP from this seat. But those who are against Azam Khan, whether they are supporters of the Nawab family, they also did not come to vote for Asim Raza because Asim Raza is called the disciple of Azam Khan i.e. Shahgird.
Voter count in Rampur
It is clear from all these things that BJP got the direct benefit of Muslim voters' displeasure with SP in Rampur and for the first time BJP conquered Azam's bastion. If you look at the voter count in Rampur, the total number of voters is around 4 lakhs. In which Muslim voters are around 2 lakhs, which is 52 to 55 percent of the total population in Rampur. Apart from this, there are 45 percent i.e. around 1 lakh 65 thousand Hindu voters. In which there are 40 thousand Vaish voters, 35 thousand Lodh voters, 20 thousand Dalit voters, 5 thousand Kayastha voters, 10 thousand Yadav voters, 4 thousand Brahmin voters and 3 percent i.e. around 10 thousand Sikh voters are also on this seat. In this by-election, along with Hindu voters, Muslim voters also expressed their support for BJP.
After this whole equation, if it is understood that why Azam Khan appealed to his voters not to vote in this election, while his Shahgird Asim Raza was contesting in his place from this seat. It was even being said that even though Azim Raza is standing in the election, only Azam Khan is contesting this election from behind. In such a situation, did Ajan Khan already want to lose this seat, he did not want to win this election?
Did Azam Khan want to teach a lesson to Akhilesh Yadav?
Did he intend to teach a lesson to Ajan Khan's Samajwadi Party by not participating in the election with his voter? Regarding this, election expert Amitabh Bhushan says that the entire episode against Azam Khan, legal action was taken against him, he remained in jail. During that time, he did not get the support of the Samajwadi Party, which he should have got, even when Azam Khan was lodged in Sitapur jail for several months, SP chief Akhilesh Yadav did not even go to meet him there, for which Azam Khan's displeasure came to the fore. came.
Samajwadi Party and Akhilesh Yadav remained silent during the action taken against Azam Khan. Because of which Azam Khan was seen to be somewhat isolated. After which Azam Khan's membership was canceled from this seat also, during that time also he did not get much support from the party. In such a situation, Azam Khan may be trying to give a message to Akhilesh Yadav through this by-election, that is why he appealed to the voters not to vote in this election. Otherwise there is hardly any leader who appeals not to vote for his own party from his traditional seat.
Azam Khan's membership was cancelled
The by-elections were held after the SP MLA from this seat, Azam Khan, was convicted in the controversial speech case. In the year 2019, a court convicted Azam Khan in the hate speech case, after which Azam Khan's membership from this seat was suspended. Was disqualified. Bye-elections were held on this seat after his MLA was rejected. Let us tell you that Azam Khan of SP was elected from this seat in UP assembly elections on February 14, 2022.