India News
Badrinath Dham: Badrinath Dham decorated with flowers, open doors, influx of devotees for darshan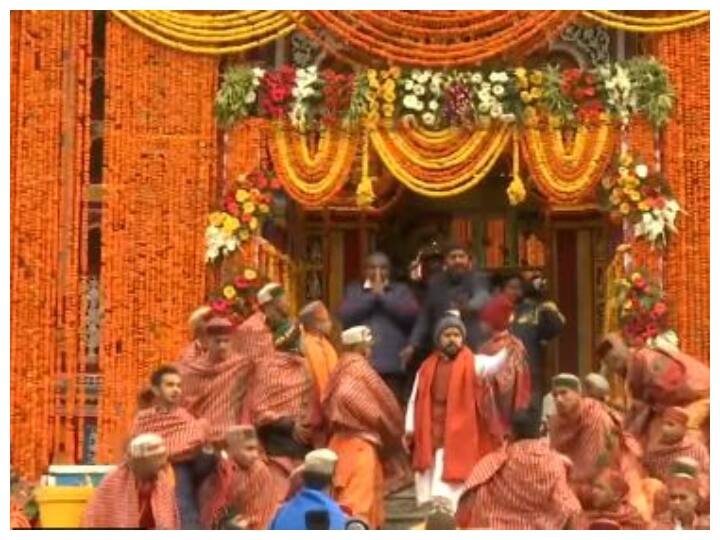 Badrinath Dham Door Opened: Chardham Yatra continues in Uttarakhand. Meanwhile, the doors of Badrinath Dham have been opened in the Brahma Muhurta this morning. The doors of the Badrinath temple were opened for the summer at 6:15 am today at Brahma Muhurta. A large number of devotees have reached Badri Vishal on this occasion. Badrinath Dham is decorated in a grand way with flowers. For the next six months, devotees will be able to have darshan of Lord Badrinath in the temple. As soon as the doors of the Badrinath temple were opened this morning, the temple resonated with the chants of Jai Badrinath. The atmosphere around is devotional due to chanting of mantras.
Open doors of Badrinath Dham
Earlier, with the Tel Kalash Yatra from Pandukeshwar, the doli of Uddhavji, the representative of Lord Badri Vishal and Kuberji, the treasurer of the gods, reached Badrinath Dham. After the worship in Joshimath, the treasure of Lord Badri Vishal reached Badrinath Dham late on Friday evening under the leadership of Bhupendra Rawat, the treasurer of Shri Badrinath-Kedarnath Temple Committee. According to tradition, the idol of Garudji, the vehicle of Lord Narayan, also reached Badrinath with the treasure. On May 8, before the opening of the temple doors, the treasury of the Lord was worshipped. And then today the doors of Badrinath Dham were opened in Brahma Muhurta.
#WATCH , Uttarakhand: The doors of Badrinath Dham opened for devotees with rituals and chanting and the tunes of army band with a large number of devotees present in Badrinath Dham. pic.twitter.com/LiCTexcbJu

— ANI UP/Uttarakhand (@ANINewsUP) May 8, 2022
Chardham Yatra started from May 3
Let us inform that on May 3, with the opening of the doors of Gangotri and Yamunotri Dham, the Chardham Yatra started. The doors of Kedarnath Dham were opened for the devotees to see at 6.15 am on Friday, 6 May. This time in view of the huge crowd, the state government has fixed the daily limit of pilgrims going to Char Dham. Permission has been given for 15,000 pilgrims per day in Badrinath, 12,000 in Kedarnath, 7,000 in Gangotri and 4,000 in Yamunotri. This arrangement has been made for 45 days. About two years after the start of the Corona epidemic, there is a huge enthusiasm among the people regarding the Chardham Yatra. A large number of people are reaching Kedarnath, Badrinath, Gangotri, Yamunotri Dham.
read this also:
Loudspeaker Row: Use of loudspeaker for Azaan before 6 am in Mumbai, case registered against three people
Dharma Sansad case: Delhi Police changed stand, said- FIR registered under sections of spreading hatred
,