India News
BJP's return in Gujarat, blow to Congress-AAP, know who will get how many seats in exit polls?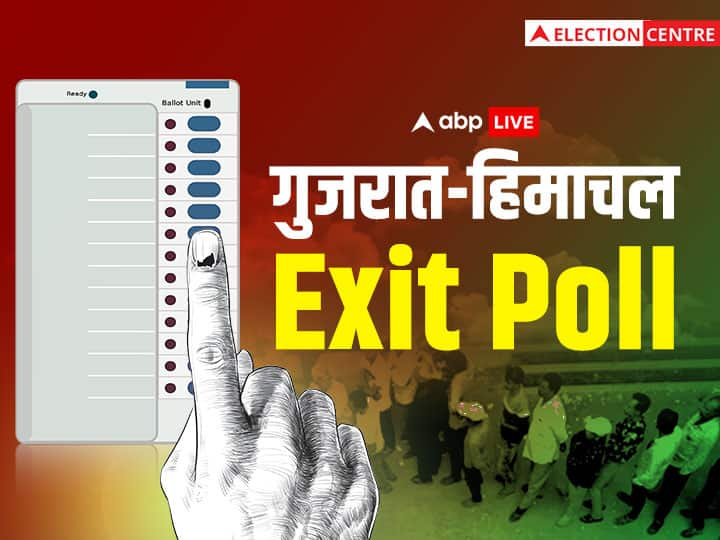 Gujarat-Himachal Exit Poll 2022: With the end of the second and last phase of voting in Gujarat on Monday (December 5), the noise of elections in Gujarat and Himachal has come to an end. Now everyone is waiting for the results which will come on 8th December. Before the election results, abp news has brought exit polls of both the states. Know from this exit poll that in which state, who can get how many seats.
In this poll, opinion of about 30 thousand people has been taken on all 182 seats of Gujarat. At the same time, 28,697 people have been talked to in all the seats of Himachal Pradesh. The margin of error in this survey is plus minus 3 to plus minus 5 percent. Elections have been held in one phase in Himachal Pradesh while voting has taken place in two phases in Gujarat. Voting was held in Himachal Pradesh on November 12 and during this time more than 75 percent voting was done.
BJP government in both states
Voting was held for the first phase in Gujarat on December 1, in which about 63 percent voting was done. There is a BJP government in Gujarat and Himachal Pradesh. The BJP has been in power in Gujarat for the last 27 years and in the 2017 elections in Himachal it was in power by securing a majority. With the entry of the Aam Aadmi Party in both the states, a triangular contest seems to be taking place. However, whose government will be formed in both the states, it will be known only on 8th December. Before that see this exit poll of ABP News C-Voter-
News Reels
Gujarat exit poll (seat- 182)
How much vote share to whom?
BJP- 49%
Congress – 33%
You – 15%
Others- 3%
Gujarat exit poll (seat- 182)
How many seats to whom?
BJP- 128-140
Congress – 31-43
You- 3-11
Others- 2-6
Exit poll of South Gujarat (Seat- 35)
How much vote share to whom?
BJP- 48%
You – 27%
Congress – 23%
Others- 2%
Exit poll of South Gujarat (Seat- 35)
How many seats to whom?
BJP- 24-28
You – 1-3
Congress – 4-8
Others- 0-2
Exit poll of North Gujarat (Seat- 32)
How much vote share to whom?
BJP- 48%
Congress – 40%
You – 8%
Others- 4%
Exit poll of North Gujarat (Seat- 32)
How many seats to whom?
BJP- 21-25
Congress – 6-10
You – 0-1
Others- 0-2
Exit poll of Saurashtra (seat- 54)
How much vote share to whom?
BJP- 43%
Congress – 37%
You – 17%
Others- 3%
Exit poll of Saurashtra (seat- 54)
How many seats to whom?
BJP- 36-40
Congress- 8-12
You – 4-6
Others- 0-2
Exit poll of Central Gujarat (seat- 61)
How much vote share to whom?
BJP- 55%
Congress – 29%
You – 11%
Others- 5%
Exit poll of Central Gujarat (seat- 61)
How many seats to whom?
BJP- 45-49
Congress – 11-15
You – 0-1
Others- 0-2
Exit poll of Himachal Pradesh (seat- 68)
How much vote share to whom?
BJP- 45%
Congress – 41%
You – 2%
Others- 12%
Exit poll of Himachal Pradesh (seat- 68)
How many seats to whom?
BJP- 33-41
Congress – 24-32
you – 0
Others- 0-4
read this also-
Gujarat Election 2022: Voting for the second phase in Gujarat elections ends, about 59 percent voting in 93 seats