India News
Centuries old Ima Bazar of Imphal is in discussion, S Jaishankar said – biggest example of women power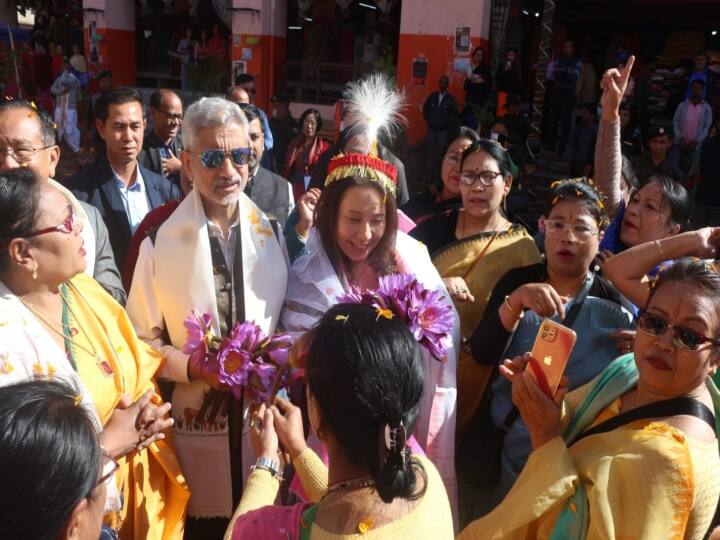 We will stand up again and again against oppression as a flood and every pride that has the tendency to crush will be swept away that we will stand up as a beautiful example… and these lines fit perfectly on Manipur's Ima Kaithal market. That's why, after visiting here, India's Foreign Minister S. Jaishankar could not stop himself from saying that this market presents the best example of women power. As soon as the foreign minister tweeted the pictures of this market on Sunday, November 27, once again this market is in discussions.
Along with this, its history is being remembered which tells that in the face of every oppression, the struggle has been winning. And the women of Ima Bazar have proved it. Ima Bazar is a wonderful example of how the war is won with courage and courage even in adverse conditions. This is the reason that makes it special in the world markets. So much so that everyone gets convinced of it, even if it is Foreign Minister Jaishankar who has traveled abroad?
Visited the legendary Ima market in Imphal. A great example of Nari Shakti powering economic growth. pic.twitter.com/v2CXDauAUn

Dr. S. Jaishankar (@DrSJaishankar) November 27, 2022
News Reels
Best example of women power?
India's Foreign Minister S Jaishankar is on a visit to Manipur, the northeastern state of the country from 26 to 28 November. During this, on November 27, he visited Imphal, the capital of this state. This tour became special because of his tweet. Especially because the Union Minister had reached a special market here, Ima Kaithal Bazar. After going here, he was so much impressed by this market that he posted many pictures and videos of visiting this market and meeting people with his Twitter handle on Twitter on Sunday.
These pictures are enough to show that apart from being special, this market is also very beautiful. He tweeted, "Visited the famous Ima Bazaar of Imphal. A great example of women power boosting economic development." After all, what is the specialty of this market that in the world it is known as the biggest market in Asia. For this we have to go back 500 years.
How Ima Kaithal came into existence
Ima Kaithal is not an ordinary market and cannot be, because the beginning of a market whose foundation was laid by the Khilafat cannot be easy at all. There are many reasons why it is special. In fact, 500 years ago, the foundation of Ima Bazar was laid in the 16th century itself. During this period, Lullup-Kaba was prevalent in Manipur. This was a practice promoting forced bonded labour. It was a system in which people were forced to work.
In this, Meitei men had to work for some time in the army and other civil projects. For this he was sent away from his home. Due to the men staying away from home, all the responsibilities fell on the shoulders of the Meitei women. Left behind for paddy cultivation and production, these women did not give up. He neither allowed his men to become weak due to this practice of forced labor nor did he lose courage.
From here Ima Kaithal came into existence. In that era, women not only made themselves self-sufficient from this market, but also empowered their family and society. She learned management skills on her own and created an excellent market system, which today has taken the form of Asia's largest women's market.
According to R. Brown, author of 'Statistical Account of the Native State of Manipur, and the Hill Territory under its Rule' (1870), "The general working of the Lallup was based on the assumption that every person between the ages of 17 and 60 Men were required to work for a certain number of days each year, without pay, on military and civilian projects, barely allowing them to stay at home for short periods of time." However, women were exempted from this.
When the Imams defeated the British rule
This centuries-old Lullup-Kaba system of forced bonded labor continued till the arrival of the British in India. The British took advantage of this in their own way. The policies of the British government also started interfering in the functioning of Ima Bazar. The British had to face strong resistance from the women running the market for this.
The British had also tried their best to sell Ima Kaithal's buildings to foreigners, but the women who run the market strongly opposed it and the British government had to face the consequences. At that time the atrocities of the Britishers were at their peak. In every area of ​​India, they were taking advantage of people by threatening them, but in Manipur, the women there took the initiative to teach them a lesson in their own way.
Here the courageous women of Ima Kaithal fought fiercely against the people of the British government who were trying to forcibly implement economic reforms. For this, she started a movement Nupi Lane i.e. women's war. Through this movement, a series of blockades, protests and processions were conducted against the repressive policies of the British.
The fire of Nupi Lane continued to smolder even till the Second World War. It is believed that in those days when there were no newspapers, people used to come to this market to know about the news. This movement of such courageous and courageous women made the world realize the power of mother power. Even after the independence of the country, it became an important place for discussion on social issues. Since then till today this market kept on growing.
Why was Ima named
It is obvious to the world that Ima Bazar has been started by women. It was named Ima Kaithal to prove its identity and women's participation in it. In Manipuri, Ima means mother and Kaithal means market. Its full meaning is mother's market. This market started by women has become the identity of the historical and cultural heritage of Manipur in the world today. The hustle and bustle of this market compels even the passers-by to stop here.
The view of this market is such that as soon as you enter it, you can see the beauty of emotions everywhere. This market evokes a more pleasant feeling in the light at night. The faces of confident women will surely pull you towards them. Here these women are often in their traditional clothes only. They are dressed in traditional fenek (lungi-like cloth) and inefis (shawl).
Only married women are allowed to run shops in this market. Along with this, an organization works here to make women financially strong. This organization gives loans in times of need. Only married women can run shops in this market. These women also have their own organization which also gives loans to them when needed.
Asia's largest shopping complex
Ima Kaithal or Mother's Market is completely women's market. This is the largest shopping complex of its kind in Asia. Every day more than 3000 shops are set up here, according to this it would not be wrong to call it a shopping haven. Male vendors and shopkeepers have been banned in this market.
The Manipur government had announced in 2018 that if any male vendor was found selling goods in this market, legal action would be taken against him under the Manipur Municipalities Act, 2004. Kaithal was just a group of stalls earlier. In 2010, the state government shifted it to Khwairamband Bazaar, where it has taken a more organized and safe shape.
According to the Imphal West district website, "This is a unique and all-women's market, with 3,000 "imas" or mothers running stalls. It is divided into two parts on either side of the road. Vegetables, fruits, fish and household groceries." Furnishings are sold on one side and fine handlooms and household articles on the other. Not far from here is a street where beautiful wickerwork is made and baskets are sold." This unique market has its own distinct identity because of the women shopkeepers. Perhaps this is the first women's market of its kind in the world to be run under the supervision of women.