India News
Dastaan-Go: The Story of Dwarka – How the 'Poisonous Sultan' Begada wreaks havoc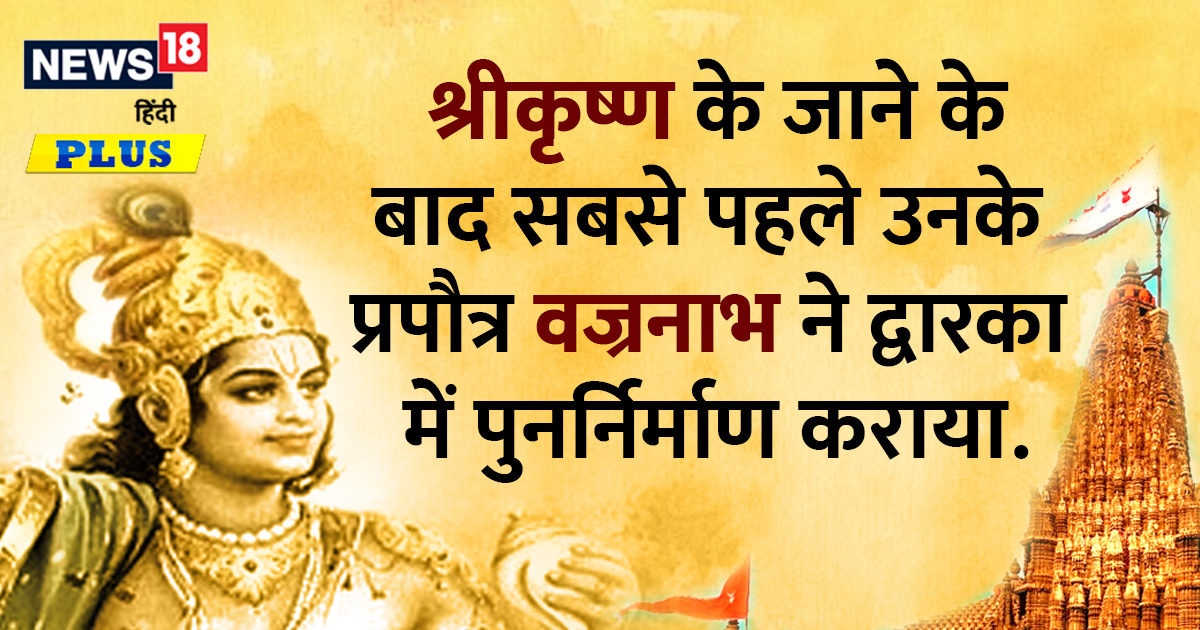 dastan-go : Is there any time to tell or listen to stories? Maybe it would have happened. May or may not happen. But one thing definitely happens. Everyone likes stories and stories. It is better if they are present on time. If not, even if they are from the past, there is no harm. Because they always go not only by telling us something, but also by teaching us. Brings back memories of our era. Even a handful of serious spices are sweetened and given slowly. That's why 'Dastaan-Go' has started the process of taking interesting stories to your loved ones. Will try to continue this series. Monday to Friday, everyday…
,
sir, So the story that started yesterday, on November 30, was left on the fact that the 'Poisonous Sultan of Gujarat' named Mahmood Begada did not vandalize only the Siddha Shakti-Peeth of Champaner-Pavagarh. He also targeted Shri Krishna's Dwarka. In fact, Dwarka came on his target about one tenth before Champaner-Pavagarh. He did a lot of 'mischief' there. Will tell about this further in detail, but first let's throw light on an interesting aspect related to 'Begada' or say Gutthi. That is, all the people who have written history books of the past have repeatedly called Begada 'poisonous sultan'. For example- Abraham Erali became a famous historian of India. He wrote many books like 'The Last Spring: The Lives and Times of the Great Mughals'. One of his books came out in 2014, 'The Age of Wrath: A History of Delhi Sultanate'.
In connection with this book, during a conversation with newsmen at that time, Erali had said very clearly that Begada was made poisonous by giving poison slowly since childhood. One such is Manu S. Pillai. He also writes a lot on issues related to history. All the stories written by him on his website are available with proofs. Even in these stories, the incident of 'Poisonous Sultan of Gujarat' Mahmood Begda is recorded. Similarly, in historical stories and stories, these things also come again and again that the body of a 'begada' has been filled with so much poison that if he spit on someone, the person in front would have died within a few hours. His appetite was monstrous. If a fly or insect sat on his body, he would die immediately. His clothes were also found to be under the influence of poison. Even the women who slept with him could not survive due to the effect of poison.
Now Sir, the interesting thing is that some people who write such things, mention these things in a very optimistic way. It was as if he himself believed that something like this must have happened in reality. But some people like Erali and Pillai do not forget to add that the things said and heard about 'Begada' have been exaggerated. For example, he might have eaten 10-15 kg of food in a day. But in anecdotes, with the passage of time, the quantity of food increased to 30-35 kg. Similarly, the length of his beard and mustache also increased in stories and it was said that he used to tie his mustache like a turban on his head. While the paintings made by the painters of 'Begada' era, and which are still found in many museums etc., he looks like a normal bearded-mustache sultan.
Meaning, overall it is certain that many things about 'Begada' have been exaggerated. However, it is recorded in history with strong evidence that 'Begada' was religiously a staunch Sultan. Many writers like Manu S Pillai believe this. Along with this, the areas like Junagadh and Champaner-Pavagarh were captured by 'Begda' under the guise of their radical thinking. After the capture, he forced the kings there to accept his religion. It is said that the kings of Junagadh accepted his words but the king of Champaner and his ministers did. As a result, 'Begada' killed all of them. Not only this, when 'Begada' tried to change its appearance after making Champaner-Pavagadh his capital in the year 1484, even then his same thinking was working behind that action.
And not only Champaner-Pavgarh, about a decade ago i.e. around 1474, when 'begada' did 'mischief' in Dwarka, at that time too the poison of fanatical thinking in his mind showed its color. . During that time 'Begada' used to run the Sultanate of Gujarat from Ahmedabad, which was made its capital by his grandfather first-Ahmed Shah. It is said that at that time 'Begada' was fed up with these things that pirates used to attack the ships of Hajis going from Dwarka to Mecca-Medina. He had an apprehension that these pirates also get some help from the people living in Dwarka and the priests of the temple there. So, one day he made a fierce attack on Dwarka. During this there was a lot of uproar. Heavy vandalism was done in the main Dwarkadhish temple and other temples there.
Sir, the mention of 'Begda' attack on Dwarka is also found in the official website of this district. It has been told that the Dwarkadhish temple, which was destroyed due to the attack of 'Begada', was rebuilt in the 16th century. It is also mentioned in the website of Dwarkadhish temple that Dwarka and Dwarkadhish temple came under the target of attackers not once but many times. But then again and again someone got this temple built. By the way, leave aside the matter of vandalism and if we talk about getting it built, then this process was first started by King Vajranabh in Dwarka. Such mention is recorded in the website of the temple itself. Vajranabh is said to be the great-grandson of Lord Krishna. Pradyumna was the eldest son of Shri Krishna. After this he had a son Aniruddha and then his child Vajranabh. This happened in those selected Yaduvanshis, who were left behind after the departure of Shri Krishna.
It is said that Queen Gandhari of Hastinapur became very sad after losing all her sons at the hands of Pandavas in the battle of Mahabharata. She believed that Dwarkadhish Shri Krishna was behind the victory of the Pandavas and the death of their sons. Therefore, after the fight was over, when Shri Krishna reached Hastinapur with the Pandavas, Gandhari cursed him. Said, 'Just as my dynasty ended because of you, in the same way your dynasty will also end Krishna'. And, then one day Gandhari's curse came true. Before Shri Krishna went to his abode, the Yaduvanshis started fighting and ending in front of him. His capital Dwarka also started merging into the sea. But only then Uddhav, a close friend of Shri Krishna came at the last moment. He requested Shri Krishna that 'Lord, at least leave some traces of yours behind you, which will keep reminding people of you'.
So, some queens of Yaduvansh, Vajranabh, and 'Hari-Mandir' (temple of Lord Vishnu) of Dwarka-Puri were left behind. Vajranabh again gave a new face to the same temple. However, with the passage of time, the appearance of this temple and this city has changed so much that don't ask. So, if we talk about the period of some 150-200 years ago, there is a mention in it, of Baroda's Raja Khanderao Gaekwad and another. They ruled from November 1856 to November 1870 during the British era. During this, he got the Dwarkadhish temple rebuilt in 1861. At that time, the British government also helped in building the spire of the temple, which was then broken during a fight a few years ago. After this, King Sayajirao Gaekwad-Third of the princely state of Baroda got a golden urn installed in the temple in 1903. It is said that in the year 1958, the then Shankaracharya also played an important role in giving this temple its present appearance. After this, the entire dar-o-madar of Dwarka was taken over by the government of independent India in the year 1960.
However, the story of Dwarka Temple and Dwarka-Puri is not complete even after this. There are many more aspects to this story. One of these interesting incidents is also when in 1965, Pakistan made a plan to destroy this temple. But he could not succeed. Will talk about that, tomorrow i.e. on December 2.
That's all for today. Khuda Hafiz.
First read breaking news in Hindi News18 Hindi| Read today's latest news, live news updates, most reliable Hindi news website News18 Hindi.
Tags: gujarat, Hindi news, News18 Hindi Originals
FIRST PUBLISHED : December 01, 2022, 08:43 IST