India News
Daughter refuses to recognize family after love marriage, father publishes condolence message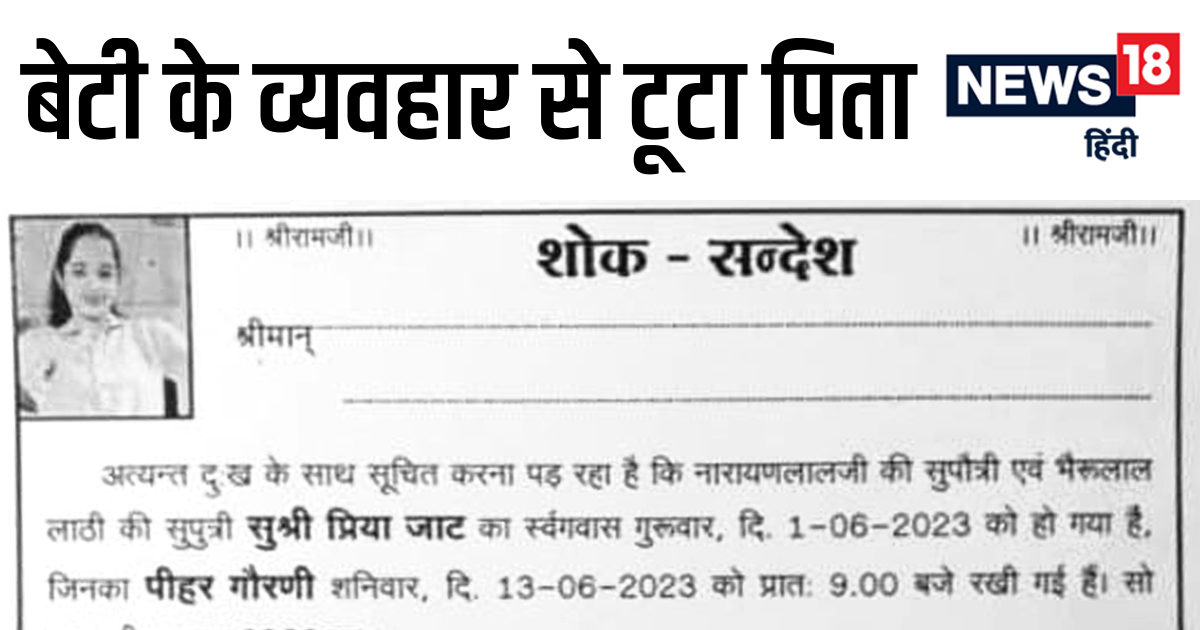 highlights
The matter is of Hamirgarh police station area of ​​Bhilwara
Relatives had registered the girl's missing in Hamirgarh police station
Upset with the daughter's behavior, the father told the family that our daughter had died.
Rahul Kaushik.
Bhilwara. A strange case has come to light in Bhilwara district of Rajasthan. Here a girl refused to recognize her parents after doing love marriage. This broke her father so much that he got his daughter's condolence message printed thinking she was dead from the same day. Now the father is getting his Pihar Gaurani Bhoj (death feast) organized in the coming days. This heart-wrenching incident is of Ratanpura village under Hamirgarh police station area of ​​Bhilwara district.
The hurt relatives got the condolence message printed in the daughter's name and invited the people of the society. This condolence message is now going viral on social media. People are also having various discussions about this. In fact, Priya Jat of Ratanpura village left home with the young man of her choice against the wishes of her family members. On this, the relatives lodged a missing report of Priya in Hamirgarh police station.
from your city (Bhilwara)

Married with lover then brother and father became enemy, newly married couple reached SP, said will kill… save…
Condolence message is going viral on social media
The police called the relatives after finding Priya. Later talked to him in the presence of family members. During this, Priya flatly refused to recognize her family members and went with her boyfriend. Priya's father was badly broken by this. He told the family members that our daughter is dead. The father also got the daughter's condolence message printed. After that, now this condolence message is becoming fiercely viral on social media.
The girl was reported missing 15 days ago.
Hamirgarh Thanaprabhari Bhanwarlal Chaudhary told that 15 days back, Priya's father Bhainrulal had lodged a missing report of his daughter in the police station. The missing report of her boyfriend was registered in the Sadar police station of Bhilwara. The girl's earlier engagement with her lover was broken. But now she wanted to be with him. That's why she ran away with him.
Condolence message magazine distributed in the society
After finding Priya, the police called her parents to the police station. There the girl refused to recognize her parents and expressed her desire to go with her lover. Since then his family members got upset and got his condolence magazine printed and distributed in the society. They say that our daughter refused to recognize us since then she is dead to us.
,
Tags: Bhilwara news, love marriage, love story, Rajasthan news
FIRST PUBLISHED : June 05, 2023, 09:14 IST