India News
Devgadbaria Assembly Election 2022: BJP's occupation of Devgarh Baria seat for a decade, NCP has also opened account here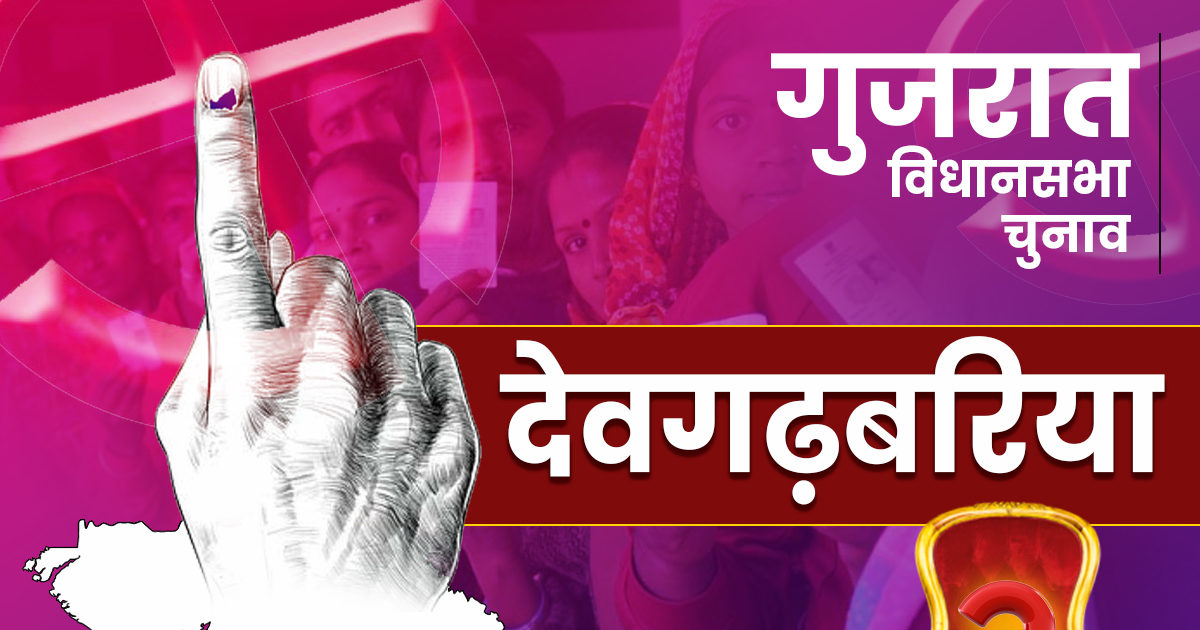 highlights
Deogarh Baria Assembly is a general category seat in Dahod district.
NCP also won an election from here in 2007
Aam Aadmi Party's entry into the electoral fray will be an interesting contest this time
Deogarh Baria. of Gujarat Deogarh Baria Assembly The seat (Devgadbaria Assembly Seat) is one of the special seats of the state. Most of the seats in this district are of ST reserved category. Because of this, a close watch is kept on the voters of all the parties here. Deogarh Baria assembly seat of Dahod district belongs to the general category, which has been dominated by the BJP for a decade. This time Congress and Aam Aadmi Party have also entered the election fray with full vigor. Due to this, the election on the seat is expected to be very interesting.
The 2017 election on this seat under the Dahod Parliamentary Constituency was won by Bachubhai Maganbhai Khabad of the BJP for the second time in a row. Khabar of BJP won by defeating Wakhla Bharat Singh Pratapbhai of INC by 45,694 votes. Once again both the candidates will be face to face on this seat.
Rajula Assembly Election 2022: Congress made a dent in BJP's bastion Rajula seat, BJP had won this seat 4 times in a row
On this seat, BJP has fielded its sitting MLA Bachubhai Maganbhai Khabad. Khabar has come down to win the seat for the fourth time. Apart from this, the Aam Aadmi Party has also given a chance to Vakhla Bharat Singh Pratapbhai (Bharat Vakhala) on this seat. Wakhla Bharat Singh had contested the last election on a Congress ticket. All the three parties are boasting of their victory on this seat. But the decision of victory or defeat will be decided on this seat only after the elections to be held on December 5.
In the 2017 elections, BJP's Khabar Bachubhai Maganbhai got 103,873 votes, while INC's Wakhla Bharatsinh Pratapbhai came second with 58,179 votes. The margin of victory and defeat between the two was 45,694 votes. At the same time, the election of the year 2012 was also won by Khabad Bachubhai Maganbhai of BJP. BJP's Khabar defeated Congress's Chauhan Bhupendra Singh Chimansingh by 83,753 votes.
The 2002 election on this seat was also won by BJP's Khabar by defeating the Congress. But before this the 2007 elections were in the name of the Nationalist Congress Party. NCP's Tusharsingh Kanxim Mahalul defeated BJP's Patel Vijaykumar Pratapsingh by a margin of 5,269 votes. And NCP had opened its account here.
More than 2.66 lakh voters in Deogarh Baria seat
The total number of voters in Devgadh Baria Assembly Seat is 266163. Of these, 131025 are male and 135137 are female voters. The number of female voters in this seat is more than that of males and the number of other voters is 1. If we look at the total number of voters in Gujarat, it is 4,90,89,765. Of these, 2,53,36,610 are male, 2,37,51,738 are female and 1,417 are transgender voters. This time there are also a total of 27,943 service voters. With this, the total voters this time are 4,91,17,308.
Dahod Lok Sabha seat occupied by BJP
Devgarh Baria Assembly Seat is under Dahod District and Dahod Parliamentary Constituency. BJP's Jaswant Singh Bhabhor was elected MP in the 2019 elections from this parliamentary constituency. BJP's Bhabhor got 5,61,760 votes while Indian National Congress's Babu Katara got 4,34,164.
Bhabhor defeated Katara by a huge margin of 127596 votes. Bhabhor of BJP had also won the 2014 elections by defeating Tevid Dr. Prabhaben Kishore Singh of INC by a margin of 2,30,354 votes. The BJP has been winning this parliamentary seat twice in a row. More than 75 percent of the population of this parliamentary constituency belongs to the Scheduled Tribes.
Elections will be held in two phases on all 182 seats in the state.
Let us inform that out of total 182 assembly seats in Gujarat, elections will be held on 89 seats in the first phase on December 1. At the same time, votes will be cast on the remaining 93 assembly seats on December 5. Election results will be announced on 8th December. The important thing is that this time apart from BJP and Congress, Aam Aadmi Party (AAP) is also fighting strongly in the electoral fray.
First read breaking news in Hindi News18 Hindi| Read today's latest news, live news updates, most reliable Hindi news website News18 Hindi.
Tags: assembly elections, Gujarat Elections
FIRST PUBLISHED : December 01, 2022, 12:14 IST