India News
Explainer: Demand for ban on how PFI originated and why it intensified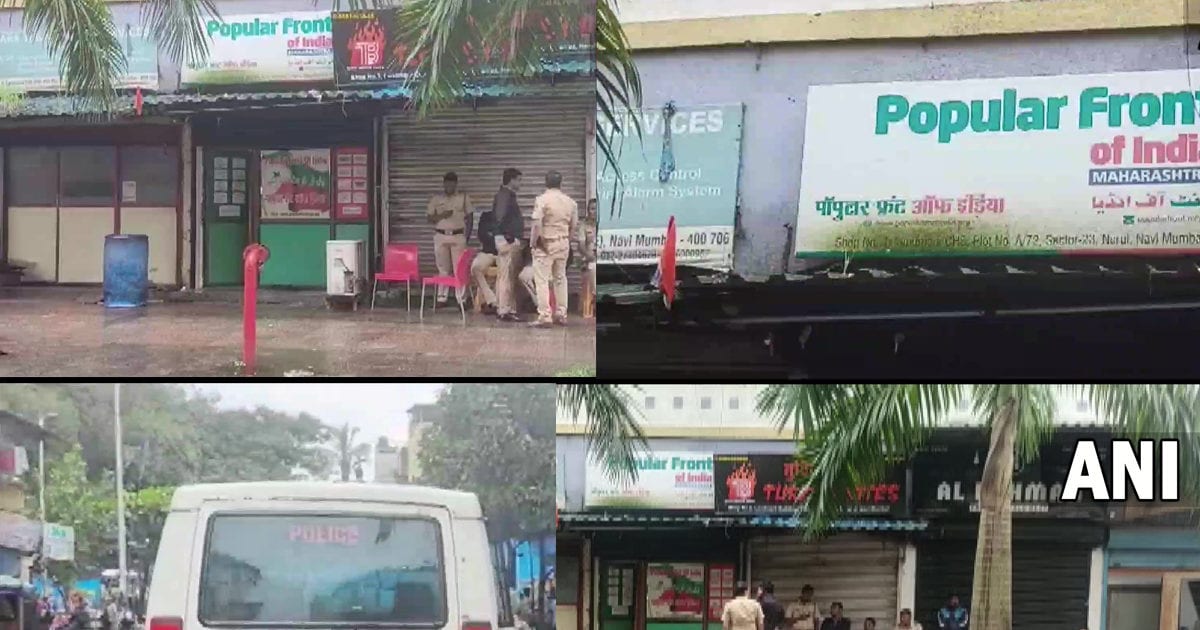 Highlights
How and when did the Popular Front of India ie PFI come into action?
Is this banned organization another incarnation of SIMI?
Why many state governments and NIA have been demanding action against it
The country's largest investigative agency NIA conducted the biggest operation across the country against PFI on 22 September. PFI stands for Popular Front of India. For some time now, be it the incidents of provocation or the incidents of creating tension over the hijab case or the incident of arson in Kanpur – the name of PFI has emerged in the headlines everywhere. There is a continuous demand for a ban against him. Know how it was born. Who are the people behind it and what does it do?
Question – What is PFI and how did it start?
A meeting was held in Bangalore on 19 December 2006 in which PFI was formed. It was created by merging three organizations. these organizations were
The National Development Front – It was active in Kerala
Manita Neeti Pasarai – She was active in Tamil Nadu
Karnataka Forum for Dignity – Active in Karnataka
In this, The National Development Front i.e. NDF had to cover the bed due to the opposition of CPIM and BJP in Kerala. He was accused of creating communal tension in Kerala.
Question – Was PFI born through the people of SIMI?
– To a large extent it was so. Because among the early people of PFI, the people of SIMI were in the main positions. He played a special role in the establishment of this organization. Its birth also happened after the end of SIMI. SIMI i.e. Students Islamic Movement of India was banned when its name surfaced in several bomb blasts.
It was believed that PFI is actually a new incarnation of SIMI. Its founding members were the leaders of SIMI. In which SIMI General Secretary EM Rahiman, SIMI Unit President E Abubakar and Professor P Koya were included in Kerala. Koya was a big leader of PFI. Koya was among the 19 people who played a key role in the establishment of SIMI and the NDF.
Question – What does PFI tell itself?
PFI describes itself as an organization that works for socio-economic, cultural and political power and betterment. Mainly he works to help the downtrodden and the downtrodden. In 2019, it joined hands with the Goa Citizens Forum, Community Social and Education Society of Rajasthan. Similarly, it was tied up with Civil Rights Protection Committee in West Bengal, Leelang Social Forum in Manipur and Association of Social Justice in Andhra Pradesh.
Question – Does it have a political party and other organizations as well?
– It also established a political party Social Democratic Party of India (SDPI) in 2009. Whose purpose was to help Muslims, Dalits and downtrodden people.
Abubakar was the head of this political party, PFI started making inroads in student politics. For this, he also created The Campus Front of India (CFI) organization in schools and colleges this year.
Question – When did the allegations start on this?
– As its popularity started increasing, with it the allegations against its cadre and organization for all the communal incidents and criminal activities started and these did not decrease but continued to increase. Its activities were increasing rapidly in Karnataka and Kerala, at the same time its name also started appearing in many wrong things, but its presence was also clearly visible in it.
Question – What are its criminal activities and controversies, to which its name is associated?
Initially, the police and central agencies of many states blamed the involvement of PFI for hoarding weapons, inciting violence, spreading hate campaigns, riots and similar acts.
For example, in 2013, the Kerala Police carried out one-on-one raids against PFI activists in northern Kerala. In this they also found a very serious type of weapon, which included bombs, raw material for explosives, gun powder and other things. In 2020, top PFI leaders were arrested and accused of funding the Delhi riots, in which 53 people died.
Question – When was the tag of terrorism on PFI?
The first major incident when the PFI was tagged terrorism was in July 2010, when its activists chopped off the right hand of Malayalam professor TJ Joseph in Kerala. These activists accused the professor of insulting the Prophet. He said that he deliberately set such a paper, which insulted the Prophet.
In 2012, the Oommen Chandy-led Congress government of the Kerala government informed the Kerala High Court that the PFI was actually another form of the banned outfit SIMI and was involved in 27 murders in which the right-wing CPIM and RSS men were killed.
In 2012 itself, the then Prime Minister Manmohan Singh said that religious extremism is on the rise in Kerala as well as in other states, including Jammu and Kashmir. After this PFI also came on the radar of the central government.
Question – How did the activities of PFI grow after this?
On the one hand, the PFI had come on the radar of the central government. Along with this, the governments of Kerala and many states had started keeping an eye on its activities, but even after this, this organization continued to spread across the country. Especially it spread rapidly in Jharkhand. Where it started attacking Hindu organizations. At the same time, reports of arms training and recruitment for terrorist organizations like IS also started coming in Kerala.
In an article published in Open Magazine in 2017, a senior intelligence officer of the Kerala Police told journalists that the least number of people from the state joined the IS and most of them are members of the PFI. But on this, the PFI leaders said that those who have gone to IS, their relations are no longer with it.
In the year 2017, NI gave a big report to the Ministry of Home Affairs regarding the banning of PFI and SDPI, as there was involvement in many cases related to terrorism activities against these two organizations. The NIA had claimed that the PFI is a threat to national security and in this case it had also given details of its direct involvement in terror incidents in Kerala and Karnataka.
Question – From whose side is the demand for ban on PFI now intensifying?
The demand for banning PFI has recently intensified again in BJP ruled states. The fresh demand intensified in Karnataka after the killing of a 28-year-old Bajrang Dal worker in Shivamogga district in February this year. However, it is not yet clear whether the PFI was behind this murder or not.
In the year 2020, when the anti-CAA atmosphere started to form in the country, Uttar Pradesh Chief Minister Yogi Adityanath also demanded a ban on PFI and claimed that this organization is behind the protests. The ED also said the same thing in its report sent to the Ministry of Home Affairs.
Question – Has this organization been banned in any state of the country?
It has been banned in Jharkhand. Where the state government said that the PFI is being banned due to its anti-national activities and its links with a notorious international terrorist organization like IS. This ban has been in place since 2019.
Be the first to read breaking news in Hindi News18 Hindi | Today's latest news, live news updates, read the most reliable Hindi news website News18 Hindi |
Tags: Karnataka, Kerala, NIA, PFI, SIMI, Terrorism In India
FIRST PUBLISHED : September 23, 2022, 17:12 IST