India News
Giving electricity for free 24 hours is a magic, this magic comes only to me and no one else – Kejriwal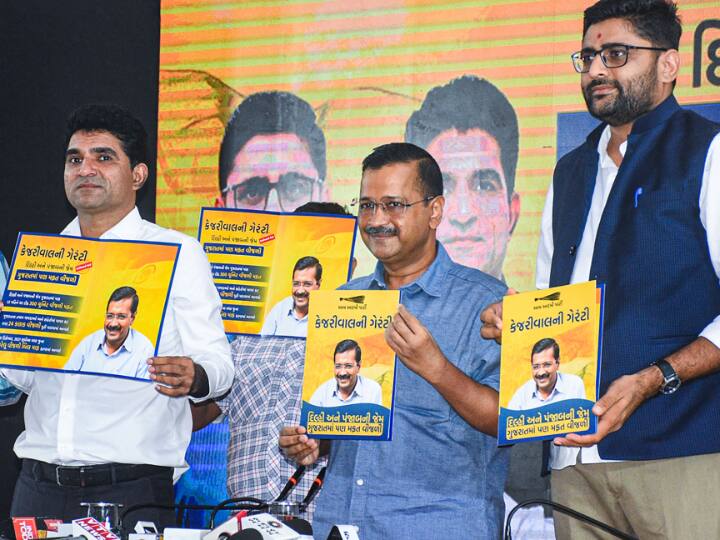 Arvind Kejariwal Knows Magic: Aam Aadmi Party (AAP) convener and Delhi Chief Minister Arvind Kejriwal is currently on a tour of Gujarat. He held a meeting with the workers in Surat on Thursday and also talked about providing 300 units of free electricity in the state. Along with this, Kejriwal said that giving electricity for free 24 hours is a magic and this magic comes only to him and no one else. Even if someone bluffs about it, then understand that he is lying.
He said that electricity is becoming expensive in Gujarat. In Delhi, the AAP government gave electricity free of cost and now the same system will be made in Punjab also. He said that now the people of Gujarat want that electricity should be free in Gujarat too. Therefore, today we have come up with the first guarantee on the issue of electricity. This guarantee is because there are many parties that come before the election and say that we have a manifesto, but after the election they do not do anything. Pick up your manifesto or resolution letter and throw it in the garbage heap. But we do what we say.
'Don't vote if you don't meet the guarantee'
Arvind Kejriwal said that Aam Aadmi Party is a party of true, honest and honest people. That's why we are giving a guarantee. Just as there is a guarantee of goods in the market that if the goods do not turn out well, then the money is returned, similarly if we do not work, then do not vote for us next time. AAP's national convener Arvind Kejriwal said that every family in Gujarat will get 300 units of electricity free of cost. If free electricity can be found in Delhi, if it can be found in Punjab, then it can also be available in Gujarat.
Giving electricity 24 hours free is a magic
Arvind Kejriwal said that giving 24 hours electricity and free electricity, this is magic and only the one above has taught me this magic. No one else comes. If someone comes and says that I will give free electricity and will give electricity for 24 hours, then do not believe. Arvind Kejriwal said that first I did it in Delhi, then I did it in Punjab and now I will do it in Gujarat too.
Domestic electricity bills will be waived
Aam Aadmi Party (AAP) national convener Arvind Kejriwal said that even if I made your 300 units of electricity free, you would not benefit, if your last 50 thousand rupees bill would have come. . Then you will keep circling to get the bill fixed. Therefore, we have decided that all domestic electricity bills before 31st December 2021 will be waived off. That is, the entire old bill will be considered zero. This will not put any burden on the government. 70 to 80 percent of the bills are fake. Now we will make such arrangements that fake bills will stop coming. Now your zero bills will come or those who use more than 300 units of electricity, their bills will come. All old bills will be forgiven.
Also read: Gujarat News: Before the elections, CM Kejriwal's big announcement, promised to provide 300 units of electricity free, 24 hours supply
Also read: Delhi News: If you want subsidy on electricity in Delhi, then the form will have to be filled, from next month, the government will ask people
,