India News
Gujarat: 143 year old swinging bridge became the cause of major accident, 2 crores was spent on renovation, know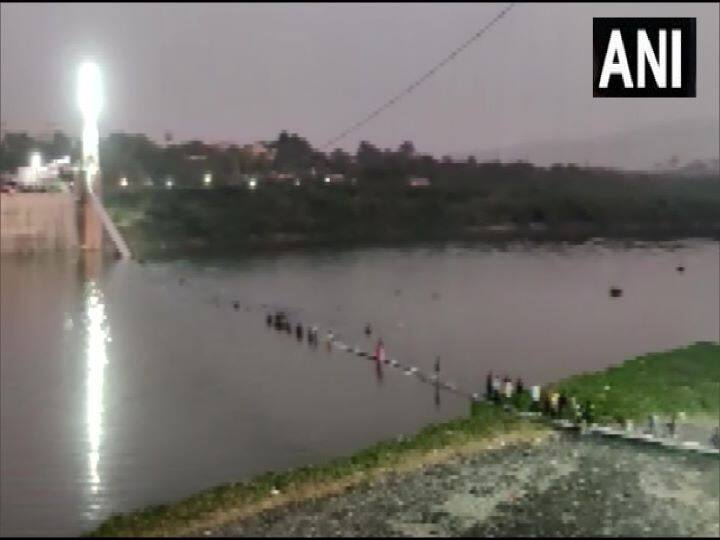 Gujarat Bridge Collapse: A major accident took place in the Machhu river of Gujarat's Morbi region on Sunday evening, when the cable bridge over the Machhu river collapsed, causing several people to be injured. Let us tell you that two crore rupees were spent in the renovation of this bridge and after the renovation, this bridge was opened for the general public three days ago. Today many people were going towards their destination from this bridge that the bridge broke down and fell in the middle.
According to reports, about 150 people on the bridge drowned due to the sudden collapse of the cable bridge built on the Machhu river near Mani temple in Morbi town of Gujarat and so far more than 30 of them have died. It is estimated that 150 to 400 people were on the bridge when the bridge collapsed. President Draupadi Murmu, Prime Minister Modi, Home Minister Amit Shah have expressed deep grief over the accident. Relief and rescue work is on.
Watch the video of the accident
#WATCH , Several people feared to be injured after a cable bridge collapsed in the Machchhu river in Gujarat's Morbi area today

latest video

PM Modi has sought urgent mobilization of teams for rescue ops, while Gujarat CM Patel has given instructions to arrange immediate treatment of injured pic.twitter.com/VO8cvJk9TI

— ANI (@ANI) October 30, 2022
The bridge was 143 years old, two crores were engaged in renovation
This bridge was built in the year 1879, that is, this bridge was 143 years old and at that time this bridge was built in three and a half lakhs. People used to call this bridge the swinging bridge. The length of this bridge was 765 feet. Two crore rupees were given to the Orewa Group for the renovation and repairs. The bridge was closed for seven months for renovation and the responsibility of maintaining this bridge was given to Orewa Trust. After the renovation, the bridge was opened three days ago and today the accident happened.