India News
IAS Topper Ishita Kishore's Patna house still has the name plate of late Wing Commander's father and grandfather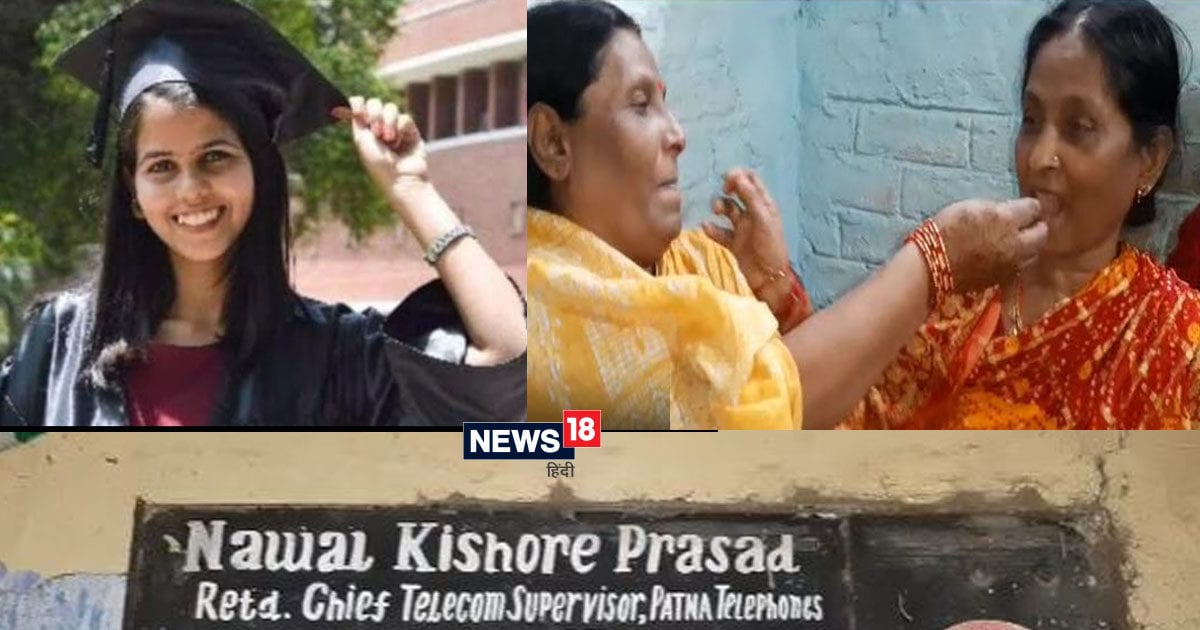 Patna. Ishita Kishore (IAS Topper Ishita Kishore), who got the highest position in the entire country in the Union Public Service Commission Civil Services Examination conducted by the Union Public Service Commission, belongs to Bihar. He may not have been born in Patna City, but the board outside his house bearing the names of Wing Commander father late Sanjay Kishore and grandfather retired Chief Telecom Supervisor Late Naval Kishore Prasad is a testimony to the fact that his relationship is with Patna City. . At present, Ishita Kishore's close relatives still live in Harnaha Tola locality of Khajekalan, Patna City. Late in the evening, after getting the information about Ishita topping the UPSC by the media persons, there was no place for the happiness of the people in Harnaha Tola locality.
Ishita's relatives are not happy with this great success of the family's daughter, and are expressing their happiness by sweetening each other's mouth. Please tell that Ishita's father late Sanjay Kishore was the eldest of three brothers. As a child, he studied in Harnaha Tola locality of Patna City and after doing MTech, he was selected as an Air Force officer. He held the rank of Wing Commander and Deputy Director in the Air Force. In the year 2004, Ishita's father Sanjay Kishore died in Andaman and Nicobar.
Ishita's cousin grandmother Pratima Devi, one of Ishita's relatives, told that before the death of Ishita's father, her entire family had shifted to Delhi, and from there Ishita's education was written. IAS topper Ishita's cousin grandmother Pratima Devi is not happy with the success of her granddaughter. Pratima Devi said that Ishita has brought laurels to the entire state along with the family.



Husband's murder for lover: Husband went abroad, mother of 6 children gave her heart to a stranger, got him killed by giving betel nut




Jharkhand High Court: Droupadi Murmu reached Deoghar after becoming the President for the first time. Deoghar




UPSC Result 2022: Shruti passed in sixth time, Bhavna got success in 2nd time, stories of toppers




UPSC Result 2022: Aamir Khan and Anushka Sharma also passed UPSC exam!, see rank




Street Food: The frankie roll of this restaurant in Madhubani is wonderful, there seems to be a crowd to eat it




Before marriage refused to romance on the phone, then the groom Raja framed the girl's sister, then the bride reached the police station




Love killed… Love only killed! Another lover sacrificed in Gopalganj, dead body found on railway track




UPSC Success Story: Lost grandfather and father on the same day, still did not lose courage! win in fourth attempt




UPSC Result: Failed thrice… still Avinash did not stop, cracked the exam in the fourth attempt




UPSC Result 2022: Bihar dominates in UPSC result, 2 daughters in top 10, 10 Biharis in 100




Bihar News: Two employees clashed with each other in the hospital in Bhagalpur. fierce scuffle between the two
On the other hand, Ishita's cousin Ashish Kumar said that it is the dream of millions of youth to pass the tough UPSC exam, in such a situation, Ishita has created history by getting the top rank in this tough exam. Due to this great success of Ishita, there is an atmosphere of celebration among the people of the locality. Please tell that Ishita's maternal house (Nanihal) is also in Gardnibagh locality of Patna.
,
FIRST PUBLISHED : May 24, 2023, 12:22 PM