India News
'If we fight with rhythm, if we hug…' Anand Mohan engaged in search of lost land, welcomed with golden crown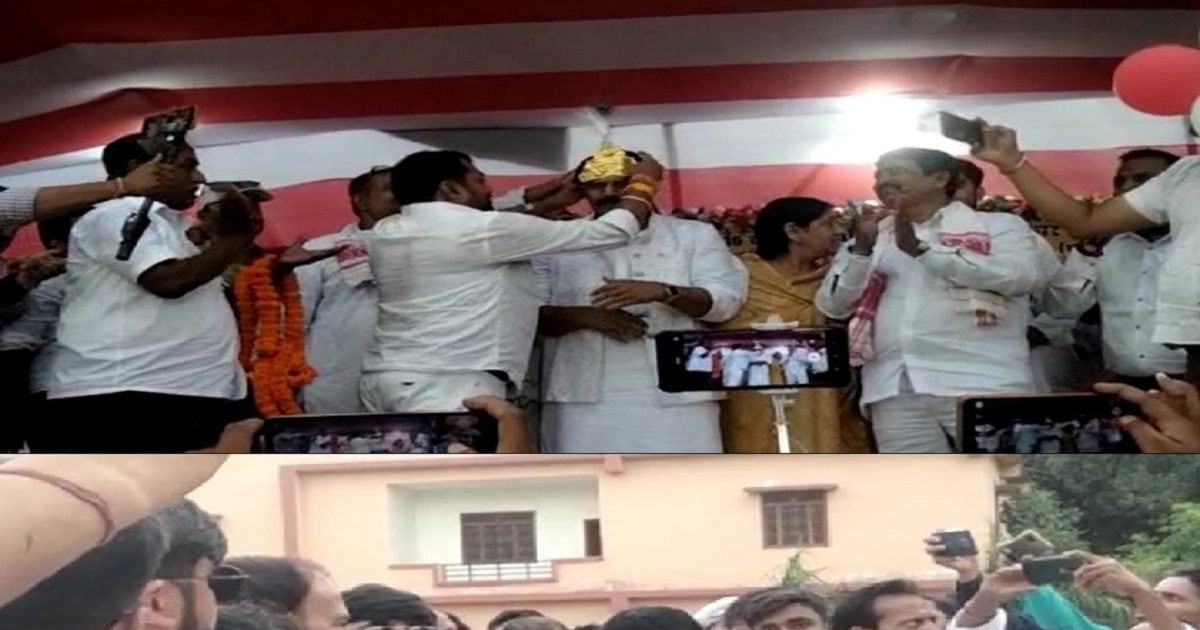 highlights
Anand Mohan reached Champaran for the first time after his release from jail.
Anand Mohan paid homage to the places associated with Mahatma Gandhi.
Anand Mohan was welcomed by wearing a golden crown in Patahi.
Motihari. Former MP Anand Mohan reached Motihari for the first time after coming out of jail. Here his supporters gave him a grand welcome. Addressing a function here, Anand Mohan cursed the central government fiercely. Without taking names, Anand Mohan lashed out at Home Minister Amit Shah and BSP supremo Mayawati. At the same time, he also advised the press media. Anand Mohan lashed out at those who raised questions about his release from jail and challenged the opponents from an open platform and said that the one who got scared should think that he is dead, but they have dialed a very wrong number, whose The answer will be given on November 23, when Patna will be defeated.
Anand Mohan said that we fought with Lalu Prasad. We are those people with whom we fight, so we fight in rhythm. When you hug someone, you pour out your heart. Lalu fought with Yadav on your question and he apologized, but you could not forgive. Why didn't you forgive, I will ask questions. But history will not forgive. If you don't want to support, don't give.
Anand Mohan said that the top leader of the party claiming to be the world's largest party should be scared of the person who has been in jail for 16 years. He should die by drowning in a handful of water. Friends of Anand's leader Subhash Singh welcomed Anand Mohan by wearing a gold crown at the ceremony. It may be known that Shivhar Lok Sabha constituency has three assembly constituencies of East Champaran district Madhuban, Chiraiya and Dhaka.
from your city (East Champaran)




Farmers get benefits from Sun's entry into Rohini Nakshatra, learn from Purnia's astrologer




OMG: Vicious criminals roaming in search of prey with weapons in stolen scooty! Police caught by laying a trap




JP University: Released date for filling graduation Part-2 exam form, till this date you can fill the form online




Vastu Tips: Bamboo plant can change luck, know the right way to keep it at home




IDBI Recruitment 2023: Plenty of jobs in IDBI Bank, 34000 salary will be available, apply for graduate




Friendship on social media, secret meetings, love story was going on for 5 years, now amazing climax has come!




Gold Silver Price in Patna Today: Big fall in the price of gold and silver, don't miss the opportunity, buy today




Bhabhi Ji Maidan Me Hain: PM will inaugurate, so why is the opposition worried? .Top News| jdu | bjp news




Azolla is an alternative to cheap diet for animals, green fodder can be prepared throughout the year at a very low cost




Buxar: The place of Maa Jagdamba Bhavani where heads are worshiped from mango to special, there is no temple here
Please inform that due to the reception being held on the way, Anand Mohan reached the address of East Champaran in the main program six hours late from his scheduled time. Before this, Anand Mohan reached Gandhi Smriti Sthal in Motihari where he garlanded the site. Friends of Anand organized a huge function in the ground of Singheshwar High School in Patahi.
Despite reaching six hours late from the scheduled time, hundreds of supporters kept waiting for him. Anand Mohan's wife, former MP Lovely Anand, son Shivhar's RJD MLA Chetan Anand, State Law Minister Shamim Ahmed, MLC Maheshwar Singh, Sugauli RJD MLA Shashi Bhushan Singh, former minister Dasai Chowdhary, former MLA Laxmi Narayan Yadav were present at the function. Including a large number of leaders and workers were present.
,
Tags: Bihar News, Bihar politics, Champaran News, Motihari News
FIRST PUBLISHED : May 27, 2023, 11:41 AM