India News
'Just have to reduce 40 seats of BJP', where did Nitish get the idea? Inside Story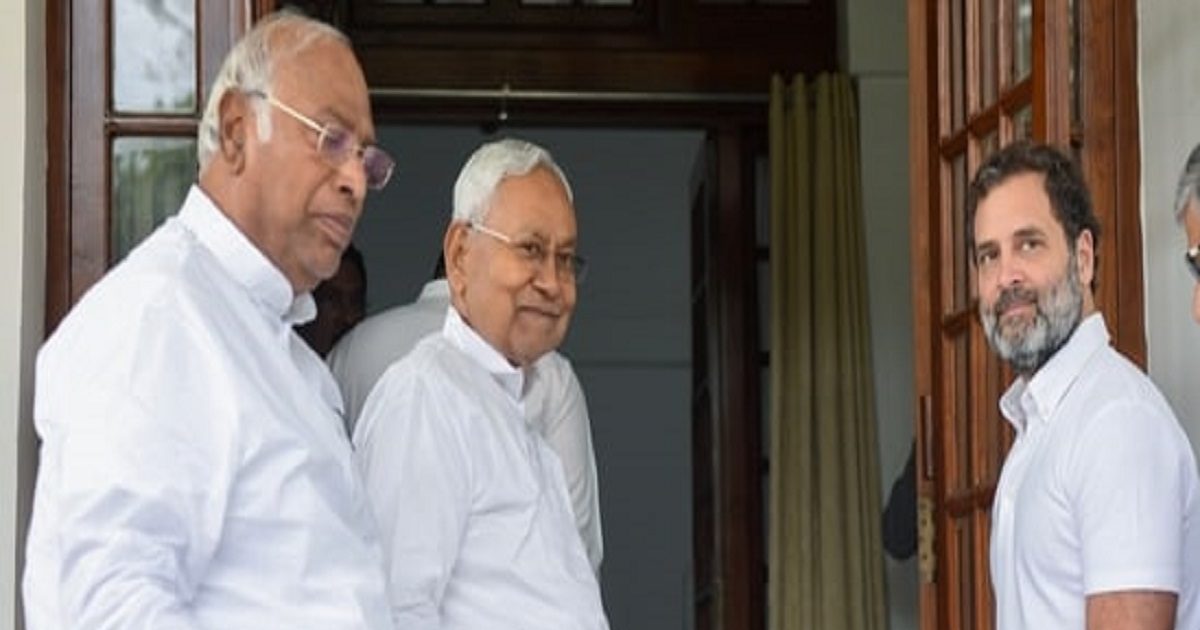 highlights
How is the June 23 meeting important for JDU?
Nitish's political future depends on the success of the meeting.
Difficulty may increase if there is no opposition unity!
Patna. The proposed meeting of anti-BJP parties on June 23 can prove to have a deep impact on the politics of Bihar as well as the country. On the initiative of Nitish Kumar, this meeting has been called in Patna, in which Rahul Gandhi, Congress National President Mallikarjun Kharge and leaders of many big political parties of the country are also coming to participate. This meeting is also considered very important for the political status of Nitish Kumar. This is because Nitish Kumar has opened a front against BJP since his separation from BJP. He is also repeatedly claiming that if all the anti-BJP parties unite, then the BJP can be defeated in 2024.
It was not so easy for Nitish Kumar to unite all anti-BJP parties including Congress against BJP. Actually, JDU in Bihar is currently not considered as strong as it used to be earlier. At present JDU is the third party in Bihar. But, along with this, a big truth is that the political status of Nitish Kumar remains intact even today. This is the reason why on the initiative of Nitish Kumar, big leaders of anti-BJP parties across the country have agreed to come to Patna.
Nitish-Lalan's plan for BJP
But, the road to the June 23 meeting was not that smooth. When Nitish Kumar started the opposition unity campaign, then his national president Lalan Singh first made a statement after separating from BJP that BJP can be defeated and it doesn't have to work very hard, just BJP 40 seats have to be reduced and BJP itself will come in minority. For this, he cited Bihar, Jharkhand, Bengal and Uttar Pradesh where BJP's seats can decrease.



Horrific road accident in Patna, uncontrolled truck overturned on e-rickshaw, painful death of 6 people




Announcement of trial run of Patna-Ranchi Vande Bharat Express train, know date, route and timing




Why are red ant eggs so famous in Assam? This special dish is made on Bohag Bihu, know the method




BPSC Teacher Recruitment 2023: Divyang will be able to become a teacher only when the certificate of these hospitals is shown




Weather Update: The effect of pre-monsoon will be seen from June 11, there will be relief from the scorching heat, know the update




A police station in Bihar from where Scorpio was stolen, SP ordered an inquiry




PHOTOS: 'Don't do this job; Tribal society shows mirror to prosperous and strong class!




Saran police gave big relief to the victims of cybercrime, now you can complain here




Bihar: Electricity consumption broke the old record in the scorching heat, know how much demand was in peak hour




Buxar Most Famous Ghat: From Ramrekha to Rani Ghat, adorable pictures narrating mythological beliefs
JDU is restless due to defeat in 2020 assembly elections
Lalan Singh says that BJP has won the Lok Sabha elections. It has secured the highest number of seats in those states and now it has to come down, cannot go up. For this, he cites many states including Madhya Pradesh, Rajasthan, Delhi, Gujarat, Bihar. Actually, JDU had suffered a big setback in the 2020 assembly elections. Since then there was restlessness in JDU.
Due to Nitish, the opposition parties are getting unanimous!
Many reasons are being considered for this defeat of JDU. But, when Nitish Kumar parted ways with BJP, he not only started the exercise of strengthening JDU but also sent his party's national president to several states of the country to hold talks with the leaders to create an anti-BJP atmosphere. It was started by Lalan Singh and later Nitish Kumar toured the country and started the exercise of forming a big camp against BJP. Finally, the date of June 23 became final.
Nitish is sure that Eka's campaign will be successful
Nitish Kumar also knows that it is not so easy to make a front against BJP. There is a lot of tussle between the regional parties including the Congress. But, Nitish Kumar is engaged in the campaign to bring these parties together on one platform. It is their effort that when these parties sit together, the round of talks will begin and a better way will be found in the future. It is believed that Nitish Kumar is going to play a big role in this, because Congress has also given the responsibility to Nitish Kumar to talk to the regional parties.
Congress has faith in Nitish, his stature may increase!
Well-known senior journalist Ravi Upadhyay says that on the initiative of Nitish Kumar, the meeting on June 23 will be successful. At present, this cannot be said with a claim, but starting the race of talks will also be considered as a big initiative. Especially the role of Nitish Kumar will become important at the national level as well, which will increase enthusiasm not only for Nitish Kumar but also in JDU, which is currently the third party in Bihar. Ravi Upadhyay believes that after the meeting, an announcement can be made to make Nitish Kumar the Convener as well, so that even after the meeting, its pace will be faster.
,
Tags: CM Nitish Kumar, Loksabha Election 2024, Loksabha Elections, Opposition Parties, Opposition unity
FIRST PUBLISHED : June 09, 2023, 16:36 IST