India News
Kazi Nazrul Islam immersed himself in devotion to Krishna and composed hundreds of hymns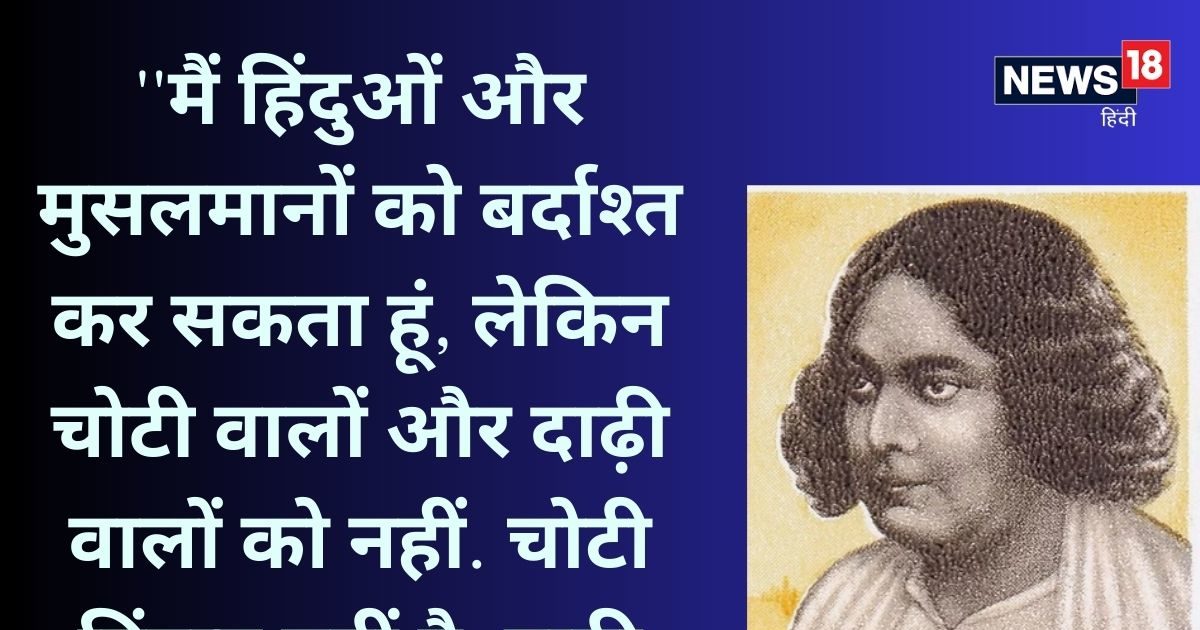 Kazi Nazrul was an example of communal harmony. His creations, be it poems, songs, novels or stories, are filled with the message of humanity, equality and religious devotion. Nazrul composed about 3000 songs. He himself has given music and vocals to most of these songs. The songs of Qazi Nazrul Islam Saab are known as 'Nazrul Sangeet' or "Nazrul Geeti".
Kazi Nazrul Islam was born on May 24, 1899 in Churulia village of West Bengal. His father's name was Fakir Ahmed, an Imam and caretaker of the local mosque. Kazi Nazrul's early education took place in a madrasa run by the mosque. His uncle Fazle Karim had a great influence on Nazrul. Fazle Karim had a music troupe which used to roam from place to place performing songs and music. Kazi Nazrul also joined his uncle's troupe and started singing. He also wrote songs for the troupe. This troupe used to perform small dance dramas in eastern India which were based on local folklore especially Hindu religious texts. While traveling with the troupe, Kazi Nazrul also took knowledge of Sanskrit and Bengali language and studied Ramayana-Mahabharata. He was greatly influenced by the Hindu Puranas. He wrote plays like 'Yudhishthira Geet', 'Data Karna' and 'Shakuni Ka Vadh' for his troupe.
In this way Kazi Nazrul Islam gradually got attracted towards devotion to Krishna. He composed many hymns of Krishna. His hymns written on Krishna became very famous. Come, let's read Kazi Nazrul Islam's Krishna Bhajan-
Krishna Kanhaiya come, play Mohan Murli in your mind.
Kanti Anupam Neel Padmasam Show your beautiful form.
Hear melodious nupur hum
"Radha, Radha" again and again one by one
Create Mohan Raas on flowers in Prem-Kunj;
Mohan play the murli.
The name of Radha is written in every part,
Roam in Vrindavan with gopis,
Wear the garland of forest flowers around your neck, recite the song of love,
Mohan play the murli.
,
Jayatu Shri Krishna Shri Krishna Murari Shankhachakra Gada Padmadhari.
Gopal Govind Mukund Narayan Parmeshwar Prabhu Vishwa-Bihari.
Sur Nar Yogi Rishi sings the same name,
Let the world forget all sorrows and sorrows,
Brahma Maheshwar Anand Pave Gavat Eternal Graha-Nabhachari.
Everyone came to this earth after taking birth
While crying, I first took that name.
I will leave this world after listening to the fear in the ears.
,
Jagjan Mohan Sankathari
Krishnamurari Srikrishnamurari.
Ram Rachavat Shyambihari
Param Yogi Prabhu Bhavbhay-hari.
Gopi-Jan-Ranjan Braj-Bhaihari,
Purushottam Prabhu Golak-chari.
bansi bajawat ban ban-chari
Tribhuvan-keeper devotee-beggar,
Radhakant Hari Shikhi-Pakhadhari
Kamalapati Hail Gopi Manhari.
,
,
Tags: Hindi Literature, hindi poetry, hindi writer, Literature
FIRST PUBLISHED : June 03, 2023, 17:14 IST