India News
'Kejriwal has defamed Muslims across the country', Asaduddin Owaisi targets Delhi CM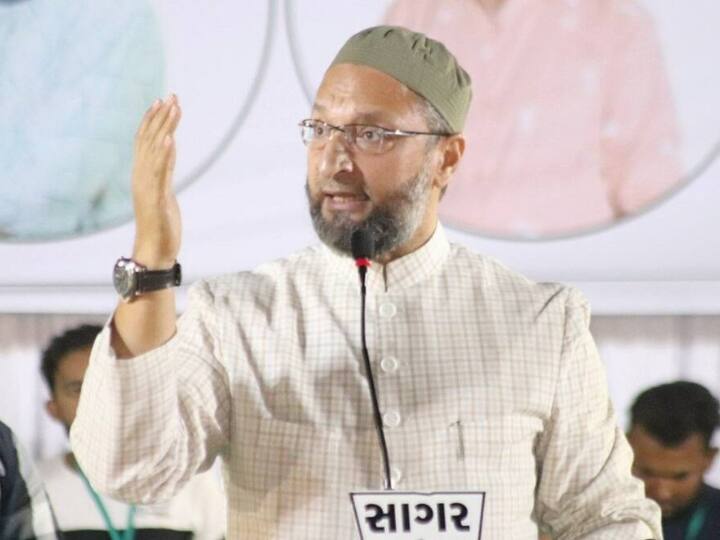 Owaisi Slams Kejriwal: As the date of voting in Gujarat elections is getting closer, the arrows of words are getting sharper. Asaduddin Owaisi, who is fighting for the first time in the Gujarat elections, has fiercely targeted the Congress and the Aam Aadmi Party. While attacking Kejriwal, Owaisi even called him a small recharge. During the Gujarat elections, Owaisi accused Kejriwal that he had done the work of defaming Muslims during the Corona period.
Owaisi said that you gave one chance to the Congress and then gave it a second chance, when it proved to be ineffective for the third time also, it suppressed its small recharge. AIMIM chief called Kejriwal a liar. He said that this person defamed the Muslims in the whole country. When Kovid started in the country, then first of all he did the work of defaming Muslims. Tablighi Jamaat was defamed. When there was a mess in Jahangirpuri, they got bulldozers fired there.
'Kejriwal makes people wear caps'

Owaisi said that Modi ji does not wear a cap and Kejriwal wears a cap to whomever he meets. He said that Kejriwal's mouth does not open on the issue of Bilkis Bano. They don't say anything on Uniform Civil Code. Owaisi said that it was Kejriwal who called Tablighi Jamaat a superspreader during the first wave of Covid. When the case went to the High Court, the court proved his lie.
News Reels
Attack on BJP in Bilkis Bano case
Owaisi took on the BJP in the Bilkis Bano case. He asked the BJP why the convicts of Bilkis Bano were let off. The AIMIM chief said that the one who called Bilkis Bano's rapist a sanskari was given a ticket. He said that the murderer of Muslims in Naroda Patiya is seeking votes for Modi. This is called teaching that lesson. This is his, everyone's development with you.
Owaisi angry on calling 'Vote Katwa' party
Owaisi gave a befitting reply to Congress and Aam Aadmi Party even after calling his party 'vote katwa'. He said that I have not come here to make a dent in anyone's vote. Owaisi asked the Congress that BJP has been in power in Gujarat for the last 27 years, why did it fail to defeat the BJP? He said that his party is contesting only on 13 seats out of 182 in Gujarat. Owaisi said that Congress should win 169 seats and form the government.
muslim politics in gujarat
Please tell that Owaisi is beating the beat for the first time in Gujarat. Gujarat has about nine percent of the Muslim population, yet the BJP has not given ticket to a single Muslim leader. Out of 182 assembly seats, only six have been given tickets by the Congress and only two by the Aam Aadmi Party.
read this also-Prime Minister Modi's school teacher passed away, PM remembered this by tweeting