India News
Law Minister Rijiju said – legal material will be translated into regional language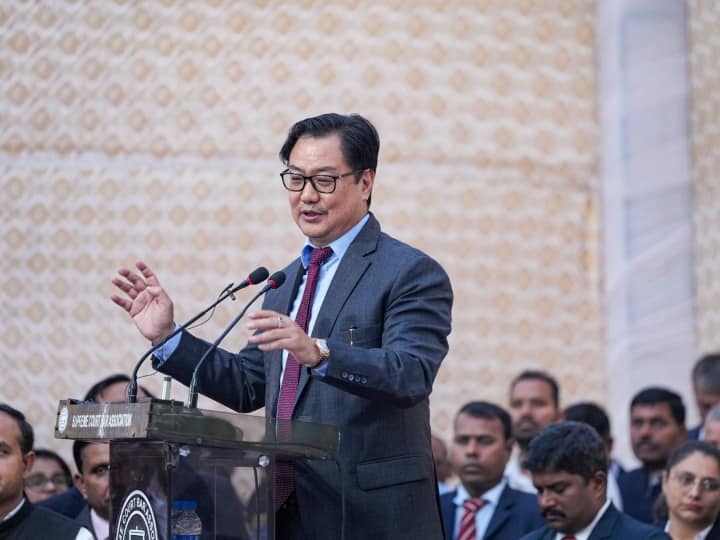 Indian Constitution Day 2022: On the occasion of Constitution Day, Union Law and Justice Minister Kiren Rijiju said many big things in a program. The Law Minister said that according to the wishes of Prime Minister Narendra Modi, legal material would be translated into regional languages ​​of the country. For this, the Law Bar Council of India has formed a committee under the chairmanship of former Chief Justice SA Bobde with the help of the Law Ministry.
Law Minister Kiren Rijiju said that in a vast country like India where 65 per cent of the total population still lives in rural areas and where regional and local languages ​​are the medium of understanding, therefore we have taken up the task of translating legal material into regional languages. Have decided. He said that the Legislative Department has prepared a glossary of 65,000 legal words. Our plan is to digitize it so that common people can use it easily. Apart from this, it is our endeavor to collect legal terminology published in regional languages ​​and make it easily available to the public.
Legal terminology will be prepared in regional languages
Kiren Rijiju said that as a first step, the Bobde Committee would prepare a common basic legal glossary for all Indian languages ​​to translate legal content into regional languages. Along with this, the committee is listing frequently used words and phrases in various branches of law. He said that PM Modi has on several occasions highlighted the need to encourage local languages ​​in courts to increase the faith of the common people of our country in the judicial system and make them feel connected.
News Reels
Reiterating the words of Babasaheb Dr. BR Ambedkar, the Law Minister said that we should not forget that this freedom has put a great responsibility on us. Since independence we have lost the excuse to blame the British for anything that goes wrong. He said that the country's legal material and legal terminologies are not available in the local language understood by the common man.
What did PM Modi say on Constitution Day?
Prime Minister Narendra Modi greeted the countrymen on the occasion of Constitution Day. In the program organized in the Supreme Court, the PM said that the youth should know about the constitution and the process by which the constitution was made. This will increase their interest. He said that the country as the 'Mother of Democracy' is strengthening its ancient beliefs and the spirit of the Constitution.
Read this also:-
Measles Outbreak: Many states are affected by Measles, maximum cases in Mumbai, doctors told preventive measures