India News
Leave aside the year 2022, the vote share of Congress and AAP combined is not equal to that of BJP in 2017.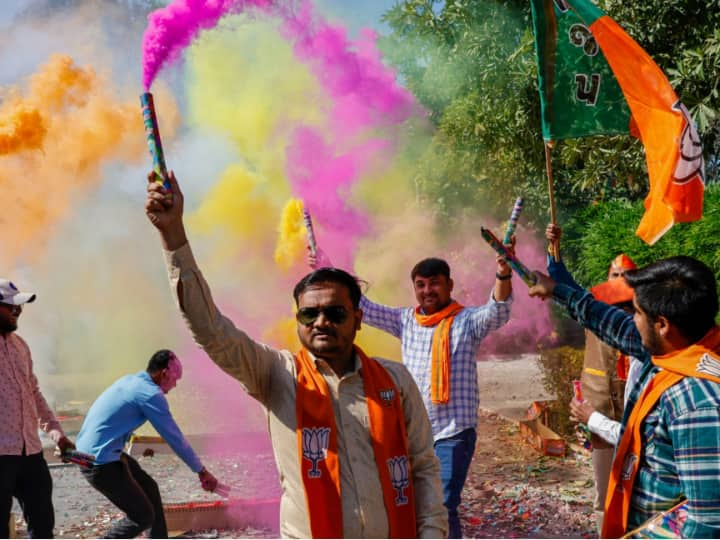 Gujarat Election Result: The results of the Gujarat Assembly elections were declared on Thursday (8 December 2022). In these results, along with the historic victory, BJP also created many records. The people of the state got 156 seats for the BJP, which was running with a target of 150. Such a bumper mandate has not been given to any party in the last several years, that too when only one party has been in power in the state for the last 27 years.
The Congress party, which got 41 percent vote share last time, could get 27 percent vote share this time. The Aam Aadmi Party captured its vote share. Bhupendra Patel is about to take oath as CM for the second time in a row. On one hand, BJP has broken all the records of Vijayagatha, while on the other hand, the opposition parties in the state are not left in this situation to play the role of a strong opposition.
This time BJP has secured above 52 percent votes in terms of vote sharing, whereas, Congress got around 27 percent and Aam Aadmi Party around 13 percent votes. If we compare the last election, here BJP has gained about 3 percent. Congress won 17 seats and Aam Aadmi Party 5 seats.
Congress-AAP vote share and BJP
News Reels
Now let's talk here how much vote share both Congress and Aam Aadmi Party got together. The website of the Election Commission states that the Congress got 27.28 per cent vote share this time and the Aam Aadmi Party 12.92 per cent. Whereas BJP got 52.50 percent vote share. Even if we calculate it separately, the vote share of both the parties is not even close to the vote share of BJP.
On the other hand, if we take the figures of the year 2017, then the Aam Aadmi Party was not in the electoral fray at that time, but the Congress was. Now looking at the election figures of 2017, BJP got 49.5 percent votes. If we combine the vote share of Congress and Aam Aadmi Party this time, then the vote share is 40.2 percent. If we add the vote share of both the parties in this year's election and the vote share of BJP in the year 2017, then there is a difference of about 9.3 percent. This time both the parties together could not get as much vote share as BJP alone had in 2017.
Read this also: Election Results 2022: 3 states, 3 parties… who is at loss and who is benefiting? Know the condition of Congress, BJP and AAP