India News
Maken and Kharge returned after watching the game of 'magician' Gehlot in Jaipur, know what they said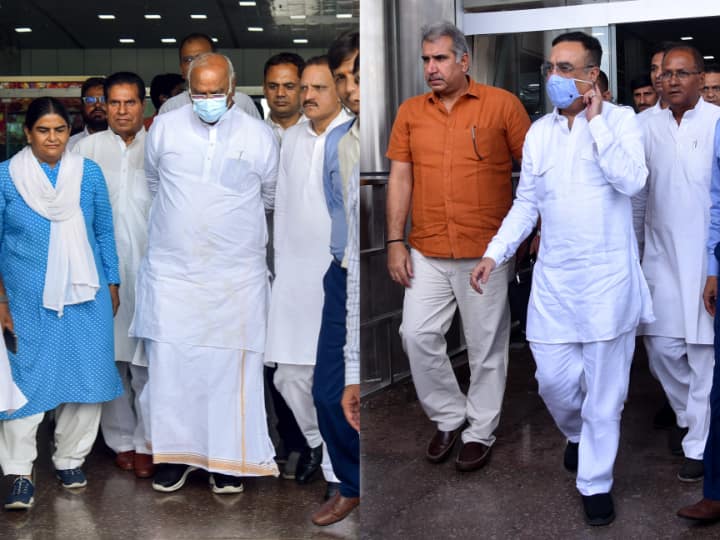 Rajasthan Politics: Rajasthan… a state where Congress has been saying that we have a stable government here. She suddenly appeared unstable on Sunday night. The biggest thing is that no one else brought it in a state of instability, but the leaders of Congress themselves were involved in it. The MLAs standing in support of Ashok Gehlot objected to making Sachin Pilot the Chief Minister and submitted a mass resignation to the Speaker of the Assembly CP Joshi on Sunday.
Congress leaders Ajay Maken and Mallikarjun Kharge, who reached Jaipur from Delhi to take the legislature party meeting, have now come back to Delhi after seeing the game of magician Ashok Gehlot. These two leaders, who reached Delhi, were surrounded by journalists at the airport itself and raised a flurry of questions.
Delhi | We arrived in Delhi after meeting MLAs in Jaipur. We are going to give our report to Congress interim president Sonia Gandhi: AICC observer Ajay Maken https://t.co/h3aUJsSSWh pic.twitter.com/FFSK6smkR3

— ANI (@ANI) September 26, 2022
Sonia Gandhi will decide
Answering these questions, Ajay Maken said that after attending the meeting of MLAs in Jaipur, we have reached Delhi. Now we are going to submit our report to the interim president of Congress Sonia Gandhi. Apart from this, Mallikarjun Kharge said that we are going to 10 Janpath and will meet Sonia Gandhi. We will apprise them about the incidents that happened in Rajasthan. Now they have to make the final decision.
Maken criticized in Jaipur
Congress' Rajasthan in-charge Ajay Maken criticized the conditions for the proposal to be taken in the legislature party meeting of MLAs loyal to Chief Minister Ashok Gehlot. He said that it is "indiscipline" for these MLAs to not attend the official meeting of the legislature party and hold other parallel meetings. Maken said a group of MLAs were insisting on passing a conditional resolution, which they did not accept.
read this also:
Rajasthan Politics: Maken and Kharge to submit report to Sonia Gandhi on Gehlot-pilot struggle, Kamal Nath also reached Delhi. 10 big things
Rajasthan Politics: Is there really a crisis in Rajasthan Congress or is Gehlot playing a fixed match to fix the pilot