India News
Many major bridge accidents happened in the world before Gujarat, thousands of people died in 20 years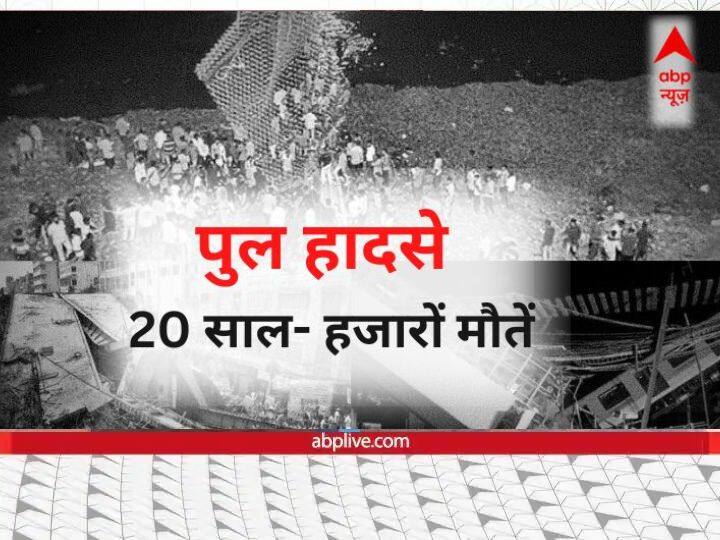 Bridge Collapses Of Last 20 Years: The cable bridge accident in Morbi, Gujarat has shaken. The collapse of the suspension bridge is one of the deadliest disasters for the country. So far 141 people have died in this accident and a large number of people have also been injured. NDRF teams are present on the spot. Know here where bridge accidents happened in the last 20 years around the world.
2022: 141 deaths in Gujarat
At least 141 people were killed when a 100-year-old suspension bridge collapsed in Gujarat's Morbi city on Sunday (30 October 2022). The death toll is increasing continuously. Local media quoted officials as saying that 500 people were on the way to the Morbi bridge during the accident.
2021: 26 people killed in Mexico City
latest video
In May 2021, an elevated section of track on the Mexico City subway system collapsed, causing a passenger train accident. A total of 26 people died in this accident and dozens of people were injured.
2018: 43 people died in Genoa
In August 2018, 43 people died when a bridge collapsed in the Italian city of Genoa. The Morandi Bridge was part of a major highway connecting France and Italy. The bridge collapsed due to torrential rains, causing dozens of vehicles and passengers to fall into the gorge.
2016: 26 people died in Kolkata
In March 2016, at least 26 people were killed when a flyover collapsed on a busy road in Kolkata. Rescuers pulled out about 100 people who were injured under large slabs of concrete and metal.
2011: Disasters in India
In October 2011, at least 32 people died when a bridge packed with festival crowds collapsed in northeast India, about 30 km from Darjeeling. After this, in less than a week, about 30 people died when a footbridge over a river in Arunachal Pradesh collapsed.
2007: Nepal and China
In August, at least 64 workers were killed when a bridge over a river collapsed in China's central Hunan province. The workers were doing construction work here. At least 16 people were killed and 25 went missing in Nepal in December when a bridge full of pilgrims collapsed in the country's west. About 400 people are said to have been on the bridge in a gorge over the Bheri river, 380 km west of the capital Kathmandu, at the time of the accident. More than 100 people were able to swim safely.
2006: Accidents happened in Pakistan and India
In 2006, at least 40 people died in Pakistan in the month of August. In December this year, at least 34 people were killed when a 150-year-old bridge on a passenger train collapsed at a railway station in Bihar.
2003: India and Bolivia
In August 2003, 20 people, including 19 children, died in India. A bridge had collapsed in the river near Mumbai, killing a school bus and four other vehicles in the river. In December, at least 29 people died in Bolivia.
read this also:
Mourning in Morbi: 132 killed in cable bridge accident, Home Minister was in touch with PMO overnight, NDRF-SDRF personnel took charge