India News
New revelation in 'Rudra' helicopter crash, pilot made a May-day call just before the accident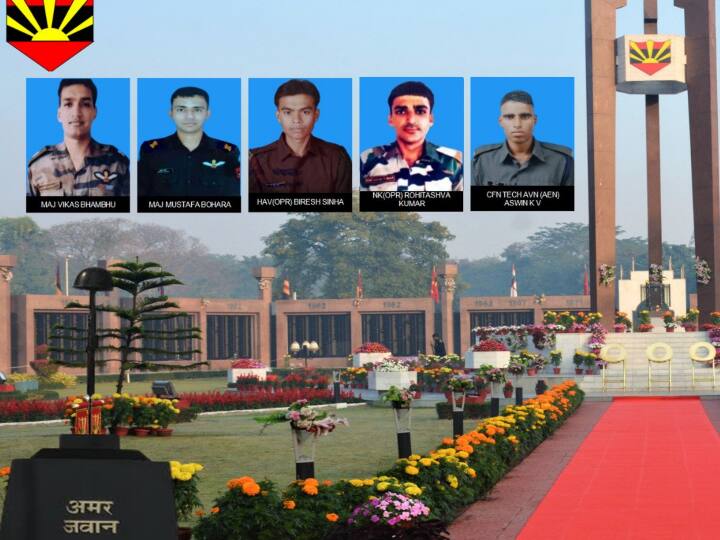 Arunachal Pradesh Helicopter Crash: There has been a big disclosure in the case of army helicopter crash in Arunachal Pradesh. According to the army, just before the accident, the pilot had informed the Air Traffic Control (ATC) about the malfunction in the helicopter, which is called a 'may-day call'. All five soldiers present in the helicopter, including two army pilots, were killed in the crash.
According to the Indian Army, the pilot had informed ATC about a technical or mechanical fault in the ALH-WSI 'Rudra' helicopter of the Aviation Corps. The army said that the main center of the Court of Inquiry set up to investigate the accident will now be on this technical fault. According to Lt Col Amarindra Walia, Regional Spokesperson of the Ministry of Defense posted in Tezpur, Assam, the bodies of all the five soldiers have been recovered after a 24-hour search operation. The deceased have been identified as Pilot (Major) Vikas Bhambhu, Co-Pilot (Major) Mustafa Bohra, CFN Tech Aviation (AEN) Ashwin KN, Havaldar (Operator) Biresh Sinha and Nayak (Operator) Rohitashv Kumar. Everyone's family members have been informed about the sad news.
It came to the fore in the initial investigation
Expressing condolences to the families of the soldiers who died, the army said that we stand firmly with them. Based on the preliminary investigation, the army said that the weather was clear at the time of the accident on Friday. Apart from this, the pilot had experience of flying the Rudra helicopter for 600 hours. The pilot had a total service of 1800 hours. According to the information, the accident had joined the Aviation Corps of the Army in the year 2015.
On Friday (October 21), the ALH-WSI helicopter of the Army Aviation Corps crashed in Miging, Arunachal Pradesh at 10.43 am. Miging is a very remote area in the Upper Siang district of Arunachal Pradesh, which is south of Tuting. This helicopter took off for a routine sortie from Lekabali Military Station in Assam.
latest video
Crash happened before
Let us tell you that after installing the weapon in the indigenous Advanced Light Helicopter ie ALH Helicopter, it has been named ALH-WSI i.e. Weapon System Integrated. The army has also named it 'Rudra' and it is a combat ie attack role helicopter in which two pilots are on board. After the crash, a local video surfaced in which smoke is seen rising in a very dense forest on a distant mountain. Last year, another Rudra helicopter in which two pilots were on board crashed at Karip Ranjit Singh Dam in Pathankot. On the 8th of the same month, an army Cheetah helicopter crashed in Tawang, Arunachal Pradesh. One pilot was killed in this accident.
Also read-
Terrorist attack on Assam Rifles near Myanmar border in Arunachal Pradesh, one SCO jawan injured