India News
Odisha accident: worked continuously for 50 hours … Railway Minister Vaishnav handled the front like this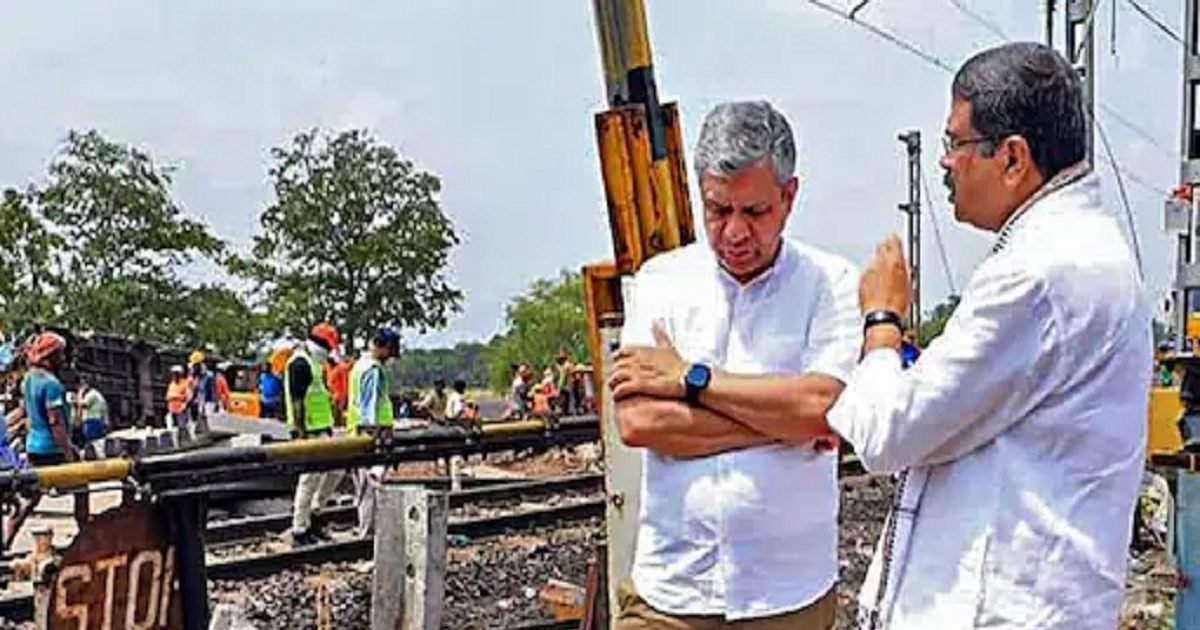 New Delhi. The collision of three trains in Odisha has shaken the whole country. So far 275 people have lost their lives and 1100 people have been injured in this tragic accident. After the incident, Railway Minister Ashwini Vaishnav not only got busy in work but also camped at the spot itself. Although the rescue work and relief operation started and long before that when he was present at Delhi airport.
Ashwini Vaishnav had just reached Goa on Friday evening for the launch of Vande Bharat, which runs from Mumbai to Panjim, when his phone started ringing continuously from around 7 pm. He was getting phone calls to inform about what happened in Balasore district of Odisha. Through which he came to know that two passenger trains 12864 Bangalore-Howrah Superfast Express and 12841 Shalimar-Chennai Central Coromandel Express and a goods train have collided with each other.
Overnight surveillance at the airport
The Railway Minister and his team immediately took a flight and reached Delhi, the first flight to Odisha was available at 4 am on Saturday. Vaishnav did not go home instead he decided to stay at the airport and from there started monitoring the relief and rescue work at the accident site. Finally at 3 am he could board the chartered flight.
A sleepless night was waiting for an unsettling day when Vaishnav arrived at Ground Zero near Bahanagar Bazaar railway station. After monitoring from a distance, he took the burden of the entire operation on his shoulders and swung into action. First of all, he personally took stock of the damage. Gave guidance to top railway officials for relief efforts and ordered an inquiry to be headed by AM Chowdhary, Commissioner Railway Safety, South East Circle.
Clear information given about train accident
Meanwhile, his team gave the details of the incident to Prime Minister Narendra Modi and top government officials. Vaishnav returned to Ground Zero after interacting with Prime Minister Modi at the accident site and injured passengers in the hospital and cleared the dust from the scene on Friday night itself.
He informed that the Coromandel Express collided with a goods train after derailment and then collided with the Bangalore-Howrah Yesvantpur Express and it was not a head-on collision between the three trains. He made it clear that repairing the trek along with rescue and relief work is his priority right now, meanwhile he did not respond to the opposition's demand for his resignation.
Along with the rescue work, the train operation is also on time.
As the rescue operation was inching towards its end after Saturday evening, Vaishnav announced that the Down Laun railway track would be made operational within 12 hours as per the plan. Staying at the spot the whole day, he directed the railway officials to change the shift so that he could get rest. In the late evening, on the request of his team and officials, he took a break for a while. After leaving the scene at midnight, he discussed the next day's strategy with Union cabinet colleague Dharmendra Pradhan.
He was at the accident site at 7 am on Sunday. The result of his persistence and the hard work of the railway officials and employees was that after 51 hours of such a terrible accident, the first train left the affected area at about 10.40 minutes that day. Vaishnav flagged off a goods train carrying coal from Vizag port to Rourkela Steel Plant.
He wrote by tweeting that the down line improvement work was completed, the first train was removed from the section. Hardly after two hours, the improvement work of the up line was also completed. An empty freight train was the first upline train to leave the accident-affected area. He said that three trains (two down and one up) have left from the section, we have planned to run 7 trains till night. We have to bring this entire section back to normalcy. He said that these are very emotional moments, our responsibility will not be fulfilled until the missing member of each family is found.
Till date no minister stayed at the spot for 50 hours
Vaishnav's proactive leadership in the aftermath of one of India's worst train accidents paints a different picture from past developments. Like Vaishnav, till date no railway minister has been on the spot for 50 hours. His presence ensured that there was no laxity in the relief work and there was smooth co-operation between all the departments and agencies.
Ashwini Vaishnav has old relation with Balasore
It is perhaps a matter of destiny that when Vaishnav, an IIT-Kanpur graduate, cleared the civil services examination, he was appointed as a young IAS officer in the Odisha cadre. He proved his worth while being the District Collector in Balasore. And while on this post, he got a call from Atal Bihari Vajpayee's PMO for appointment as Director.
This is not the first time that Vaishnav has conducted and directed relief work on such a large scale, it was during Vajpayee's tenure that the PMO looked into Vaishnav's rescue and reconstruction efforts following the devastating cyclone in Balasore. Then involving panchayats and local communities, Vaishnav oversaw the reconstruction of almost all the houses that had been destroyed, and the entire work was completed without delay and allegations of corruption.
It was because of Vaishnav's commitment that he became personal secretary to Vajpayee after joining the PMO. Even after the resignation of Vajpayee, he remained on this post. Appointed in Indian Port Trust in 2007, but later resigned from here. After this he did a management course from America and joined the private sector.
PM Modi called back from private sector
Prime Minister Modi, who had seen his work, called him back in the field of governance and public service. In this way this technocrat again joined his team. When he took charge of the Railway Ministry, he had made it clear that only those who aspire to work hard should join him. In charge of three ministries – Railways, Communications, Electronics and Information Technology, Vaishnav is used to working 24 hours a day. But along with monitoring the ground zeros continuously for 50 hours, he has also given a lesson to the political generations to come.
,
Tags: Ashwini Vaishnav, Indian Railways, Odisha Train Accident, train accident
FIRST PUBLISHED : June 05, 2023, 17:23 IST