India News
'Oreva company owner had given guarantee of the bridge in writing', alleges Morbi Municipality Vice President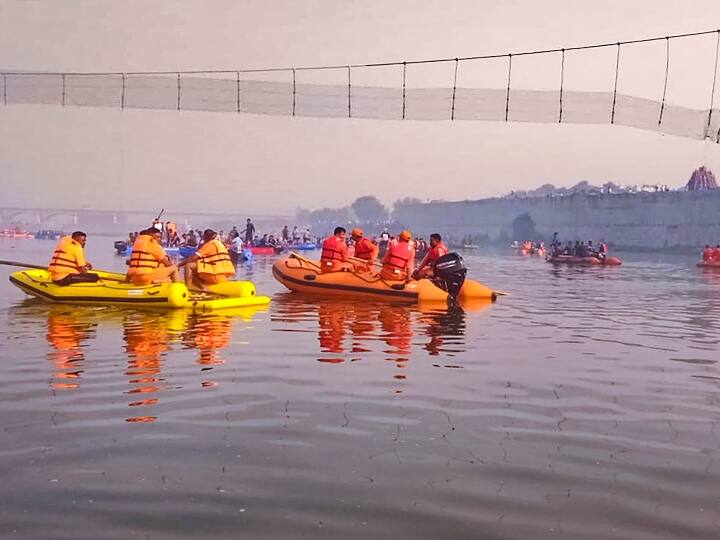 Morbi Cable Bridge Accident: The death toll in the cable bridge accident in Morbi district of Gujarat has crossed 140. Opposition parties have accused the BJP (BJ) of the accident caused by the collapse of the bridge on the evening of Sunday (October 30). ABP News spoke to Jairaj Singh Jadeja, Vice President of Morbi Municipality regarding this accident. In this special conversation of ABP News, Jayaraj named Jaisukh Patel, the owner of Orewa Company.
He said that Jaisukh Patel had given a written guarantee for this bridge. The collector had also signed that guarantee. Not only this, he also said that the municipality was not aware that the bridge had been opened. The municipality came to know about the opening of the bridge after the accident. He said that when this bridge was operated by the municipality, at that time a total of 20 people were allowed to go on this bridge, including both ends of the bridge.
Allegations against Orewa Company
In the Morbi bridge accident, this statement of the municipal vice-president can create problems for Oreva Company and its owner Jaisukh Patel. In fact, the Orewa company, which is still maintaining the bridge, is being held responsible for this accident. The company is accused of allowing more people to board the bridge than was allowed on the bridge in order to sell more tickets on the day of the accident, due to which this painful accident has happened. It has come to the fore in the initial information that, at the time when this accident happened, more than 400 people were on the bridge.
latest video
police in action
According to the latest information, the police have arrested nine people in this case. Earlier these people were being interrogated by taking them into custody, after which the police arrested them. Among those arrested are 2 managers, 2 contractors, in which one is the father and the other is his son. Includes 3 security guards and 2 ticket clerks. Along with this, the police has also constituted a special investigation team to investigate the matter.
The Gujarat Police has registered an FIR against the agencies involved in the maintenance and upkeep of the bridge on charges of culpable homicide not amounting to murder. According to the police, at least 141 people were killed when a bridge over Machhu river collapsed in Morbi on Sunday (October 30) evening. The bridge over the Machhu river was closed for seven months for repairs. It was reopened to the public a day after Diwali i.e. on 26 October, the Gujarati New Year. After which this accident happened.
Also read:- Stories that beat death in Morbi accident: Man fell in river with bridge, fought for life with wire