India News
Political crisis continues in Hemant Soren's chair, governor's decision can come anytime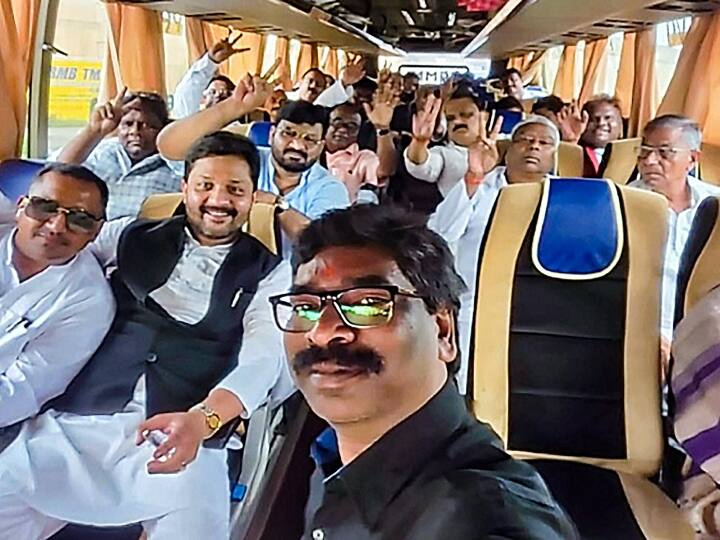 Jharkhand Political Crisis: The assembly membership of Jharkhand CM Hemant Soren, who is facing the charge of office of profit for doing a mining lease in his name as the Chief Minister, is under threat. Jharkhand Governor Ramesh Bais may send an order disqualifying Chief Minister Hemant Soren from the post of MLA to the Election Commission (ECI).
Sources in the governor's official residence on Thursday claimed that the Election Commission had recommended Soren's disqualification as an MLA on charges of violating electoral norms by giving himself a mining lease, but no action has been taken so far. Not officially confirmed.
Entry of resort politics in Jharkhand
Legislators of the ruling Jharkhand Mukti Morcha (JMM)-Congress-Rashtriya Janata Dal (RJD) alliance started gathering at CM Hemant Soren's house on Saturday to discuss the strategy ahead. These MLAs held marathon meetings from Saturday morning to evening. Sources in the ruling coalition said a strategy is being chalked out to ensure that the government does not face any threat.
After a meeting with the MLAs at the CM residence in Ranchi, Hemant Soren took everyone along in three buses to a resort located in Jharkhand's Khunti district. After spending some time there, Hemant Soren returned to Ranchi with his MLAs. Let us tell you that Hemant Soren is not only afraid of going to his legislature, but the state government is also under threat. The ruling government of the state is afraid of BJP so much that CM Hemant Soren himself has taken over the responsibility of guarding the MLAs.
Soren targets the center
Soren, who came to Latehar on Friday to attend an event, hit out at the Center and accused all constitutional agencies of using them to "destabilize a democratically elected government". The working president of JMM said that "satanic forces" are ready to carry out evil designs.
In the case, the petitioner BJP has sought the disqualification of Soren for violating section 9 (a) of the Representation of the People Act, 1951. This act deals with ineligibility for government contracts.
What does the rule say?
This section of the Representation of the People Act states, "A person who, while holding office under the Government of India or under the Government of any State, has entered into any such contract in respect of his business or business with that Government." done for the purpose of supplying goods to the same Government or for the performance of the work being done by it.
The issue was referred to the Governor, who would send his opinion to the Election Commission, as Article 192 of the Constitution states that the matter of deciding the disqualification of an MLA shall first be referred to the Governor who shall "receive the opinion of the Election Commission and Will act as per opinion.
Also read:-
Chief Justice: UU Lalit became the 49th Chief Justice of the country, has given decisions on these important matters ranging from triple talaq
Congress Resignation: From Ghulam Nabi Azad to Scindia.. Leaders leaving Congress target Rahul, know who said what
,